Southwest producers harvest the 2019 cotton crop. Terry County producer Kirk Martin says while his peanut crop yielded well his cotton has struggled.
Shelley E. Huguley
Harvest came to a screeching halt on Kirk Martin's farm near Brownfield, Texas, as the area received four inches of rain the first week of November. With 2,000 cotton acres waiting to be stripped, the young farmer is doubtful all of it will be worth harvesting.
"Part of it's not very good," said Martin, who's in his fourth year of farming. "The heat in July and August got to it and then it started raining in September. It started growing again, which put a lot of regrowth on it. And then we got that early freeze, so it's got a lot of leaf in it."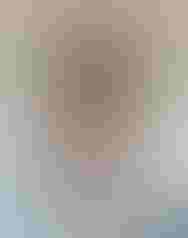 Kirk Martin
Of the acres that are harvestable, crop yield and quality have Martin concerned. "A lot of it was stained already with the rains we have had and then you get another four inches on it," he says. "We just stripped some irrigated cotton and that rain really strung it out. So, we're losing yield like that, too."
Kirk farms with his older brother Aaron, father Glen and his grandfather James. Together they produce cotton along with runner peanuts, wheat and cattle.
GOOD START TURNS ROUGH
While the 2019 season began with promise, reassured by a full moisture profile, "We were excited. We thought this was going to be the year. But it didn't turn out that way. It's been really rough," Kirk says.
Despite the weather extremes, the family's 2019 peanut crop fared well, including in a field Kirk farmed for the first time this year.
"For the year and the water I had, I was very pleased. I've got light water and it was lighter than I expected," Kirk says of the new farm. "I had 100 gallons on 30 acres or 3.3 gallons an acre." He yielded about 3,760 pounds per acre.
"Across the board, our peanuts did really good this year."
See, Trade assistance will provide economic relief
New to production in 2019 was corn. After hail destroyed 3,500 acres of cotton June 17, Kirk replanted 90 acres with 110-day corn. His goal was 100 bushels, but he said he only made about 65. "When I took it to the elevator, they told me everything's been off about 25% to 30% yield wise."
The remaining acres were kept clean throughout the summer and replanted in wheat this fall. "The plan is to graze some of it and keep it for cover for next year."
While Kirk says their current focus is finishing out the 2019 crop, as he looks to 2020, he says he'll likely go 100% no-till. "75% of my ground is already in wheat. I've got corn stubble on some of it, so we plan to leave that and plant right in between it and continue the game plan.
"And do it as cheap as possible."
PLANNING FOR 2020
One of the ways Kirk is considering cutting back is by using skip row planting to reduce seed costs.  "If we have some good winter moisture on into spring and I think I can get a good dryland crop up, I'll go skip row just to save a little money. But if it's dry, and I don't think it's going to make, I think solid is the way to go."
See, Enterprise budgets guide 2020 planting decisions
Something else Kirk says would be financially beneficial is if farmers could receive the remaining MFP payment. "It would help so many people and it would help me. Even if they get this China trade deal figured out, it's not going to affect the cotton market until next year. And the prices we're stuck with now, that's what we're going to get if they decide not to give us the MFP payment."
While Kirk is candid about the difficulties of his young farming career, he says he knows God is using it to teach him.
"My first four years have not been fun," he admits. "If I had started out making $100,000 or making a bumper crop, I would have thought this was going to be easy. But having that struggle has made me really depend on God and trust in him a whole lot more than I have for the rest of my life."
See, Study investigates growth-stage, water-use efficiency strategies for cotton
Subscribe to receive top agriculture news
Be informed daily with these free e-newsletters
You May Also Like
---