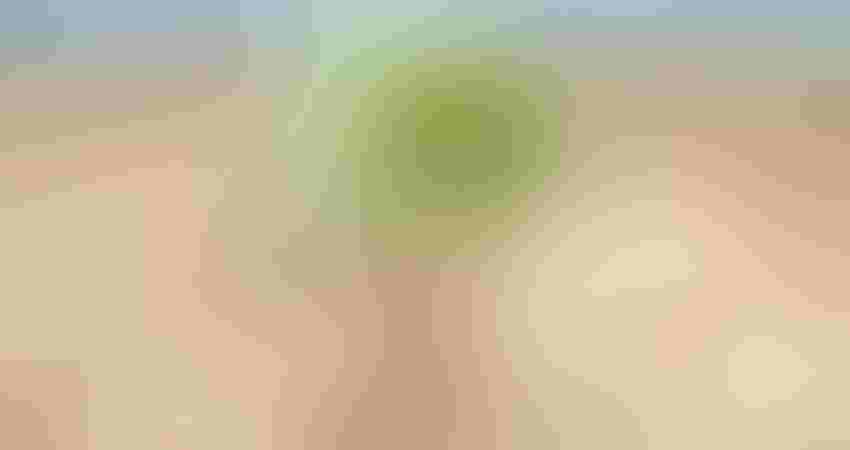 Delta Farm Press Staff Photo
Still undecided about which cotton varieties to plant in 2020? University cotton specialists offer several considerations for tailoring the right variety to your operation.
University of Arkansas cotton specialist Bill Robertson urges growers to select cotton varieties by the numbers:
1. Determine what worked best on your farm this past season.
2. Visit area growers to see what varieties worked best for them.
3. Huddle with your independent crop consultant who has field experience with many varieties on different clients' farms.
4. Check the results of Extension variety trials across multiple counties.
5. Review the results of your state's official variety trials.
"See how consistently a variety appears in the top half of the variety trials that Extension specialists conduct in multiple locations in the state," Robertson said. "Additionally, you can get down deep into the woods with OVT results, which gives you reams of data, including height data, maturity data, fiber quality data, and yield data. OVT data gives you a good idea of how a variety performs under different conditions and usually different stresses."
The Arkansas cotton specialist adds that independent crop consultants are an invaluable information source on variety performance. "Independent crop consultants know firsthand how cotton varieties performed in their growers' fields, and sometimes they conduct variety trials. Additionally, they have an extensive network among fellow consultants; they know how many varieties performed for many growers over a wide area.
Related:Cotton preparation for 2020
"By December, a lot of consultants know what their go-to varieties are. If their growers can place their orders early enough, they have a good shot at getting the new varieties. I'm impressed with the yield potential of some of the new varieties. However, seed supply of some new varieties might be short, so growers need to have a Plan B variety list."
A variety's technology trait package is a consideration. "Particularly in southern Arkansas, there's a real emphasis to order triple gene Bt varieties that yield well," Robertson says. "We still have several dual gene Bt varieties that are yield hosses. Even if dual gene varieties are your go-to varieties, I recommend trying one or two triple gene varieties in 2020."
Robertson also urges growers to plant multiple varieties with different maturities. He notes Arkansas' target harvest completion date is Nov. 1. "We still had 10 percent of the crop in the field by that date this year," he says. "We need to plant some earlier-maturing varieties, and plant them early. If a grower plans to cover 2,000 acres with one round module picker, he can't finish by Nov. 1 by planting just longer season varieties. We really need to get the picker into the field by Sept. 15 to avoid stringing out harvest too late."
Nematode and disease tolerance are two other factors to consider. "I looked at several fields this past season where I believe nematodes are getting into growers' back pocket way more than they think they are," Robertson says. "Growers might want to consider planting a nematode-tolerant variety in fields with a history of nematodes."
Cotton portfolio
North Carolina State University cotton specialist Guy Collins compares cotton variety selection to managing a financial portfolio.
"I would plant more of my acres to the tried-and-true varieties that have consistently performed well on my farm for multiple years," he says. "After planting the majority of my acres to the lower-risk varieties, I would try some of the new ones on a limited basis to see how they will perform on my farm."
The one variety factor that Collins focuses on the most is its yield stability. "Every variety can win a trial, so I look how frequently a variety performs at or near the top across a broad range of factors," he explains. "North Carolina growers largely farm dryland, so rainfall is a big factor. You can get timely rains, no rains, excessive rains.  This past season we had pretty widespread drought stress that varied in length and severity. I want to see what variety performs well across all those environments.
"If a variety isn't adaptable to different conditions, I want to see where and what type environment it can be competitive in. For example, does it need to be planted on heavy ground and irrigated, or do I need to put it on my sandy land and dryland that historically has some drought stress? The only way to determine that is by reviewing a lot of data from a lot of trials from a lot of environments."
Collins encourages growers to look at replicated data only, whether that's large plot on-farm trials, small plot OVTs, or consultant or seed company trials. There can be subtle variations between fields.
"So instead of comparing a field of variety A to another field down the road of variety B, use a replicated trial within the same two fields for a true comparison," he adds.
Other variety selection considerations include technology. "We're seeing a lot of that being driven by the herbicide traits, and which technology works best on their farms," Collins says. "If growers use one herbicide trait, it's difficult to use another trait or a variety that doesn't have either trait."
Growers who do not have an independent crop consultant or who struggle to spray timely are encouraged to plant a three-gene Bt variety.
"Timeliness, and thorough and frequent scouting are absolutely necessary to pull off adequate worm control in a two-gene cotton," Collins explains. "We have several two-gene varieties that for four years running, in spite of worm breakthroughs, are some of our number one or top performing varieties. Depending on yield potential, a two-gene variety might be a good option for growers who use a consultant and who sprays in a timely manner."
Technology first
Weather delayed cotton harvest in the Southwest, and strippers were still rolling in December. Texas A&M AgriLife Extension Service cotton specialist Murilo Maeda urges growers to consider several things in selecting varieties for 2020.
"The first thing growers should consider is what technology they need, whether it's traits for insect and/or weed resistance," he says. "Determining what technologies they need helps to narrow down the varieties they can select."
Another consideration made on a field-by-field basis is the need for disease resistance. One field might need a root knot nematode-tolerant variety, and an adjacent field might not. "Seed companies offer many variety options for technology and disease resistance that enable growers to tailor the variety to a specific field," Maeda says.
"Of course, yield potential and the fiber quality package are the two overriding factors in any variety selection decision. Texas A&M AgriLife Extension Service conducts a series of Replicated Agronomic Cotton Evaluation, or RACE, trials across the region and growers should expect the full report to be available in early 2020, depending on when we are able to harvest and get fiber quality information back. The full report when ready will be available at https://lubbock.tamu.edu/.
"Additionally, I urge growers to consider variety maturity. For example, everyone north of Lubbock needs to look at early to early-mid varieties, while growers south of Lubbock can look at early-mid to some full-season varieties, depending on where they farm. In this part of the state, crop maturity (or earliness in this case) will ultimately affect yield potential and fiber quality."
About the Author(s)
Subscribe to receive top agriculture news
Be informed daily with these free e-newsletters
You May Also Like
---