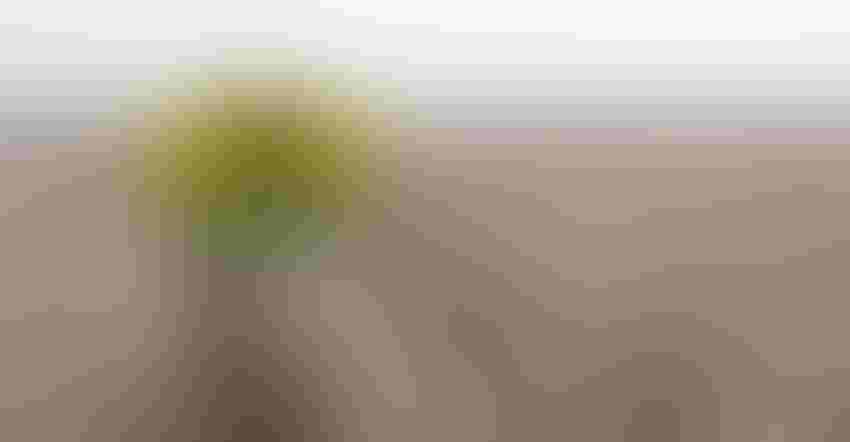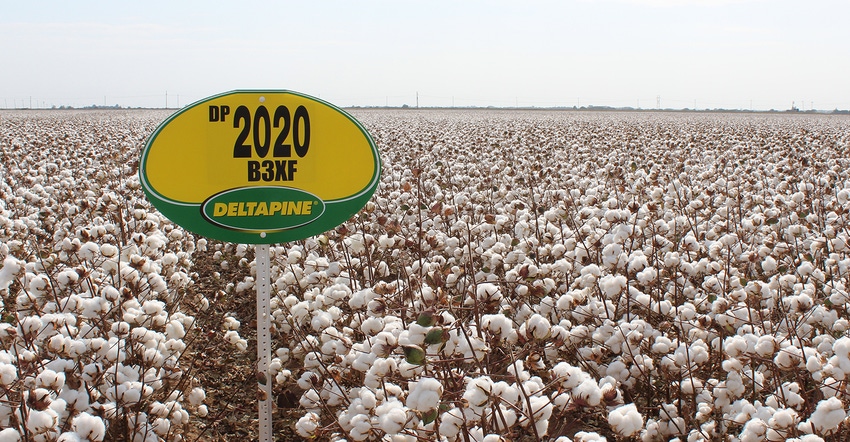 Heat and drought stress during the summer and an ice storm in October gave Oklahoma cotton growers a roller-coaster season, to say the least. Through it all, Deltapine® Bollgard® 3 XtendFlex® cotton performed well.
At Robbins Farms in Altus, Oklahoma, operations manager Jeff Lorah has planted a lot of DP 1646 B2XF cotton variety. But the threat of heavy bollworm pressure and the thought of having to spray fields will likely mean fewer acres to his old standby and moving more to Deltapine® Bollgard 3 XtendFlex cotton varieties.
"DP 1646 B2XF has been the Cadillac for our farm, but its two main weaknesses, as I see them, are that it is a little loose in the burr and it is a Bollgard II® XtendFlex® cotton variety," Lorah said in early November, with harvest winding up. "We're looking for a Bollgard 3 XtendFlex cotton that is tighter in the burr and yields like DP 1646 B2XF."
While he did not have to spray cotton for worms in 2020, he has had to in the past and wants to avoid it, if possible, in the future. Three Deltapine Bollgard 3 XtendFlex cotton varieties catching his eye are DP 1845 B3XF, DP 1948 B3XF and DP 2020 B3XF.
"I think there is good possibility for those three cotton varieties on our farm," said Lorah. "We do not have all of the yield data back from the gin yet, but after watching them throughout the season, I am looking forward to trying them again next season on more acres."
Limited rainfall and available irrigation water on some fields adversely impacted yields, said Lorah. Other fields in parts of the county that received decent rainfall, supplemented with irritation water, pushed 3-plus bales per acre. Fields not harvested on October 27 were frozen solid in ice.
"After the freeze, we had a patch of DP 1948 B3XF picking very well, and I think it will give DP 1646 B2XF a run for its money," he said. "DP 2020 B3XF showed strong emergence and was a very good-looking cotton all year long and very responsive to our PGR program. Once we defoliated the cotton, you could see the uniformity in this cotton variety. We picked some of our DP 2020 B3XF prior to the ice storm, and it yielded very well. DP 1845 B3XF has also performed well on our farm."
Kelby Wallace, who farms with his brother Jason in Blair, Oklahoma, is also looking for high-yielding Bollgard 3 XtendFlex cotton varieties to plant. DP 1948 B3XF is proving its potential. It performed well for them in 2019, going over 4 bales per acre and producing premium staple length with a 41.7% turnout, according to Wallace. In 2020, the cotton variety held strong in 110-degree heat stress and produced outstanding yields again, he said.
Top of mind are yield damage and the cost of spraying cotton for bollworms.
"When I walked through our Bollgard 3 XtendFlex cotton and our Bollgard II XtendFlex cotton, I could see the bottom bolls were more filled out and less damaged in the Bollgard 3 XtendFlex cotton," Wallace said. "The plants were nearly solid bolls from top to bottom, with very little, if any, damage. It cost us more money to have to spray for worms. At the end of the day, I think DP 1948 B3XF can give us better profit potential."
Bayer is a member of Excellence Through Stewardship® (ETS). Bayer products are commercialized in accordance with ETS Product Launch Stewardship Guidance, and in compliance with Bayer's Policy for Commercialization of Biotechnology-Derived Plant Products in Commodity Crops. Commercialized products have been approved for import into key export markets with functioning regulatory systems. Any crop or material produced from this product can only be exported to, or used, processed or sold in countries where all necessary regulatory approvals have been granted. It is a violation of national and international law to move material containing biotech traits across boundaries into nations where import is not permitted. Growers should talk to their grain handler or product purchaser to confirm their buying position for this product. Excellence Through Stewardship® is a registered trademark of Excellence Through Stewardship.

ALWAYS READ AND FOLLOW PESTICIDE LABEL DIRECTIONS. It is a violation of federal and state law to use any pesticide product other than in accordance with its labeling. NOT ALL formulations of dicamba, glyphosate or glufosinate are approved for in-crop use with products with XtendFlex® Technology. ONLY USE FORMULATIONS THAT ARE SPECIFICALLY LABELED FOR SUCH USES AND APPROVED FOR SUCH USE IN THE STATE OF APPLICATION. Contact the U.S. EPA and your state pesticide regulatory agency with any questions about the approval status of dicamba herbicide products for in-crop use with Roundup Ready 2 Xtend® soybeans or products with XtendFlex® Technology.

B.t. products may not yet be registered in all states. Check with your seed brand representative for the registration status in your state.

Roundup Ready® Technology contains genes that confer tolerance to glyphosate. Roundup Ready® 2 Technology contains genes that confer tolerance to glyphosate. Products with XtendFlex® Technology contains genes that confer tolerance to glyphosate, glufosinate and dicamba. Glyphosate will kill crops that are not tolerant to glyphosate. Dicamba will kill crops that are not tolerant to dicamba. Glufosinate will kill crops that are not tolerant to glufosinate. Contact your seed brand dealer or refer to the Bayer Technology Use Guide for recommended weed control programs.

Insect control technology provided by Vip3A is utilized under license from Syngenta Crop Protection AG. LibertyLink® and the Water Droplet Design® is a trademark of BASF Corporation. Bayer, Bayer Cross, Bollgard II®, Bollgard®, Deltapine®, Respect the Refuge and Cotton Design®, Roundup Ready® and XtendFlex® are trademarks of Bayer Group. ©2020 Bayer Group. All rights reserved.
About the Author(s)
Subscribe to receive top agriculture news
Be informed daily with these free e-newsletters
You May Also Like
---