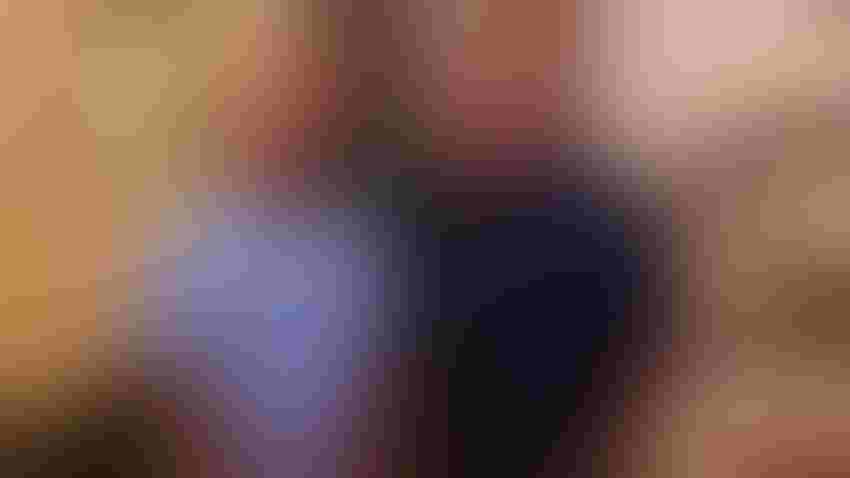 Newly elected Supima Chairman Shannon Skov, left, and outgoing board chairman Kirk Gilkey say the new funding model for Supima will aid the organization's marketing and authenticity programs.
Todd Fitchette
U.S. cotton producers who grow Pima cotton and participate in the Supima program will no longer pay to market their premium cotton. That funding model was switched earlier this year to the end user.
The $3 per bale assessment to U.S. Pima cotton growers is gone. In its place, a new program by Supima to fund marketing and traceability efforts looks to raise awareness and significantly more money to promote U.S. extra-long strength (ELS) cotton.
The new program, according to Supima President and CEO Marc Lewkowitz, will charge the end-user of the cotton. The change will remove what he calls an inequity in Supima's previous licensing model for its registered trademark.
"There are no more licensing fees in this platform," he said. We've taken those fees out because they're not fair or equitable. In the past, we had large mills paying a $5,000 fee, and we had small mills paying the exact same fee."
Supima's new trademarked program is known as AQRe – pronounced "acre." It stands for authenticity, quality, and responsibility. It is part of the industry's pioneering effort to establish end-to-end traceability, transparency, and authentication for brand and retail partners, while boosting marketability for its U.S. cotton producers.
According to Supima, the program is part of a proactive response to current and anticipated market and regulatory challenges. This could bode well for U.S. cotton producers who already participate in sustainability programs like the Cotton Trust Protocol. The protocol is used by the U.S. cotton industry to measure sustainability practices by growers and promote those to buyers of U.S. cotton.
Proven transparency
The AQRe program is further designed to protect the authenticity of the Supima trademark through proven transparency in the supply chain, Lewkowitz said.
"We can still do the activities of Supima without charging the growers for it," said Kirk Gilkey, immediate-past Supima board chairman and president of Gilkey Farm, Inc., in Corcoran, California.
"Growers have been subsidizing our programs for all this time," said newly elected Supima Board Chairman Shannon Skov, a grower from El Paso, Texas. "Now this money will come from the end user.
Lewkowitz said Supima previously did not charge brands and retailers for using its registered trademark. By charging the users, Supima will no longer allow its name to be used if they don't support the supply chain financially.
"Brands and retailers are asking for organic; they're asking for regenerative and for sustainability," Lewkowitz said. "Of all those practices, we keep pushing back at them by saying these aren't free. There must be a support mechanism that supports the growers' ability to do this."
Supima is optimistic about the change. Lewkowitz estimates it will increase revenue to the organization, which can be used to boost marketing efforts of U.S. Pima cotton. Brands and retailers value the Supima name. Moreover, they seek authenticity, traceability, and transparency in the supply chain – something that Supima continues to promote through partnerships with companies that can provide forensic validation.
Supima partnered with TextileGenesis to bring digital data information and authentication to the process. The program provides "transaction level transparency for products" moving through the supply chain. Through its work with Oritain, the organization's forensic science partner, products that claim the Supima label can now be verified.
"Oritain and Supima independently will also be testing products at retail to validate those products labeled Supima," Lewkowitz said.
Hybrid cotton and ginning
Several years ago, Supima began discussing the hybrid cotton that the USDA classed as Pima. Supima wanted to know what constitutes an eligible ELS cotton.
Through those discussions the USDA said that any ELS cotton that is a hybrid of barbadense species or an American Pima is an eligible ELS. Supima has adopted this for its cotton marketings.
Lewkowitz is cautioning growers and ginners against using woven polypropylene wraps for their cotton because of complaints from textile mills. These wraps can easily contaminate the Pima cotton and reduce their suitability for high end textiles.
Subscribe to receive top agriculture news
Be informed daily with these free e-newsletters
You May Also Like
---