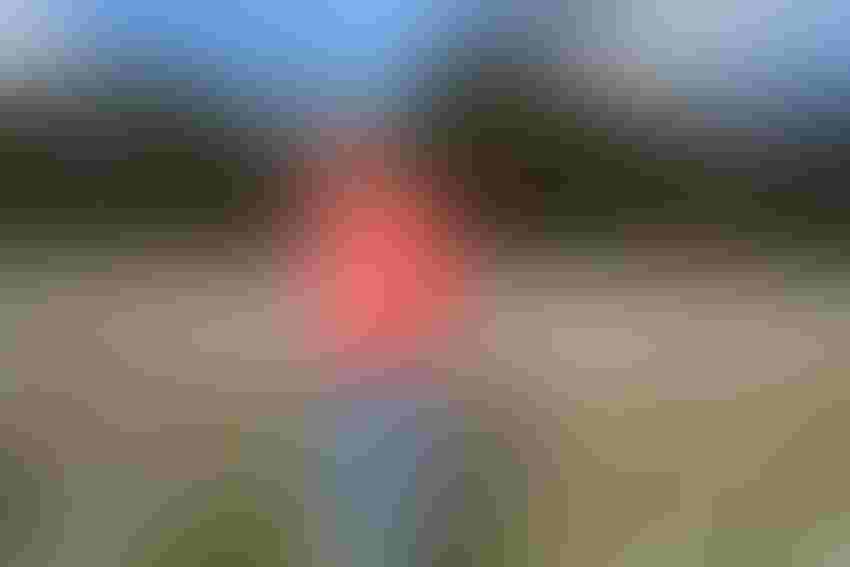 Jerry Lee Hamill of Enfield, N.C. is the 2021 High Cotton winner for the Southeast.
John Hart
Jerry Hamill has been successfully and profitably producing cotton in North Carolina for more 52 years so he must be doing something right.
That's one clear take away from the many cotton industry peers who nominated Hamill for the 2021 High Cotton Award for the Southeast; he does all he can to produce the best crops he can with the goal of perfection. His peers know that Hamill does things right, which has been the key to his success in both the good years and lean years.
Because of his success as a cotton producer and in recognition for his steadfast commitment to the cotton industry throughout his farming career, Jerry Lee Hamill of Enfield, N.C., is the 2021 High Cotton Winner for the Upper Southeast.
David Ruppenicker, CEO of Southern Cotton Growers, summarized it well when he noted in his nomination letter that Jerry Hamill "epitomizes every virtue for which this prestigious award was founded upon."
"He has been extremely successful and continues to produce bountiful cotton crops in a very efficient, sustainable manner. A strong supporter of conservation programs, he is always willing to incorporate new technologies and cultural practices into his family farm operation," Ruppenicker wrote in nominating Hamill.
"Jerry is always willing to share his knowledge and experiences with his fellow growers. Leaving the land in pristine conditions for future generations is the ultimate goal," Ruppenicker wrote.
First crop in 1968
Hamill produced his first cotton crop on his own in 1968 after graduating from the Ag Institute at North Carolina State University in Raleigh in 1965. Jerry took over full-time operation of the family farm after his father Eugene Hamill died in September 1967.
Certainly, through those years Hamill has seen many changes in farming. Hamill makes it clear that you must adapt to the change to stay in business. And adapt he has, with remarkable success.
"I want everything right. I want it as near perfect as we can do it. I don't like anything halfway done. If you're going to take the time, the initiative and the funds to do anything then let's do it correct and to the best of your ability," Hamill said.
That summarizes Hamill's philosophy of successful farming, an approach that has clearly worked for a farmer who has a reputation as an innovator. In fact, fellow farmer Brent Leggett of Nashville, N.C., noted in his letter nominating Hamill for the High Cotton Award that Hamill has always been a progressive farmer, adapting the latest products and processes to increase his operational efficiency.
"He is driven by his tireless work ethic and has a longstanding passion and steadfast determination to produce high quality cotton with minimal environmental footprint," Leggett noted. "Jerry uses the latest seed, herbicide and insecticide technologies that he believes will increase his profitability and keep his land sustainable."
Stellar yields
Throughout his farming career, Hamill has achieved stellar yields. He has maintained yields of 950 to 1,050 pounds per acre over the past few years, Unfortunately, yields were down in 2020 due to cold and wet conditions and planting and other weather challenges throughout the year.
"This year (2020) has been adverse from day one," Hamill said.
Mary Wilks, who has served as Hamill's professional crop consultant for 20 years, confirms Hamill's reputation as a precise cotton farmer who works hard to achieve perfection. She attributes his success to using correct rates, nozzles, water volumes, timeliness of applications, extensive tank cleanouts, matching varieties with certain types of soil, and zero tolerance for weeds.
"Jerry has a reputation as an excellent farmer who keeps the land clean and productive. In most cases, landowners or other farmers who are retiring come to him about working their land because they know he will manage it to the highest standard," Wilks wrote in her nomination letter for Hamill.
In fact, Hamill has practiced precision agriculture even before it became a popular term for describing efficient production practices. He was an early adapter of conservation practices including the use of cover crop, no-till and strip till cultivation.
90% strip tilled
Hamill explains that 90% of his cotton land is now strip tilled. His soybeans are no till while his peanuts are grown under conventional tillage where the land is turned up and bedded.
"For our cotton and corn, we realized that so much of the land needed to be ripped under because it compacts so easily. We rip at least 90% of our cotton and corn land every year, right in front of the planter, he explains.
"We quit tilling 35 years ago. We had to stop tilling because we had highly erodible land. There was no way I could till all of the land because of labor and time. It would take twice as much land and three times as much money," he explains.
Hamill farms about 4,000 acres. In 2020, he produced 2,300 acres of cotton, 800 acres of soybeans, 500 acres of peanuts, 225 acres of corn and 175 acres of wheat plus beef cattle. "I guess you would say I am a cotton farmer since that is my largest acreage," he says.
Hamill stresses that success in cotton farming begins with variety selection. He says farmers have it good today because the varieties are the best they have ever been in his more than 50 years of farming.
"The varieties get better every year. The technology is just outstanding," he said.
Plants many varieties
"I don't plant just one company's cotton. I have some of everybody's. I do have some favorites for sure. I look at the variety tests. I have a test every year and I also look to other farmers who have variety tests," he says.
Relying on soil samples is vital for Hamill in his variety selection process. In fact, consultant Wilks notes that Hamill meticulously matches varieties to soil types and chooses the highest yielding varieties that produce the highest quality fiber.
"In eastern North Carolina, you have to get the variety to match your land and that is critical in some of the land we work. We have some deep sand and we have some sandy Norfolk that is great peanut land. And we have some land that is holding the world together," Hamill explains.
While variety selection is the first key to successful cotton farming, Hamill stresses that fertility is a close second and is vital for maintaining consistently high yields. Hamill is known as a stickler for details when it comes to fertility management.
"PH is very important," he said. "You need enough fertilizer to make the crop, but you don't want to overdo it. You need to be careful with nitrogen because sometimes you shoot yourself in the foot if you put down too much."
Soil samples vital
Soil samples are vital for his fertility program and Hamill studies them carefully to manage fertility on each crop. Wilks notes that Hamill has dialed in what it takes to maximize yields on the sandy clay Halifax County soils. She points out that Hamill once used anhydrous ammonia almost exclusively on his cotton but has slowly transitioned a part of his nitrogen to safer, less expensive nitrogen sources with minimal impact on yield.
For Hamill, potash is a must for maintaining strong cotton yields.
"A major part of what we use in Halifax County is potash," he explained.  "It will not stay in the soil. We put potash out every year. We put out what the soil samples calls for because every crop we grow depends on it. If you don't put it out, you're not going to make a decent crop."
Thrips remain public enemy number one on the Hamill farm. "There is more thrips pressure here than anywhere in the United States," he said. "In northeastern North Carolina, it's an absolutely horrible thing. Stink bugs are bad, but thrips are horrible. You have to put something under the plant and you're going to have to spray it too."
To battle thrips, Hamill uses Orthene in the row and he will come back and spray again. He also uses Admire Pro. Consultant Wilks notes that Hamill practices timeliness when it comes to treating thrips and other pests.
"In most cases, he sees that applications based on my recommendations are done usually the next day. He is serious about pest management," Wilks notes, adding that Hamill also has zero tolerance for weeds.
Strong residual program
"Even in the modern age of herbicide resistant crops, he has continued to use a strong residual herbicide program and pulls any escaped weeds to ensure a weed seed bank does not build up," she writes.
When it comes to marketing his crop, Hamill turns to Staplcotn. He became a Staplcotn member in 1999 and was the first cotton producer from North Carolina to join the association. "I begged them to buy my cotton. I told them they were buying cotton in Mississippi and shipping it to North Carolina to be milled. I said, 'why not buy cotton in North Carolina," Hamill said.
Staplcotn agreed and after that first year, other farmers in North Carolina and South Carolina joined the association to market their cotton. "I'll produce it and they'll sell it. It works well for me," he said.
Family is key
Family is important to Jerry Hamill. He and wife Bettye have two daughters, Claudia Jenkins who lives in Wilson, N.C., has two sons, Turner and Hamill and a daughter Polly. Daughter Gina Donahoo, an attorney in Jacksonville, Fla., and husband John Donahoo have three daughters, the oldest, Libby and twins, Anna and Abby.
Bettye Hamill is retired from the Halifax County Department of Social Services. "She's done a lot of good for the people in this county," Hamill said.
Daughter Claudia and her children are also active in the farming operation. Claudia teaches marketing courses at Northern Nash High School in Rocky Mount. When she's not teaching, she scouts cotton and peanuts for her dad in the summer and helps with the harvest on weekends.
As an attorney, daughter Gina has helped the farm with legal issues over the years. Hamill also credits the hard work of his long-time secretary, Connie Ogburn, for making everything on the farm run smoothly. Hamill says he has been blessed to have so many loyal employees over the years.
Throughout his farming career, Hamill has been active in industry leadership roles. He served as an alternate and then director on Cotton Incorporated's board from 1994 to 2006. He has been a director and member of the North Carolina Cotton Producers Association. He served on Staplcotn's board from 2012 to 2015.
He has been an active member of Southern Cotton Growers for many years. He served on the Cotton Board from 2009 to 2014. He has served as a National Cotton Council North Carolina producer delegate since 2015. He is an active member of North Carolina  Farm Bureau where he has served on the board since 1985.
Jerry and Bettye Hamill are members of Enfield Methodist Church.
In addition to his reputation as an exemplary cotton farmer, Hamill is widely recognized as a strong role model for anyone in agriculture. Cotton farmers from throughout the country consider Hamill a dependable friend. In fact, fellow North Carolina farmer Allen McLaurin of Laurel Hill, N.C., stresses that Hamill is well known by his peers and friends throughout the Cotton Belt.
"Very rarely do I run across a fellow cotton farmer that does not inquire about the well-being of Mr. Jerry," McLaurin wrote in his letter endorsing Hamill for the High Cotton award.
Presentation
Join Farm Press and The Cotton Foundation for a livestream presentation of the 2021 High Cotton awards, March 23, 1 p.m. CDT. Farm Press will stream from four locations across the U.S. and recognize each grower/operation. Follow this link for more information. 
Subscribe to receive top agriculture news
Be informed daily with these free e-newsletters
You May Also Like
---