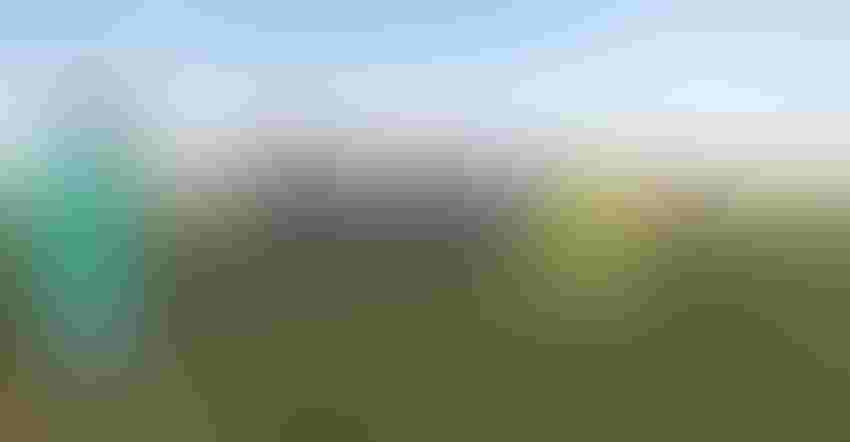 Growers interested in high-yielding varieties that can perform in West Texas conditions and offer better, easier weed control attended the Deltapine Showcase event at Nichols Farms in Seminole, Texas, on Sept. 23.
With resistant Palmer amaranth top of mind in this region southwest of Lubbock, the weed control stop was of much interest to attendees. John Everitt, Monsanto Weed Management Technical Development Representative for West Texas, talked about the efforts going on to fine-tune herbicide platforms for cotton with XtendFlex® technology.
"We've done small-plot research over the past few years here at Nichols Farms, trying to hone in on what our best weed control recommendation for cotton was going to be, trying to keep it as simple as possible for growers," Everitt said. "The herbicide program we landed on is as simple and as cost-effective as we could get, and it keeps residual products in the program and multiple modes of action in the field."
For the most part, Texas as a state had a very successful launch of Bollgard II® XtendFlex® cotton in 2017, with the Texas Department of Ag recently stating that very few drift complaints were lodged in 2017. There were also very few off-target herbicide incidents reported to Monsanto officials, Everitt said. Many growers who used the Roundup Ready® Xtend Crop System in 2017 are pleased with the weed control and flexibility the system offers.
The recommended herbicide platform for Bollgard II XtendFlex cotton in West Texas is making an application of a residual herbicide in early spring, followed by an application of Caporal® 4L, Cotoran® 4L or Direx® 4L right behind the planter. That should be followed by two applications of Roundup PowerMAX® tank-mixed with XtendiMax® herbicide with VaporGrip® Technology, with one of those shots including Warrant® Herbicide in the mix for additional residual suppression of weeds.
That platform was landed on, said Everitt, because it rose to the top every time it was tested as being the best treatment in small-plot research. In 2017, the platform was put to the test on a larger scale, and the Nichols' entire farm was treated following those recommendations. It has worked and paid off for the growers because the products being recommended are included in Roundup Ready PLUS® Weed Management Solutions, a platform that offers monetary incentives back on the products used, explained Everitt.
"It is difficult to find a weed in the fields here on the Nichols farm today," he emphasized. "Many growers who used this system successfully this year are pleased with the weed control. The technology works and it works well. We will continue to work to fine-tune things out here to make it more effective and safe to use."
Included in the showcase event tour stops was a look at pre-commercial variety candidates being evaluated for the Deltapine Class of 18, all of which contain XtendFlex technology. The candidates include Bollgard® 3 and some with root-knot nematode resistance to stack on top of XtendFlex technology to help growers better manage pests and input costs.
"We have about 20 more varieties in the pipeline being evaluated in West Texas in what we call pre-commercial phase 4 testing, all containing XtendFlex technology, and all emanating from our Texas cotton breeding programs," Everitt said.
For more information about Deltapine, visit www.Deltapine.com.
ALWAYS READ AND FOLLOW DIRECTIONS FOR USE ON PESTICIDE LABELING. IT IS A VIOLATION OF FEDERAL AND STATE LAW to use any pesticide product other than in accordance with its labeling. NOT ALL formulations of dicamba or glyphosate are approved for in-crop use with cotton with XtendFlex® technology. ONLY USE FORMULATIONS THAT ARE SPECIFICALLY LABELED FOR SUCH USES AND APPROVED FOR SUCH USE IN THE STATE OF APPLICATION. May not be approved in all states. Contact the U.S. EPA and your state pesticide regulatory agency with any questions about the approval status of dicamba herbicide products for in-crop use with cotton with XtendFlex® technology.
Cotton with XtendFlex® technology contains genes that confer tolerance to glyphosate, dicamba and glufosinate. Glyphosate will kill crops that are not tolerant to glyphosate. Dicamba will kill crops that are not tolerant to dicamba. Glufosinate will kill crops that are not tolerant to glufosinate. Contact your Monsanto dealer or refer to Monsanto's Technology Use Guide for recommended weed control programs.
Monsanto Company is a member of Excellence Through Stewardship® (ETS). Monsanto products are commercialized in accordance with ETS Product Launch Stewardship Guidance, and in compliance with Monsanto's Policy for Commercialization of Biotechnology-Derived Plant Products in Commodity Crops. Only commercialized products have been approved for import into key export markets with functioning regulatory systems. Any crop or material produced from this product can only be exported to, or used, processed or sold in countries where all necessary regulatory approvals have been granted. It is a violation of national and international law to move material containing biotech traits across boundaries into nations where import is not permitted. Growers should talk to their grain handler or product purchaser to confirm their buying position for this product.
B.t. products may not yet be registered in all states. Check with your Monsanto representative for the registration status in your state.
Subscribe to receive top agriculture news
Be informed daily with these free e-newsletters
You May Also Like
---