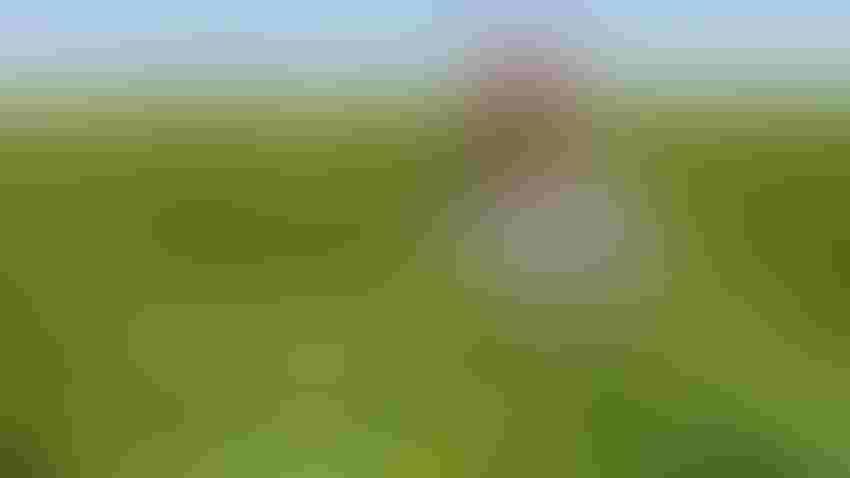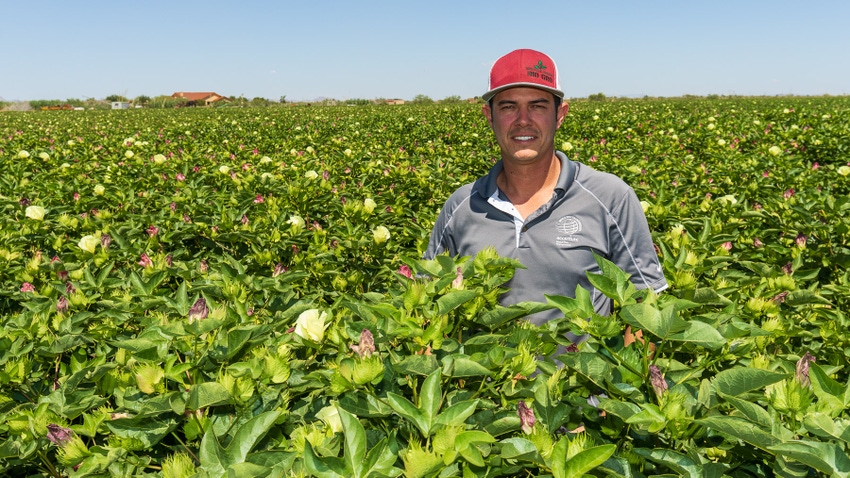 This is the second season that Cole Viramontes planted two Pima cotton varieties at his Deming, N.M., farm. He averaged over four bales per acre last year with his Gowan and Deltapine varieties.
Todd Fitchette
Cole Viramontes tried his luck growing Pima cotton for the first time last year in southwest New Mexico after his father gave up on it years ago because it didn't yield well.
Fast forward about a dozen years and Viramontes, co-owner of Viramontes Farms in Deming, N.M., wanted last year to capture the higher Pima prices. Cautioned by his father, Raymond Viramontes, to not put all his eggs into one basket because of his previous experience, the younger Viramontes opted to plant half his acres into Pima.
This year the younger Viramontes went all in, planting 100% of his 200 acres of cotton to two extra-long staple varieties: Deltapine 359 and a Gowan hybrid that classes as an ELS and is supported by Supima marketing programs. He's hoping to capitalize on last year's success.
"We got some pretty unheard of yields last year," Cole Viramontes said.
The Gowan hybrid was a little more erratic in its yield than the Deltapine, he said. Some of his hybrid cotton produced about three bales, while one of his fields yielded 5.5 bales. The Deltapine variety was much more consistent at about 4.5 bales, he said.
The Deltapine seed is a "workhorse" when given the conditions it wants, Viramontes said. However, it doesn't compete well when weeds or other agronomic conditions are at play. The Gowan hybrid, on the other hand, will try to out-compete what's growing next to it, he said.
Water needs seem to be the same for both varieties. His cotton is grown on subsurface drip irrigation with lines buried about six inches deep on 40-inch centers. Viramontes will start planting his Pima in late April and will shut off the water by the end of September for harvest beginning in November.
This year's crop seems to be a bit more of a mixed bag. The summer monsoon season last year that helped irrigate crops well did not materialize in the Southwest.
"I've only accumulated about an inch and a half of rain since January," he said.
He grows a few acres of pecans; the rest of his crops are annual crops: green chile, onions, alfalfa, wheat, cotton, beans, and pumpkins. He also grows milo for seed on contract for Pioneer.
Regenerative agriculture
Viramontes uses regenerative agriculture practices to grow a variety of crops. He admits he and his father "stumbled upon it" about 10 years ago but didn't really know what it was until about four years ago.
"We were trying to find solutions to verticillium wilt in our chile peppers, so we started playing with different biological digesters and biology to try and combat the soil diseases," he said.
At the time, they were losing 20-30% of their chile crop annually to verticillium.
Viramontes views regenerative agriculture as good soil health. He believes good soil health will take care of his plants. He's now seeing that in ways he may not have originally expected.
By eliminating some of the acid blend fertilizers and employing a more holistic approach, the need to spray insecticides has decreased. In one example, Viramontes says they would previously spray upwards of seven times to treat against thrips in his fresh market onion crop.
"This is the first year I've done a full regenerative program (and) it's the first year I didn't spray a single insecticide on my onions," he continued. "I didn't spray any fungicide on them either."
The regenerative practices also appear to be controlling armyworms. Those flare-ups of adult moths do not seem to be as bad, and where eggs are discovered on the bottom of plant leaves, rather than consuming entire leaves or the whole plant, Viramontes says the damage was minimal.
"You could see where the eggs were on the bottom of the leaf and could see where they would hatch, but as soon as they started to chew on the leaf, that was it," he said. "You would see just a little piece of chewed leaf and no live worm. They were just dying, and we didn't apply any insecticides to the field.
"The only thing we could think of was we had elevated sugar levels in the leaves to the point that it was too complex of a carbohydrate for the worms to digest," he continued. "So essentially, their food was killing them."
Part of his regenerative program includes multi-species cover crops to enrich the soil structure. This is impacting more than just plant health. Viramontes began planting cover crops in his pecans to prevent runoff from the micro sprinklers and hold water for the trees.
"One of the secondary benefits we've found after we planted this stuff, is we noticed we weren't having to spray for aphids anymore," he said. "We've had cover crops in the trees for five years now and the bugs just don't show up. I can't give you a scientific explanation for it, but that's what's happened."
Chile crop
Deming and nearby Hatch, New Mexico are known well for their chile production. Much of the chile seed produced for these farms comes from Ed Curry's farm in nearby Pearce, Arizona. While there may be a bit of friendly competition between growers in Hatch and Deming, both grow the long-pod green chilies that are popular in southwestern cuisine.
Because of the cost of hand harvesting his chile, Viramontes would like to see at least 22 tons per acre to cover his growing costs. The chile peppers are picked twice during the season. Much of what he grows is used for processing, though a small amount is sold through the family's store for fresh market consumption.
Chile peppers are direct seeded and planted from the middle of March through the middle of May. This staggered planting schedule is done largely to accommodate the labor supply, which he said is significantly reduced.
Subscribe to receive top agriculture news
Be informed daily with these free e-newsletters
You May Also Like
---