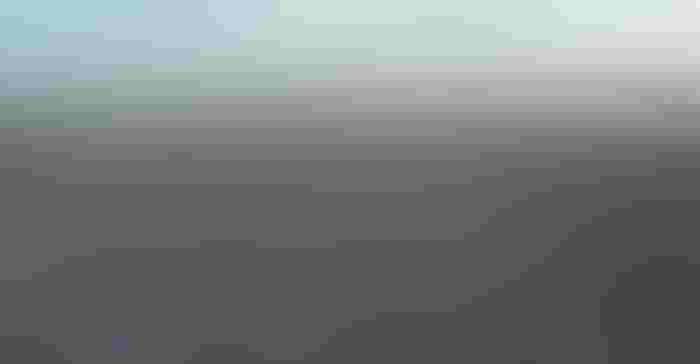 Russell Isaacs' cotton field near Turpin, Oklahoma. He is one of many growers in the area who has begun producing cotton. As a result of the growth, area gins such as Northwest Cotton Growers Co-op are expanding.John West, TerrAvion
Cotton is changing the landscape of the Oklahoma Panhandle. An area typically known for its fall grain crops has begun to transition to cotton acres in a big way. Within the three counties of Cimaron, Texas and Beaver, cotton acres have increased nearly 20,000 acres from 2017, according to the Oklahoma Boll Weevil Eradication Organization. 
To keep up with demand, Northwest Cotton Growers Co-op, Moscow, Kan., is expanding. Since 2015, the gin has gone from ginning about 4,500 bales to more than 63,000 last year and is expected to gin anywhere from 110,000 to 120,000 bales this year. Ginning veteran Jon Nesler, says they are building a gin like Adobe Walls, at Spearman, Texas, built two years ago in response to the growth in the Texas Panhandle.
"We're building the first stage of that same gin this year and as acres double again, like we expect them to, I expect within another year to have to go ahead and increase that gin also," says Nesler.
Phase one of the two-phase expansion will have the capacity to gin 60 to 70 bales per hour. When the second expansion is complete, he says that capacity will double.
As for the cotton he's ginned this year, Nesler says so far things look good. "The grades are really good right now. There's not a whole lot of trash in it and it's stripping well. It's cleaning up good and it's ginning pretty good."
But one thing 23 years of cotton ginning experience has taught him about cotton harvest is everything can change in an instant.
"Cotton has great moments and it has terrible moments. Last year everything was a little rough. It didn't strip well and it didn't gin well. This year it's ginning good and it's stripping good. Now, that can change day-to-day, which is exactly what it did last year, the first part of the season, it ginned and stripped well but towards the end, it just got tough. 
"You just never know what you're going to get into from one place to the next. And it's not necessarily farmer to farmer. It's more field to field. One field may have had a little little bit of hail come through and beat it up, so all of that plays into how cotton reacts and how it's going to do."
As of November 16, Northwest has ginned 7,784 bales. 
To read more about the explosion of cotton in the Oklahoma Panhandle, click here. 
Subscribe to receive top agriculture news
Be informed daily with these free e-newsletters
You May Also Like
---