Father, son form unique farming partnership
Father, son form unique farming partnership
• Garrett Qualls is running things on the Qualls farm these days. His father turned over management of the operation several years ago.• Garrett is only 24, but has deminstrated the maturity and management skills to get the job done.• Of course, there are a few things he can still learn from his father.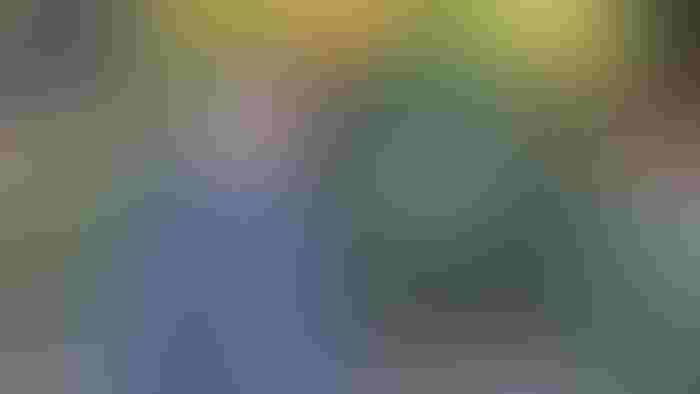 <p> GARRETT QUALLS was ready to take over management duties on the farm at 24 years of age. His father, Kenny, didn&rsquo;t see any point in waiting and promptly gave him the responsibility.</p>
When Kenny Qualls retires from farming one of these days, he won't worry about the person taking over the reins. In fact, his son, Garrett, is already running things, at the ripe old age of 24.
The Quallses farm about 2,200 acres around Lake City, Ark., including 800 acres of corn, 800 acres of soybeans and 600 acres of cotton. Kenny made his son a partner in the operation about four years ago, shortly before Garrett graduated from Arkansas State University with a degree in business. Kenny said his son "has been working on the farm since he was five years old. He got it in his blood early."
The elder Qualls took full advantage of this aptitude, and within a few months had turned over full managing duties to his son, while he concentrated on fulfilling a leadership role outside the farm. It might seem a little unusual, but it was logical, considering his son's readiness.
"The difference between our farm and a lot of other family farms is that normally the son will take a backseat until father retires, but I'm doing the opposite," Kenny said. "I'm putting him up front and letting him make all the decisions. I've thrown it all on him at once. If he can handle it while I'm here, then he can handle it when I'm gone.
"Plus I can still coach him and help them through the tough decisions. Even though he works here every day, there is a big transition from going from an associate to being the boss. This way he'll already have had that behind him."
Fundamentals in place
Some fundamentals had to be in place, Kenny said. "He had to be stable. Loretta (Kenny's wife) and I were real strict parents, anybody around here will tell you that. We didn't put up with a lot of nonsense and foolishness. We were very fortunate that our children have been good citizens as well as children. Garrett is more mature at his age than a lot of people."
 "He's been guiding me for a long time, showing me the way, so that I would be prepared for this day," said Garrett, who is building a home with his wife, Lauryn, within walking distance of the farm's headquarters. "But you can't be completely prepared in farming. You're never ready to take on the responsibility because you're never sure what it's going to throw at you. But I was very happy that he had enough faith in me to let me do it on my own."
The job is difficult at times, Garrett says. "It's just a year round process these days. You're so connected to information all the time. It's hard to take it all in and keep up with it. It seems like there's no break to take off and go hunting for the winter. You have to be on your toes, marketing grain and everything else. But I really enjoy it. It's not a job to me. It's a way of life, and I enjoy being out here."
Kenny isn't at all fazed by his phase out, preferring to look at the situation with humor.  "I have been promoted to vice president of special projects. That means I get the job that nobody else wants. I am the combine driver, the dirt buggy and backhoe operator. He does the rest. He picks the seed. He buys inputs, locks in prices and handles all the USDA and FSA paperwork."
Kenny studied estate planning to make sure the transition goes smoothly, while minimizing tax exposure. "You have to think long-term."
"We started off with making him a partner, and I gave him half of the equipment. As we update equipment, he will slowly get the bigger share. I have a daughter, Shelby, who's not on the farm so whatever I gave him in value, I'm trying to provide her. So we offset the equipment with a life insurance policy to try and keep everything even. It's a lot more detailed than it seems. I'm putting all my land in a company trust, or LLC, so that it will stay with the family after we are gone."
Meanwhile, Kenny enjoys his leadership role. He's a member of the Cotton Board and the Arkansas Farm Bureau and the Arkansas Boll Weevil Eradication Foundation. And he's quick to point out that he still enjoys working on the farm.
Check current cotton futures prices
 "He's the best partner you could have," Garrett said. "I would hope he would say the same for me. It's nice having a guy with that much experience in your back pocket. You can go and ask advice when times look tough or you're having trouble. You can always ask Dad. Chances are he's seen it or something close to it."
Can pick and choose
 "I can, pick and choose the jobs, and take off when I want to. And Garrett can take off when he needs to. The one thing that I bring to the table is wisdom and knowledge. Garrett is starting to take advantage of that. He's been doing a good job, and I can't complain about what he's doing. I'm real proud of him."
Kenny is preserving the history of the Qualls family by maintaining a mini-museum of old implements used by his great grandfather, who also was a farmer. It includes an old planter, breaking plow, corn sheller, mule harnesses and tools. "I have enough old stuff to start my own Cracker Barrel," Kenny says.
The memorabilia doesn't exactly conjure up fond memories of the good old days, Kenny says, rather a testament to the diverse skills and hard labor required to produce a crop. "Not only were they farmers, they were carpenters," Kenny said. "They had to build a lot of their own equipment, and they had to raise livestock too. Looking at that stuff now, it almost looks prehistoric and it was only 60 years ago. It takes you back in time."
While those days were tough physically, today's farmers have to deal with much more financial stress, noted Qualls. "Although farmers are receiving record prices, we have a lot less buying power with the dollars we are taking in now. We're experiencing a hidden inflation in the cost of our inputs. Even though I'm taking in more money, I have less to show for it at the end. I have a lot more exposure and overhead and capital investment."
Kenny believes the uncertainty in agriculture is tied directly to the uncertainty in the global economy, which is yet to be resolved. To prepare for future repercussions in the economy, "we try to minimize our debt as much as possible," Kenny says. "We try not to operate in a panic mode or scared mode. I know that everything is going to be all right in the long run, it's just trying to survive the tough times that may be ahead."
Even though there is a transition taking place on the farm, the Quallses continue to work together, and have a good balance of skills and foresight.
"My dad is a macro thinker," Garrett said. He thinks long-term. I'm more of a micro-thinker. I figure out how to manage seed costs, and how I can gain every little bushel.
"He's the best partner you could have," Garrett said. "I would hope he would say the same for me. It's nice having a guy with that much experience in your back pocket. You can go and ask advice when times look tough or you're having trouble. You can always ask Dad. Chances are he's seen it or something close to it."
          You might also like
About the Author(s)

Elton joined Delta Farm Press in March 1993, and was named editor of the publication in July 1997. He writes about agriculture-related issues for cotton, corn, soybean, rice and wheat producers in west Tennessee, Arkansas, Mississippi, Louisiana and southeast Missouri. Elton worked as editor of a weekly community newspaper and wrote for a monthly cotton magazine prior to Delta Farm Press. Elton and his wife, Stephony, live in Atoka, Tenn., 30 miles north of Memphis. They have three grown sons, Ryan Robinson, Nick Gatlin and Will Gatlin.
Subscribe to receive top agriculture news
Be informed daily with these free e-newsletters
You May Also Like
---