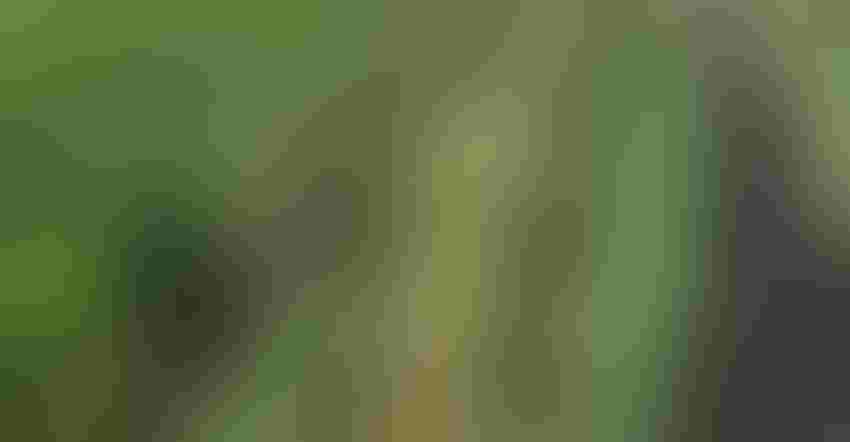 Southwest farmers may have breathed a sigh of relief the last week of October when they learned that they can use dicamba in 2021 to control some of their most persistent weeds, including Palmer amaranth.
"I've talked to a number of individuals that seem very happy about the new dicamba labels and can now start making plans for 2021," says Peter Dotray, weed scientist, Texas Tech University and Texas A&M AgriLife Extension, Lubbock.  "I was part of a few discussions about what the new labels would look like but now it's good to see the details of each label. There are differences across the new labels, but we have time to sort out the differences before we start our Auxin Trainings for 2021."
Dotray says three of the four low volatility dicamba formulations have a new label and says a label for the fourth "should be forthcoming."
See, Don't overlook this about EPA's dicamba decision
The labels are not perfect. "But the restrictions are workable," Dotray says, "although some inconsistencies across product labels could create complications."
He says labels for some products require annual applicator training; others require training every other year. States, he adds, may make decisions to create uniformity in the trainings. "Texas will probably continue annual trainings for both dicamba and 2,4-D, regardless of the newly released dicamba formulations."
Volatility Reducing Agents
All three of the new dicamba labels (Xtendimax, Engenia, and Tavium) now require a volatility reducing agent (VRA), which likely will be different across formulations. "Applicators will need to go to the manufacturer website to see what VRA is approved for their product," Dotray advises.
He says although each product requires a different VRA, the message is still uniform in that a VRA is required for all products. One difference across the labels, he says, is that some of the formulations will require a drift reducing agent (DRA) but others do not. "Check the label."
Dotray says although the new labels include numerous changes, "a lot of the restrictions in 2020, like wind speed at application, sprayer speed, boom height, nozzle selection, and prohibiting applications during temperature inversions did not change."
Cutoff dates
He says producers should be able to work with the new dicamba application cutoff dates, June 30 for soybeans and July 30 for cotton, although some may want to see leeway on those dates.
See, Ag industry praises dicamba decision
"I see a potential positive with the July 30 cotton cutoff," Dotray says. "We still have good soil residual herbicides that control weeds differently than dicamba. We will continue to encourage multiple herbicide modes of action be used to control weeds and slow the development of herbicide resistant weeds. The July 30 application cutoff date will promote the use of other herbicide modes of action."
He says using several herbicides with different modes of action starting preplant and at planting lessens the chance of herbicide resistance.
"The number of dicamba complaints filed with the Texas Department of Agriculture has been low in West Texas," Dotray says. "Folks are doing a good job being careful and prioritizing the importance of on-target applications."
Buffer restrictions
The label also includes new downwind buffer restrictions, previously set at 110 feet. "If a sensitive crop is downwind, the label prohibits dicamba application. Otherwise, the buffer is expanded to 240 feet if not in an endangered species county. The downwind buffer extends to 310 feet in counties covered by the Endangered Species Act," Dotray says, with a 57-foot buffer in all other directions. 
He says Texas may have added more endangered species counties. "Producers will need to understand and follow county specific dicamba use restrictions for corresponding endangered species."
Exemptions?
Dotray says the new labels will set a nationwide template as to how dicamba can be used, but some states may request additional restrictions or be less restrictive. "EPA will no longer permit states to submit a 24C to further restrict the federal label," Dotray says. "They can go through the 24A process to request additional restrictions. Texas did use the 24C process last year to lessen the daylight application restriction by removing the one hour after sunrise and two hours before sunset daytime regulations."
 "I think we might see a similar request to allow dicamba application from sunrise to sunset, but with a big asterisk noting as long as applicators do not spray under temperature inversion conditions. That's the reason for the regulation," he says
The label restricts application of the new formulations to dicamba-tolerant crops only. Producers are limited to two postemergence dicamba applications before the cutoff dates.
Glad it's available
Seth Byrd, Oklahoma State University Extension cotton specialist, Stillwater, says the decision to label dicamba will benefit Oklahoma cotton growers.
"We're just glad to have it available," he says. "We are glad to get the deal done."
He adds that the cutoff date for cotton could be troublesome, especially for late-planted dryland cotton. "July 30 is a little early for many of our producers, especially dryland acres," Byrd says. "We can plant cotton well into June, so that July 30 cutoff date could be a tight window for some growers."
Dotray says the industry is pleased to have a dicamba label but adds that Extension specialists, consultants and growers still have much to learn about the new regulations.
"We have time to get a better understanding of these labels," he says. "We're still studying it and will likely have conversations about other details.
"Overall, folks are happy with the label, especially when they faced not having it."
Subscribe to receive top agriculture news
Be informed daily with these free e-newsletters
You May Also Like
---