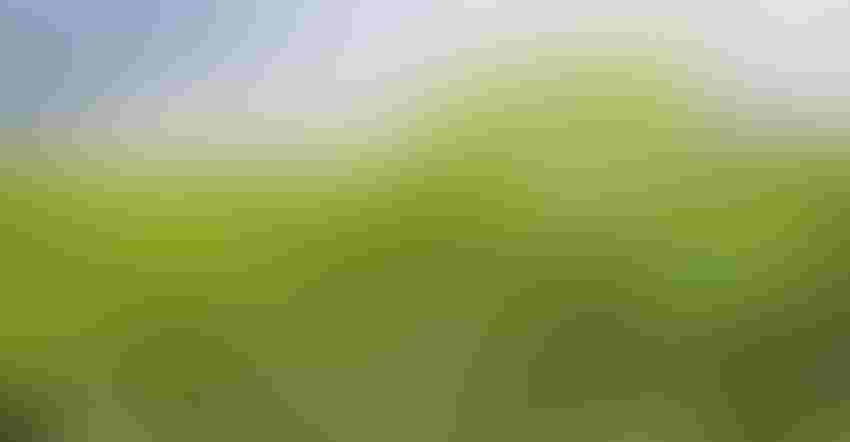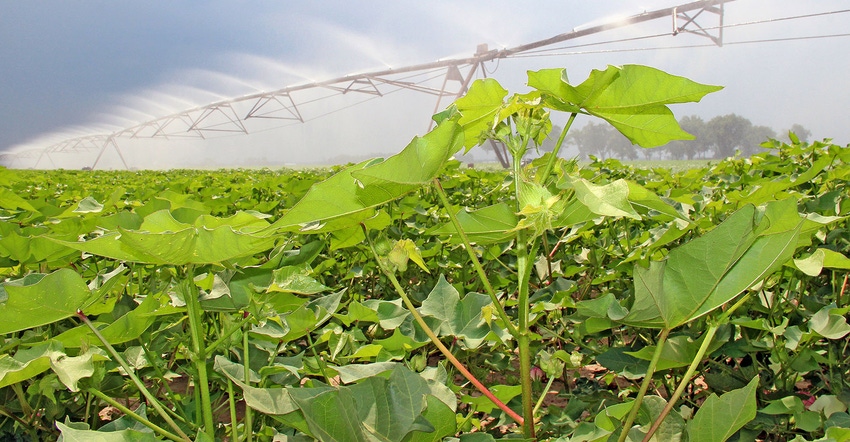 Cotton growers now have many tools to help them time irrigations. University irrigation programs, commercial moisture probes and just walking the fields help growers refine irrigation timing and maximize efficiency.
Several independent crop consultants suggest irrigation tips that help their cotton growers irrigate efficiently and economically.
The first bloom
West Tennessee consultant Matt White says, "One of our first rules of irrigation is do not water before the first bloom. The cotton crop really doesn't require much water until it reaches the bloom stage, unless we get into a droughty situation."
White says there is no way to know when to water unless a grower has an underground tool telling him when to do it.
"Whether you use furrow irrigation or pivot irrigation, a moisture meter can help you determine when the crop needs watering," he says. "Timing can vary by soil texture; on sandier ground, you might lose water a couple of days or a week before your heavier ground does. Without a moisture sensor, it's pretty much a guessing game."
White has been working with moisture meters for five years, and says they have proven their worth, especially in cotton.
"A moisture meter really helps cotton because it's such a water sensitive crop," he adds. "We use Watermark soil moisture sensors from PrecisionKing."
Related:Keep cotton clean with tillage, cover crops and herbicides
Additionally, White prefers watering with a pivot at night.
"You want to shut the plant down at night, and you don't want to water on an open flower, which can knock the pollen off," he explains. "Additionally, I don't want to shock the plant with 50-degree water when the daytime temperature is 100 degrees."
Guidelines
West Texas consultant Bob Glodt says, "Probably 85% of our cotton is irrigated, but this is primarily due to the fact that growers in my area only plant what they can irrigate.
"There is a wide range of capability of being able to apply the amount of water needed to produce a good cotton crop," he says. "A dry year really stretches our irrigation capability. Our area is becoming more and more rainfall-dependent each year."
Glodt is a firm believer in following a set of guidelines when it comes to watering cotton. His number one irrigation rule is to avoid pre-watering too early.
"What you want to do is determine about when your planting date will be, and then back off three weeks and give rain a chance," he explains. "If you have to pre-water, irrigate to the top 18 inches or so."
Glodt uses the Texas Alliance for Water Conservation PET program on the potential of evapotranspiration, or ET, as a guide for when to irrigate, how much water to apply, and when to terminate irrigation for the season.
Related:Protect cotton plants early the right way
"The TAWC irrigation program works well for us," he says.
"Some new commercial soil probe technology is becoming available," he says. "It gives interesting moisture depletion information, but it doesn't really help us determine how many inches to apply. Additionally, some programs cost $40 to $50 per acre."
Laying the water
South Georgia consultant Jack Royal says, "Most of my cotton growers water their crop according to the University of Georgia irrigation tips and guidelines. The university irrigation program does really well for us. If you input the proper data, the program projects when to irrigate, how much water to apply, and when to terminate irrigation for the season."
Royal says the biggest irrigation tip he can give cotton growers is knowing what their pivots are doing.
"Know how much water your circles are actually putting out," he says. "A lot of charts are not putting out what they claim the setting is. Calibrate the circles, fix leaks and replace blown out nozzles. You calibrate your other equipment like planters and spray rigs, so calibrate your irrigation circles, too. Do proper maintenance on the circles, so when you need them, you got them."
Royal's area irrigates only by pivots — no furrow irrigation. This is due to field size and rolling land.
"When a cotton crop needs nitrogen the most is about when you need to start watering it," he says. "You need to really lay the water to cotton through six to seven weeks of bloom when you're setting your crop."
About the Author(s)
Subscribe to receive top agriculture news
Be informed daily with these free e-newsletters
You May Also Like
---