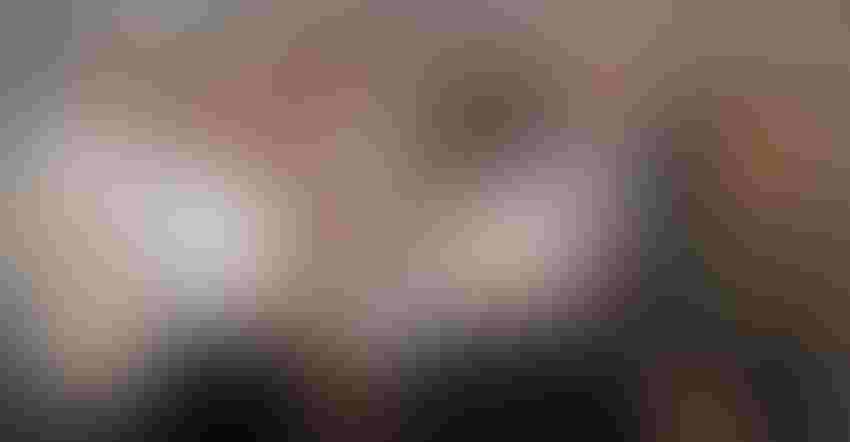 SCGA Ginner of the Year Award winner Charlie Jennings celebrates with his family following the SCGA honors banquet, Feb. 27 in Memphis, Tenn. Pictured are: David Cochran (back) Ken Jennings, Ann Jennings, Charlie Jennings, Kim Jennings, Buddy Cochran and Carolyn Cochran.
Delta Farm Press Photo
Charlie Jennings knew he wanted to be a cotton ginner almost as soon as he learned how to walk.
His mother worked at the gin and took him with her when she went back to work following his birth. He was born in October, in ginning season, so the gin became an important part of his early environment. "I remember her taking me with her when I was just two or three years old," he said.
He reminisced about his early exposure to cotton gins in remarks as he accepted the Southern Cotton Ginners Association Ginner of the Year Award, Feb. 27 in Memphis, Tenn.
"Not many people at that early age know what they want to do," Jennings said at the SCGA annual awards banquet. The SCGA Honors Banquet is held the evening before the annual Mid-South Farm and Gin Show.
Jennings, who manages Avon Gin, Inc., near Greenville, Miss., said the fascination with cotton gins has never ebbed. "When I was in elementary school, I waited for the 3 o'clock bell to ring so I could go to the gin to work."
Family affair
The gin was a family affair. Jennings' mom and grandmother worked for his grandfather, Howard Hearn, at Rebel Gin in Arcola, Miss.
His grandfather was an important influence and mentor. "He was with me until 2010," Jennings said.
"When my granddaddy retired in 1996, I was a senior in high school," he said. "I knew then what I wanted to do. Once ginning is in your blood, it's just there — that's all I know."
He said his grandfather encouraged him and had him go to work with a gin when he finished high school. "I spent a lot of time with my granddad. He ran a gin for 36 years," Jennings said. "I followed in his footsteps. This is a special honor for my granddad."
Jennings went to work for Burdette Gin in nearby Leland, Miss., after his grandfather retired. "I worked there five or six years," he said. "And I went through the USDA Gin School in Stoneville, Miss."
After completing the gin school, he went to work with Lummus in the Greenville, Miss., office.
Office work didn't suit him. He preferred working inside the gin. "I was cooped up in an office, and I wasn't used to that."
Buddy Cochran
Buddy Cochran, Avon Gin, offered him an escape and a job in 2003. He was 28 years old. He took advantage of that opportunity.
"I can't thank Mr. Cochran enough for having faith in in me at only 28 years old," Jennings said. Cochran said they were interested in hiring a gin manager who would be around for a while. They found one. He also noted that hiring Charlie came with a bonus. His grandfather parked his camper in the gin yard and helped Charlie when needed.
"Charlie was equal to the task from the start," Cochran said.
Jennings said the cotton gin industry is special. "If a competitor across the road or across the river has trouble, we know other gins will be ready to help. That's the kind of industry this is."
He said the work is not always easy on families and a gin manager's wife needs patience. "I have to thank my wife, Kim. She understands that when it's ginning season we are a little hard to deal with. We have a lot of long days and work a lot of weekends."
Jennings learned early that the ginning community is a big family. "Working for Lummus gave me the opportunity to meet a number of ginners. They may be strong competitors, but every ginner I know will help another ginner if he has a problem. It doesn't matter if the gin is across the road or across the river, they will be ready to help."
Jennings and his wife, Kim, have three children, Madelyn, Tyler and Abigail. Tyler, 12, is already showing interest in running a gin, which would make him a third-generation ginner.
SCGA
"I want to thank the Southern Cotton Ginners Association for this honor," Jennings said. "I also want to thank them for all they do for the ginning industry."
He said the SCGA safety program is a tremendous benefit to the cotton ginners.
"I appreciate y'all," he said, to a standing ovation. "And I appreciate this award and am very honored."
Subscribe to receive top agriculture news
Be informed daily with these free e-newsletters
You May Also Like
---