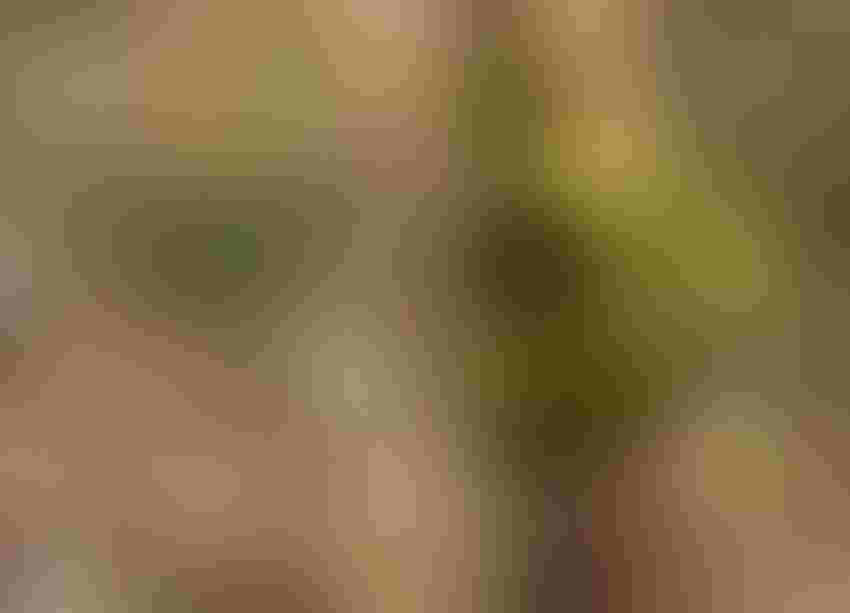 Bob Kemerait, UGA Extension
Too many cotton stalks are left in the fields. Incessant rains that began last fall kept farmers from harvest and from destroying what remains. 
I told growers that December freezes had killed the remnant plants, thus depriving nematodes a food source and a newly-discovered virus a reservoir for aphid vectors.  But days of unseasonably warm weather have proved me wrong and, like Lazarus, stalks are coming to life as new buds appear.  At best, these ghosts from last year will be of no consequence for the 2019 cotton crop.  At worst, they will feed awakening nematodes and hungry aphids that acquire a potent virus and spread it to a new crop.
Speaking at an Extension meeting in southwestern Georgia, I encouraged cotton farmers to recognize the symptoms of plant-parasitic nematodes, and the Cotton leafroll dwarf virus (CLRDV) in their 2019 crop.  Recently confirmed in Alabama, Georgia, Mississippi and South Carolina, this virus is known in Brazil and elsewhere in the world as the causal agent of "Blue Disease," which is known to cause significant yield losses. 
To best protect your yields, it is critically important to take precautionary steps to reduce risks.   Identifying symptoms of nematodes will help growers plan for management; however when they appear it is impossible to further protect the crop.  Collecting soil samples after harvest and having them analyzed for nematodes is an important preemptive practice.  Results allow growers to take necessary management steps for the upcoming season before damage occurs. 
Symptoms caused by CLRDV may include crinkled, puckered leaves, reddening of the entire plant, distortion of blooms and abortion of squares and bolls, and a "crazy-top" where shortened internodes and absence of fruit give the cotton plant a "whip-like" appearance.   Although there is much to be learned about this virus, there is no doubt that it can take a severe toll on yields in some situations.
Picture of Health
As the meeting ended, I was met by two close friends of mine, Tom and Debra Windhausen, a husband and wife team who have worked with me again and again to test management strategies for nematodes. 
(EDITOR'S NOTE 3-21-19: Story was updated to correct Tom Windhausen's name.)
Tom has always been the picture of health, a man in his 50s who appears in better shape than I was as a soldier in my 20s.  I was stunned when told that he was scheduled for a heart catheterization.  After experiencing shortness of breath in recent weeks while completing simple chores like collecting mail, he became concerned.  Debra was not to be deterred when told Tom would have to wait for an appointment; through her diligence he would have the diagnostic tests he needed.  The news was not good. Tom would quickly undergo triple bypass heart surgery. Through his determination and her support Tom continues the slow recovery process today.
Their story affects me.  I repeatedly warn farmers that their next cotton crop is at risk if they don't pay attention to signs in the field and take the needed preventative steps before problems occur.  Crop diseases, nematodes, hurricanes and incessant rains aren't the only threat to next year's crop.  The health of the farmer is important above all else.
From a December 2013 story on Irish farmers, Martin Ryan reports, "Farmers are seven times more likely to die from heart failure than those engaged in other occupations…..  Noel Richardson of the National Centre for Men's Health at IT Carlow told the Teagasc National Dairy Conference that "many farmers know their vet very well, but often don't know their doctor as well." He said the "assumption of farming as a healthy life" did not stack up when the "solid facts" were looked at.  "Health risks in farming are much worse than for other occupations," and 80% of farmers had four or more risk factors for cardiovascular disease, he told the conference. 
Chronic
"Ill health not only impacts a farmer's wellbeing but also has financial implications and may result in loss of farm profitability, lead to a higher risk of injury and disability and even premature death," he said.  Poor diet, lack of physical activity, smoking … as well as high cholesterol, blood pressure and diabetes are lifestyle diseases that impact on the health status of farmers," he said. 
From the Rural Health Information Hub, stress has also been identified as a chronic problem for farmers.  The top three farm-related stress factors for farmers in eastern North Carolina included the weather, concern over the future of the farm and outsiders not understanding the nature of farming
Today, my colleagues and I warn growers that cotton stalks surviving the winter in their fields could pose a threat to the 2019 cotton crop by feeding nematodes and serving as a "green-bridge" for the cotton leafroll dwarf virus.  Should growers make efforts to destroy last season's cotton crop now ahead of planting?  We don't have all of the data we need, but it seems a prudent practice at least where nematodes occurred, or the virus was observed last season. 
More importantly, growers must recognize that because of their farming profession, they are more likely to suffer serious conditions like heart disease.  I plead that they also recognize the early warning symptoms and seek immediate care.  My friend Tom did and that likely saved his life. 
We need you around.
About the Author(s)
Subscribe to receive top agriculture news
Be informed daily with these free e-newsletters
You May Also Like
---