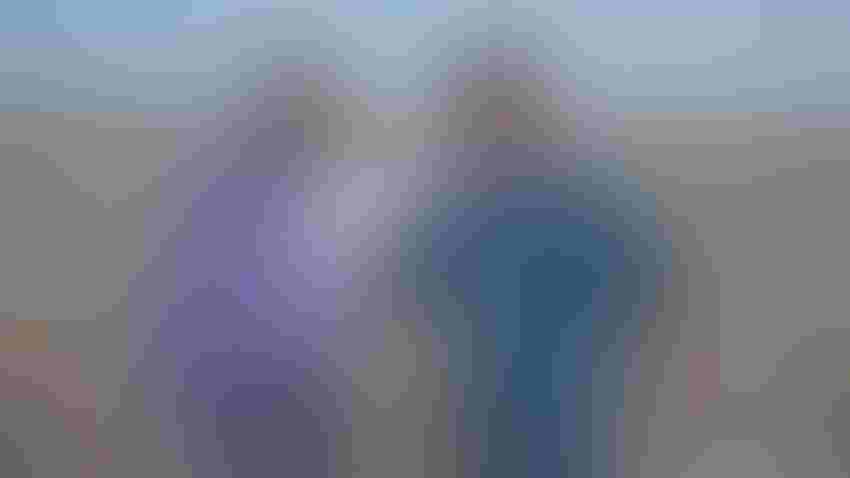 Generational continuity. Tate Tackett (right) recently came home to farm with his dad Greg. Economic sustainability to support the fourth generation on this farm requires breeding innovation that supports continuous cotton.
Pam Caraway
Many might expect the ground beneath his feet to ripple with the movement of millions of nematodes – and only be half-joking. For the last decade or so, that's been the fear. Nematodes have been the greatest threat to his economic viability for longer than the Tacketts knew.
The Tacketts used anhydrous ammonia in the 1970s, Temik in the '80s and most of the seed treatments and chemistries that promised healthy plants and higher yields, including aldicarb again when it came back on the market.
"A $35-an-acre aldicarb application is not a big deal when it's the difference for making a crop," said Andy Graves, of Graves Agronomy Consulting in Clarksdale, Miss. Graves speaks with the authority of experience. In the greater Clarksdale, Miss., area – where Graves scouts for many cotton growers – few have the option of rotating to other crops. Such a rotation could help reduce the nematode population if it was an option.
The treatment strategies helped – to some extent.
"Our yields were steadily going down," Tackett said. "We just didn't know it was nematodes."
Aha moment
The aha moment came about 10 years ago when Graves sent soil samples to Mississippi State University for testing. The results?
"We have reniform and root-knot. Treatable levels of both," Graves said.
The double dose gives nematodes the edge in the battle to make a cotton crop, PhytoGen Agronomist Shawn Butler explained. Fields under root-knot pressure still make a crop most years. Not so when reniform is present. Butler calls reniform nematode pressure a "stress maximizer."
"You can outrun it until a year when you have stress," Butler said.
Stress is the norm most years in this region.
"Walking these fields we'd go from waist-high to knee-high cotton every few steps," Tackett said.
If weather isn't stressing the crop, Graves said plants under pressure from reniform nematodes can be stressed by treatments for other pests, particularly herbicides.
To complicate matters, bacterial blight also plagues this region. As more farmers move to conservation tillage, Graves believes pressure from that disease increases.
"You're leaving residue, carrying over the disease, then planting into it the next year," he said.
Planting a variety that doesn't have bacterial blight resistance is a risk that Graves doesn't recommend a grower take.
"The bacterial blight issue is what put me onto PhytoGen 10 or 12 years ago," Graves said. "Their blight resistance is what really got our attention."
Defeating the stress maximizer
When nematode-resistant cotton varieties arrived, they only offered root-knot-nematode resistance. Because varieties deplete root-knot populations, however, they helped. Couple that with bacterial blight resistance, and Graves believed cotton growers could bring a decent crop to harvest. Then PhytoGen added reniform-nematode resistance.
"With these reniform varieties, I think we can consistently get 3 ½ - 4 bales," Tackett said. "We didn't realize how bad nematodes were hurting us."
Tackett recorded yields 150 to 200 pounds per acre higher in 2022 and expects the same this year. In 2022, Tackett planted half his acres to PHY 411 W3FE. This season, he planted nearly every acre to it. The only exception is a PhytoGen trial.
As folks might expect listening to Graves, he recommends nematode-resistant varieties with bacterial blight resistance. "I preach it," the consultant said.
"The yield goal is 1,500 pounds per acre," Graves said. "They want better than that, of course. But 1,400/1,450 pounds per acre is the expectation now – not the hope."
Subscribe to receive top agriculture news
Be informed daily with these free e-newsletters
You May Also Like
---