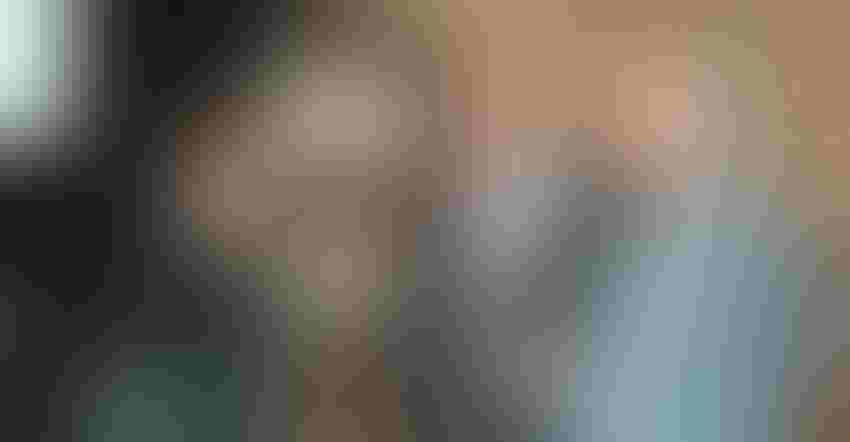 Dr.. Yangxuan Liu, University of Georgia, Tifton, left, visits with with O.A. Cleveland and Jarral Neeper following the gentlemen's joint session on cotton markets.
Anytime a cotton marketing specialist begins an outlook presentation with "I hope I am going to be entirely wrong," don't expect good news.
O.A. Cleveland, professor emeritus, cotton marketing, Mississippi State University, did not offer a rosy 2019 outlook for cotton prices during a marketing update at the recent Beltwide Cotton Conferences in New Orleans.
Cleveland and marketing specialist Jarral Neeper engaged in a back and forth discussion of what to expect from cotton markets and some of the underlying problems likely to influence prices.
Cleveland says many cotton farmers missed marketing opportunities last year. "We were at 94 cents," Cleveland said. "We advised pricing at least three-quarters of production at 94 cents. Maybe one-twentieth or one-fifteenth of them did that."
He said another opportunity was available at 91 cents.
Sifting through nearly an hour of detailed discussion, seven key points indicate significant challenges for the cotton market: pricing, the economy, competition, tariffs, interest rates, supply and trade. Here are key points on how these issues will keep a lid on cotton markets.
1. Pricing
"Now, here we are at 72 cents and still finding a lot of cotton not priced," Cleveland says. "I'm a bit bearish." But he adds that he hopes the more bullish analysts are "going to be entirely correct, but I don't see potential for 80-cent cotton."
2. Supply
Estimates show a 7.2 million-bale ending stocks, which, the two analysts agree, is significant. Only nine times, they say, since the 1950s have stocks pushed above 7 million or even 6 million bales. The long-term average is 5.5 million bales.
They say consumption in China is down significantly. The European economy is also struggling, which affects consumption. The U.S. economy, however, is unlikely to hit a recession, Cleveland says.
3. Tariffs
Neeper says China's retaliatory tariffs weigh on the market. "The Chinese retaliated (to President Trump's tariffs on steel and aluminum, among other items) and later announced some more." He says the trade standoff is currently "in a holding pattern to see if we can get some things figured out."
Cleveland says the situation with China may be more significant to cotton than the industry realizes. "I think as an industry, we are missing the significance of the China tariff situation and we are missing the major significance of the long-term changes in the cotton industry this tariff situation has thrown upon us."
He adds that "cotton has absolutely no seat at the table," in negotiations.
4. Competition
The tariff issue has opened the door to U.S. cotton's competitors. Brazil is stepping up production of cotton and soybeans. The Chinese, Cleveland says, are buying more cotton from Brazil.
"Brazil took land away from the indigenous Indians and reconstituted that as farm land. They have an area as large as the field crop production area here in the United States and plan to increase production of cotton and soybeans."
He says this Brazilian production uptick "keeps the cotton market in turmoil. The world's going to start coming to Brazil, instead of the United States. This bothers me."
He says another competitor the industry can't ignore is synthetic fiber. "That's another battle to fight." When synthetic prices moved into the 70-cent range, it was less competitive but is significantly more so as the manmade fiber price moves closer to 50 cents.
5. Interest rates
The Federal Reserve has raised rates several times over the past two years. "All indications are that they're going to hold it at the current level," Neeper says. "But when you go from basically zero to the 2 percent, 2.5 percent, it's still a very low level from a historical perspective. But the fact that we were going up was bothering folks and that clearly has an impact on the world economy."
6. Trade
Trade and Chinese tariffs are closely related, but other export targets are off, too. Neeper says China and Turkey exports are down about 20 percent. "China and Turkey both contribute significantly to U.S. cotton exports. Turkey has been a real problem this year."
He adds that the U.S. needs to sell at least another million bales to China and Turkey, combined, to meet export estimates.
If that doesn't happen, he says Pakistan, India, Vietnam, and Indonesia could pick up some of the slack.
7. The Economy
Neeper says a global economic slow-down means less discretionary income. "When things slow down, people don't have as much money in their pocket books, and they don't buy as many clothes."
Prices could drop below current levels, analysts say, so producers should be alert to marketing opportunities and not miss rallies like the ones available last year.
And they prefer to be wrong about gloomy predictions.
Subscribe to receive top agriculture news
Be informed daily with these free e-newsletters
You May Also Like
---