Winter canola and no-till farming can be accomplished
Winter canola and no-till farming can be accomplished
Pay attention to planting depth in no-till winter canola.Winter-hardy canola varieties recommended.Planting early in the recommended "planting window" increases odds of a good stand.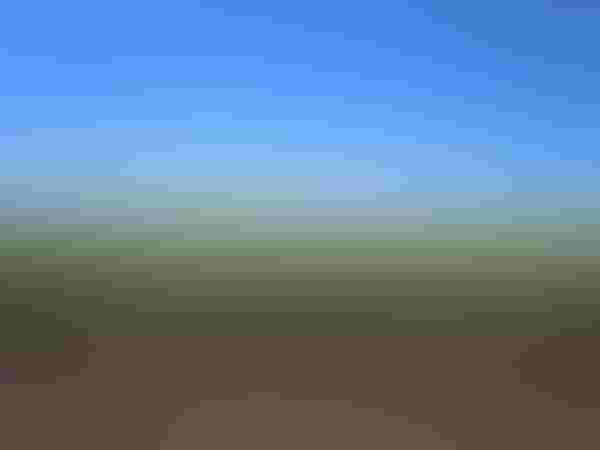 Planting winter canola into wheat stubble can be accomplished successfully if producers follow some simple directions, says Oklahoma State University cropping systems specialist Chad Godsey.
Godsey, speaking at the ninth annual Oklahoma-Kansas Winter Canola Conference in Altus, Okla., explained planting canola in no-till situations has created winter kill problems in the last two or three years. However, research conducted by Godsey and other OSU agricultural specialists shows farmers can successfully grow canola in no-till fields if they just follow a few simple practices.
Special attention should be given to seeding depth, Godsey said. Seed should be planted from one-half to one-inch deep in the soil. If the seedbed is uneven, plant the tiny canola seed at one inch to make ensure good seed to soil contact.
Godsey emphasized the importance of keeping harvested wheat residue away from the row where the canola is being planted. He said a producer should make sure combines spread wheat straw residue evenly across the harvester's header to avoid clumps of residue in the field. "Running a harrow over the field before planting or even burning the extra residue are ways to ensure clean planting rows," he said.
Farmers should choose canola varieties to plant with excellent winter hardiness and low crown development. During winter dormancy, when the crop is not growing, it stays alive on the nutrients stored in its root system. If cold air and frost can move beneath the plant's crown and the soil, the canola plant's survival can be severely affected. Canola varieties with low crowns grow closer to the soil to better protect the plant during the cold winter months.
If you are enjoying reading this article, please check out Southwest Farm Press Daily and receive the latest news right to your inbox.
Another option for farmers who practice no-till and grow winter canola in rotation with their winter wheat is to increase canola seeding rates by 15 percent to 20 percent to better ensure establishing a crop. Increasing the amount of seed planted is a good practice when farmers have a heavy amount of wheat straw residue left in the field, Godsey said.
Switching to "wavy" coulters on the canola planter is a good way to remove more residue from the row where the canola is planted, he said. Using these coulters will disturb the soil in the row and push any extra crop residue out of the way.
Be sure to set sufficient down-force on planters before planting canola to get correct planting function. Godsey also suggested farmers should "get off the tractor frequently" to make sure the planter is giving a correct seeding rate and depth because soil conditions change across each field.
Plant early
In the Southern Plains, farmers are encouraged to plant winter canola in a "planting window" of Sept. 10 trough Oct. 10. There is a reason for these dates, Godsey said, and a good practice to follow is to plant early in that window to ensure a good stand.
Recent research conducted by Godsey and other OSU agronomists indicate planting winter canola can be a problem in fields where no-till has been practiced for less than three years. "It takes time for fields to adjust to no plowing," he said. "Fields where no-till has been practiced for more than three years have better soil structure and lower soil bulk densities to promote better plant root growth. Fields with compacted soil have high "bulk density," he said. It can take several years for soil to develop better soil structure after no-till farming begins.
Growing winter canola can be profitable for farmers in the Southern Plains, but it is a crop that demands more care than winter wheat. Farmers need to be aware of the needs of winter canola in order to successfully grow it as an individual crop along with the benefits derived when it is grown in rotation with winter wheat.
Information presented at the canola conference by OSU agricultural economist Rodney Jones shows canola stands on its own as a money crop.
Jones shared a Roundup Ready canola budget showing a net return per acre of $308.08 for canola. This includes net returns to land, fixed costs, labor and management. In contrast, a grain-only wheat budget of continuous wheat had a net return to land, fixed costs, labor and management of $99.29 per acre. Growing wheat in a wheat-wheat-canola rotation yielded a per acre return of $121.42 per acre.
Winter canola has been grown successfully in the Southern Plains for nearly a decade. It was developed from spring canola varieties grown in Canada and in the northern United States to combat perennial weed infestation in continuously grown winter wheat. With different plant characteristics and producing highly-sought canola oil for cooking oil and biofuel production, the crop's acreage has nearly doubled each year since its inception. Price per bushel paid for canola at harvest has exceeded prices paid for wheat by $3 to $4 per bushel.
You may also like:
Pluses and minuses for 2013 Oklahoma winter canola crop
Winter canola's expanding acreage appeals to Oklahoma farmers
Subscribe to receive top agriculture news
Be informed daily with these free e-newsletters
You May Also Like
---