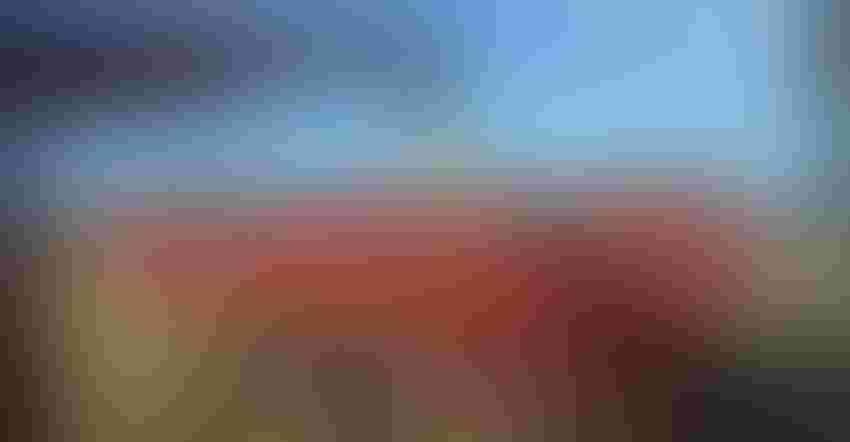 LINGERING IMPACT: Both combines and grain carts can create deep soil compaction due to high axle loads. Running on tracks or lower tire inflation pressures may help.
Perhaps you needed to harvest the last few fields in 2019 when it was wetter than you liked. Gary Steinhardt, Purdue University Extension agronomist, says sometimes soil compaction is a cost of doing business. Avoid it, if possible, and try to minimize it, but sometimes you can't alleviate it completely.
In fact, if dry weather stress develops in summer 2020, especially in corn, Steinhardt's early soil compaction studies indicate you may still see effects from soil compaction created during the wet 2018 harvest. Deep soil compaction often doesn't disappear in one season.
Mark Jeschke, agronomy manager for Pioneer, recently summarized various studies related to soil compaction. "I'm interested because soil compaction limits root growth and reduces water-holding capacity," he says.
Deeper in subsoil
You can create soil compaction if you run large machinery on wet soils during spring. But you can also create soil compaction during harvest. In fact, Jeschke discovered soil compaction created by combines and grain carts may be harder to mitigate because it could go deeper into the subsoil than compaction created in the spring.
Deep soil compaction is heavily tied to axle load. The higher the axle load, the greater the risk of causing deep soil compaction, Jeschke says.
Related:Reduce soil compaction potential
Twenty years ago, a state-of-the-art combine with a corn head and a full grain tank weighed just over 20 tons. Today, it's closer to 40 tons. That's based on comparing a Case IH 2388 combine with an eight-row head, circa 1998, to a 2018 Case IH 9240 combine with a 16-row head. The problem with combines is that a large percentage of the weight is carried on the front axle, Jeschke adds.
A combine typically carries 80% to 85% of its total weight on the front axle. That puts front axle loads well over 20 tons on large, modern combines. Industry experts estimate a 720-bushel grain cart, full, carries 22 tons per axle, and a 1,200-bushel grain cart carries 35 to 40 tons per axle.
"Researchers say axle loads of 10 tons or more create subsoil compaction in susceptible soils," Jeschke says.
So how can you reduce soil compaction when operating combines and grain carts? Stay off soils when wet, if possible, and limit where grain carts and semitrucks run. Select tires that function at lower tire inflation pressure and consider tracks.
"Run the grain cart over the same path as the combine instead of cutting diagonally across the field," Jeschke adds. "Since 80% of soil compaction happens on the first pass, try to use the same traffic pattern when possible. Keep trucks on the ends, out of the field. High axle loads and high tire inflation pressure create soil compaction quickly."
Related:Why soil compaction is bigger yield threat today
How much tracks help, or whether tracks versus wider tires and lower inflation pressure is the best option isn't always clear cut, he notes. "There isn't a lot of data available to answer many of these questions," he says. "It can vary from situation to situation."
About the Author(s)
Subscribe to receive top agriculture news
Be informed daily with these free e-newsletters
You May Also Like
---