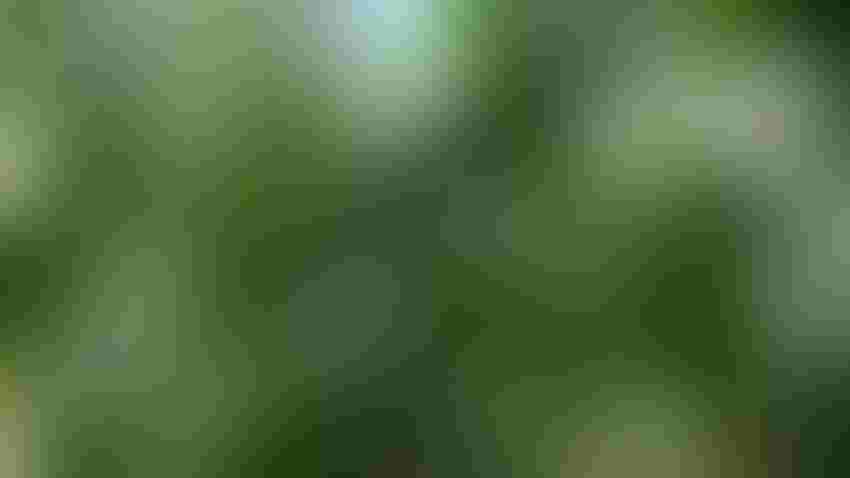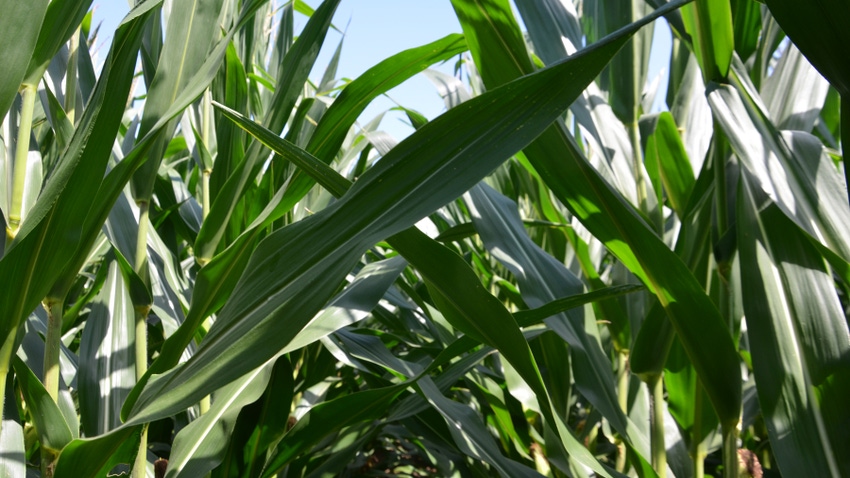 MILD DISEASE YEAR: Note a few gray leaf spot lesions on this leaf, pulled when corn was nearing brown silk. Diseases didn't ramp up until very late in 2022.
Tom J. Bechman
What started out as a simple study to determine if it pays to keep investing in crops even if they're planted late showed what most trials with corn show. Nothing is straightforward and simple. Mother Nature loves to throw curve balls.
After the late planting season in 2019, many people questioned the value of continuing to pour on inputs for corn if the yield potential might already be limited. Plus, corn prices were still around $4 per bushel in 2020. They skyrocketed to $6 and $7 per bushel in 2022, but prospects for the '23 crop have fallen back to the $5-to-$6 range.
The price of corn plays a big role in determining whether a treatment or practice not only pays for itself, but offers a return on investment, notes Steve Gauck, an agronomy manager for Beck's based near Greensburg, Ind. The higher the corn price, the more likelihood of seeing a higher net return, he adds.
The Beck's Practical Farm Research team started an experiment in 2020 to determine if fungicide would still pay when corn was planted late. Corn was planted in three different windows: April 16 to 30, May 1 to 15 and May 16 to 31. Corn planted at the different dates either received fungicide or did not.
Based on three-year results, fungicide applied on the earliest-planted corn netted an ROI of $20.09 per acre; fungicide on corn planted May 1 to May 15 yielded an ROI of $23.59 per acre, and fungicide on the late-planted corn produced an ROI of $39.09 per acre.
"Based on three-year results, if planting is delayed, it still pays to invest in the crop," Gauck says. "There was a payoff for applying fungicide."
Not in 2022
However, the story was different in the third year of the study, 2022. While all three plots sprayed with fungicide yielded more, the yield boost was large enough to produce a positive ROI only on corn planted in early May. That's true even though corn was higher priced. Corn was priced at $6.11 per bushel for this trial in '22.
"We saw very little late-season disease pressure in these plots in '22," Gauck says. The trial was repeated at the Kentucky, central Illinois and southern Illinois sites in '22.
Trivapro fungicide was used as the fungicide in '22 at a rate of 13.7 ounces per acre. For calculation purposes, Trivapro was priced at $191.11 per gallon.
Yes in 2022
Meanwhile, Dan Quinn, Purdue Extension corn specialist, included fungicide as one of the six intensive add-on treatments he compared at five locations in '22, including three in Indiana, one in Lexington, Ky., and one in East Lansing, Mich. He saw a large response to fungicide application at some of the sites.
In fact, the control plus fungicide treatment produced the largest ROI in the trial compared to control plus any other factor that he compared. Quinn also noted that disease pressure was low to mild at most of the sites.
The Purdue study did not look at planting date vs. application timing. However, there was a range of planting dates among the various trials. Quinn plans to continue looking at the role of fungicides in protecting yields and how that impacts ROI in the future.
Subscribe to receive top agriculture news
Be informed daily with these free e-newsletters
You May Also Like
---