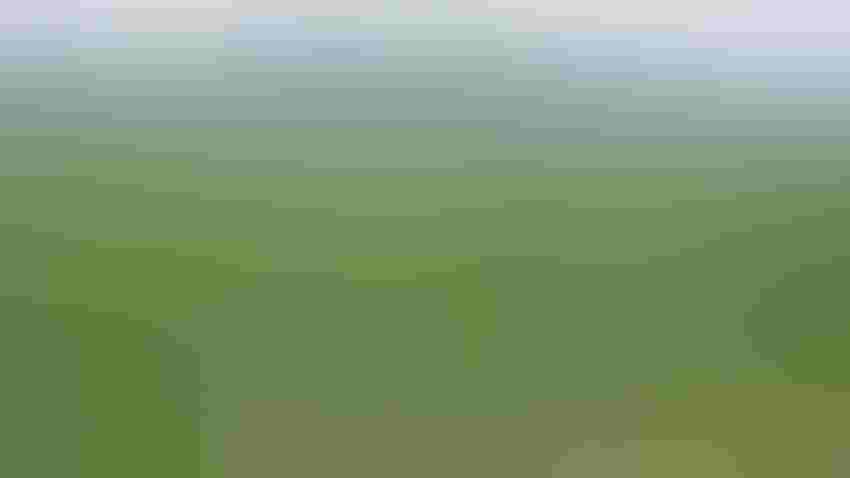 SMOKE AT WORK: Wildfire smoke from Canada was at its peak in Indiana on this day in late June, creating dreary conditions.
Tom J. Bechman
by Dan Quinn
In recent years, Indiana has experienced an increase in air quality concerns during summer due to elevated incidence and severity of wildfires in Canada and the Western U.S. In late June this year, air quality warnings were issued throughout Indiana due to smoke caused by Canadian wildfires, resulting in a noticeable haze and reduction in direct sunlight.
Not only is this a concern for human health, but many farmers also ask, "How is the smoke impacting crop development?" The answer to this question can be tricky. It often results in the quintessential Extension answer: "It depends."
Negative impacts
Haze and reduced air quality can result in both negative and positive impacts on crop growth. The first negative impact is a reduction in light availability, which can reduce crop photosynthesis. For example, during the week of June 26, when air quality concerns were greatest, average weekly solar radiation decreased by 32% as compared to the week prior and the week after in West Lafayette, Ind., according to the Purdue University Mesonet.
Wildfire smoke in the atmosphere can reflect portions of incoming sunlight, reducing the total amount available to plants. Reductions in light availability from wildfire smoke are more likely to impact corn than soybeans. Corn is a C4 photosynthesis crop with a higher light saturation point than soybeans. The saturation point is the level at which further increases in light do not increase photosynthesis. Soybeans are more susceptible to changes in carbon dioxide.
The second negative impact caused by wildfire smoke is an increase in ground-level ozone, which can be harmful to both human health and crop growth. Wildfires can emit various air pollutants, which can form ozone after reacting with sunlight. Ozone can cause harm to both corn and soybeans by entering the plant through the stomata and affecting plant tissue during respiration.
Because both reductions in sunlight and increases in ozone can cause photosynthesis reductions, corn may also be inclined to remobilize carbohydrates from stalks later in the season to satisfy grain fill requirements. This may increase the potential for weak stalks and lodging prior to harvest.
Positive effects
However, wildfire smoke can also have positive effects on crop growth. Wildfire smoke can reflect sunlight, but it also can scatter sunlight. Scattered light penetrates deeper into the crop canopy and increases plant photosynthesis.
Furthermore, scattered light and reduced direct sunlight can lower leaf surface temperatures, which can benefit crops under drought stress. Lower leaf temperatures can reduce transpiration, which is water movement and evaporation from the plant. This cools the plant and reduces overall water stress.
Overall, corn is more susceptible to the negative effects of wildfire smoke during grain fill stages than soybeans. The good news is that most corn in Indiana was in the vegetative stages during the smokiest days so far in 2023. Therefore, minor or no yield loss is expected throughout the state.
However, much is still needed to be learned about the impacts of wildfire smoke on crop growth. As these events become more frequent, it will be important to pay attention to them.
Quinn is the Purdue Extension corn specialist. Email him at [email protected].
Subscribe to receive top agriculture news
Be informed daily with these free e-newsletters
You May Also Like
---