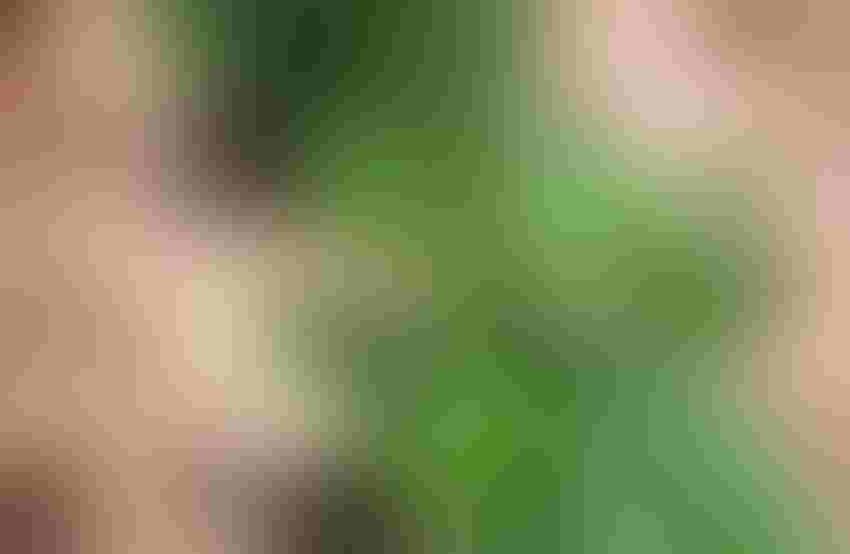 A successful fungicide program is built on a foundation of timing of application, choice of product, rate and coverage. The best program may vary from field to field and from year to year. Failure to build on a solid foundation can result in more disease and lower yields.  
The start date of a peanut fungicide program is critical and leads to a Goldilocks dilemma. Initiating a program too soon after planting insures staying ahead of disease but may result in wasted expense if too early. Starting a program too late could result in loss of disease control and loss yield. Recognizing the just right, which may involve waiting, can be the hardest part.
In the old days peanut farmers were instructed, "Make your first fungicide applications at 30 days after planting and continue on a 14-day spray schedule until within two or three weeks of digging; if it gets wet or you find rust, shorten your spray interval to every 10-12 days."  Our recommendations are more varied today and growers have options for an appropriate date to begin a fungicide program. 
Reasons for variability in starting a fungicide program are:
Availability of more effective fungicides.

Use of certain products at-planting that delay disease onset.

The development of the Peanut Rx disease risk index.
Traditionally, fungicide programs to battle leaf spot have begun about 30 days after planting. The 30-day rule works because the peanut plants are small without a canopy of leaves to trap humidity and increase periods of leaf wetness and the number of infective spores in a field are generally low.  Making an application at approximately 30 days after planting means the fungicide is almost certainly in place before the disease arrives. The actual start date can be delayed by a week to 10 days if the field is at low risk (as determined with Peanut Rx) and/or if weather conditions are unfavorable for development and spread of disease, for example during periods of hot and dry.   
Disease Factors
Factors that affect disease risk in a field include crop rotation, variety, tillage and planting date. (Peanut Rx can be found at https://peanuts.caes.uga.edu/.)  Initiation of a fungicide program for leaf spot program usually should not be delayed if peanuts are planted on a short rotation or when there is abundant rainfall.
Fungicide programs anchored to a 30-day start date often include chlorothalonil in the first application. Chorothalonil continues to be an important part of our peanut programs.  Because it is a protectant fungicide without systemic or curative activity, chlorothalonil MUST be applied prior to disease onset, making a 30-day application advised except under special conditions.  Where newer fungicides with curative activity, to include Lucento, Aproach Prima and Priaxor, are used, initiation of fungicide programs can be delayed until 45, 40, and 45 days after planting, respectively.
Decisions to use specific in-furrow products can influence the best date to start a fungicide program for leaf spot.  Research has shown that if Velum Total or Propulse is used in-furrow at planting time, the start of a fungicide program can be delayed until 45 days after planting.  Use of Thimet in-furrow for management of thrips and tomato spotted wilt will also provide additional control of leaf spot; however how this will affect start of a fungicide program remains to be determined.
White Mold
Application of a fungicide for white mold control has generally been made about 60 days after planting.  When early-season conditions are unusually warm, fighting white mold before that time can be beneficial. Proline used in-furrow is a convenient way to do this, but provides only limited control of white mold. Banded applications of Prolinet between 21 and 35 days after planting will be much more effective. If a grower is not prepared to make a banded fungicide application, other effective strategies are to apply Elatus at 30 days after planting or tebuconazole + chlorothalonil at 45.  Early applications of Lucento or Priaxor also have some activity against white mold.
Today's recommended fungicide programs may begin as early 21 or as late as 45 days after planting. The earliest starting dates are primarily to protect against early-season white mold. Later starts are appropriate when risk to leaf spot is low (as based upon Peanut Rx and predicted weather) or with use of products like Velum Total, Propulse, Priaxor, Aproach Prima, and Lucento. 
For some growers, waiting an additional two weeks to start a program can be stressful. As in the words of Tom Petty, one of the best to come out of Gainesville, Florida, "The waiting is the hardest part; every day you see one more card. You take it on faith, you take it to the heart; the waiting is the hardest part." 
However, the most important part is to start your fungicide program on time, whenever that may be.
About the Author(s)
Subscribe to receive top agriculture news
Be informed daily with these free e-newsletters
You May Also Like
---