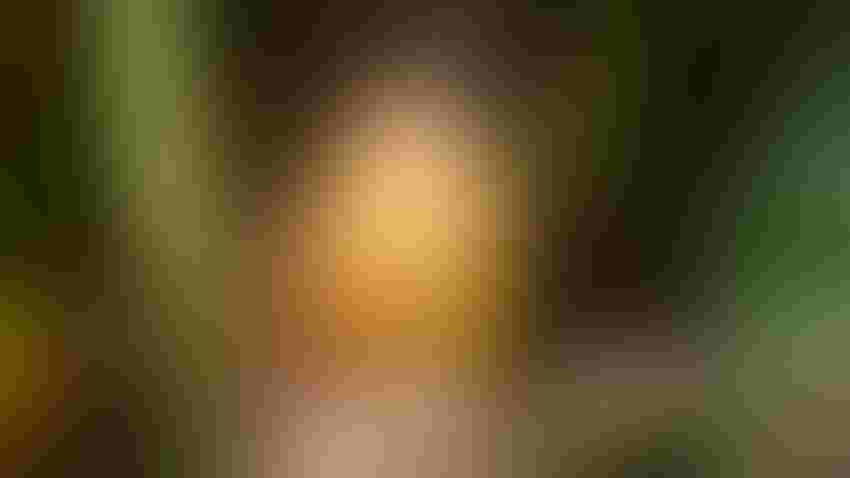 HARVEST FIRST: Mold is growing on this ear that hasn't even reached black layer yet. CCAs suggest marking this field for early harvest.
Tom J. Bechman
What ear molds and ear rots should we look for? What can we do if we find them? How much ear mold is too much?
The Indiana certified crop advisers panel answering this question includes Steve Gauck, regional agronomy manager for Beck's, Greensburg, Ind.; Bryan Overstreet, Conservation Cropping Systems Initiative agronomist, Valparaiso, Ind.; Dan Quinn, Purdue Extension corn specialist; and Dan Ritter, central region agronomist, Dairyland Seed.
Gauck: Looking back at weather during pollination can help determine which ear molds to expect. Excessive rain, heat or drought causing stress can lead to ear molds. Scout often and determine which type of ear mold you have. Some can cause mycotoxins that spread in the bin and may cause dockage or rejection at an elevator. Maybe only one field is affected, so make harvest plans to sell it or store it separately.
Other tips include starting harvest early, targeting 22% to 25% moisture, and increasing fan speed on the combine to blow out damaged kernels. Dry corn to less than 15% moisture within 48 hours of harvest. If storing long term, dry to 13.5% moisture. Monitor bins by taking samples to your elevator until grain is sold. These steps can help minimize the impact.
Overstreet: If it was hot and dry during pollination and three weeks afterward, look for aspergillus, penicillium and trichoderma ear rots. If was wet and humid, look for gibberella, diplodia and fusarium ear rots. Start scouting for these in mid- to late August. Many of these fungi can also produce mycotoxins toxic to livestock and humans. The issue of too much is determined by the amount of mycotoxins present in corn.
Quinn: Ear molds to watch include aspergillus, an olive-green mold; fusarium, with white or pink streaks on random kernels; gibberella, a pinkish mold at the ear; and diplodia, a white mold growth. Ear rots of greatest concern are aspergillus, gibberella and fusarium, due to their potential to produce mycotoxins.
If you find them, harvest those areas first. Left in the field, ear rot fungi will continue to grow and increase risk for mycotoxin contamination. Dry contaminated grain to less than 13% moisture and cool corn to 30 degrees F, if possible. Fungicide will not help control ear rot.
Ritter: Fusarium is favored by warm and dry conditions and can produce the mycotoxin fumonisin. It can, however, occur in a variety of other environmental conditions. Diplodia is caused by the fungus Stenocarpella maydis and is not associated with mycotoxins. Upright, tight-husked ears and rains during grain fill promote this disease. Gibberella is infected through young silks. Vomitoxin can be a concern with this disease. Aspergillus is most common under drought conditions, high temperatures and high relative humidity during pollination and grain fill. It can produce aflatoxins, which have very strict tolerances.
If you find any of these diseases, mark those fields for early harvest. If you are storing, dry your corn to 15% or lower, and monitor bins closely. Early marketing would be advised as well. As far as how much is too much, it depends on the disease and end users. Presence of various toxins can present serious usage issues. Work closely with your grain facility to understand tolerances it allows.
Subscribe to receive top agriculture news
Be informed daily with these free e-newsletters
You May Also Like
---