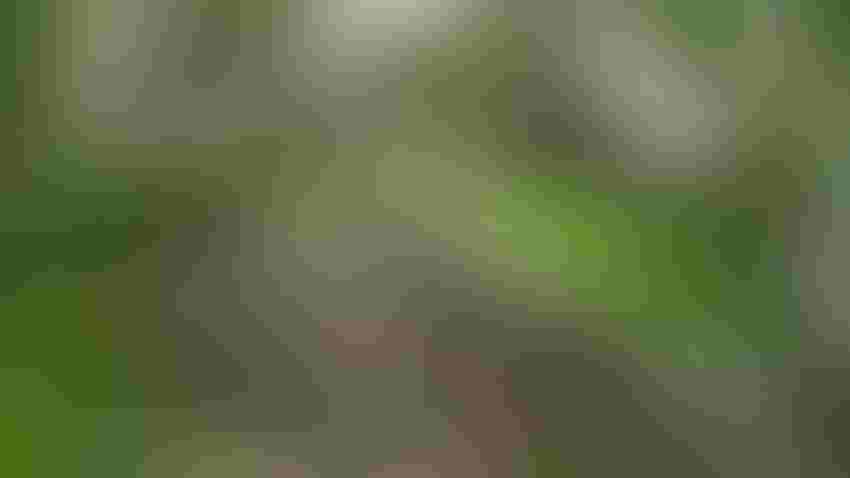 NOTE IT, MOVE ON: This insect damage caused by a leaf feeder like grasshoppers looks much worse than it is. If it's only a leaf here and there, ignore it and move on, Corn Watch consultant Dave Nanda says.
Tom J. Bechman
Your eyes are your primary sensors when you're walking cornfields in midsummer. Everything you observe and record won't be a problem. Some things you see will be normal, although they may not seem normal if this is the first time you've walked fields after tasseling and pollination. You may be seeing some things for the first time.
"It's OK to note everything, but realize that everything you observe may not be a problem," says Dave Nanda, director of genetics for Seed Genetics Direct, sponsor of Corn Watch '23. "Your job is to separate out which things deserve further monitoring and which ones either aren't real problems or will resolve themselves."
Nanda recently visited a cornfield during pollination. Here are his observations, including whether he considers the issue a matter of concern or just something to note and move on:
Insect damage to leaves. "It can be unsightly, especially if the holes in leaves are large," Nanda says. "Usually, however, it's only a very small amount of total leaf area of the plant which is affected."
Grasshoppers make rather large, irregular holes in leaves, usually starting on the outer leaf margin. Japanese beetles are famous for skeletonizing corn leaves, with only veins remaining intact afterward.
Nanda cautions not to ignore insect feeding, but size up the percentage of plants affected and identify the insect, if possible. Earlier in the season, through about V12, armyworms can devastate a cornfield quickly, sometimes prompting replanting. Later, fall armyworm can also feed on plants.
Insect damage to silks. This one can become a problem quickly, Nanda says. Japanese beetles and rootworm beetles are the biggest culprits. According to the Purdue University Corn & Soybean Field Guide, if silks are clipped back to one-half inch or less and 50% of corn plants are not pollinated yet, and you also observe beetles in the field, treatment is likely warranted.
Good insects. One insect Nanda observed on a corn leaf on his recent scouting foray into the Corn Watch '23 field was a ladybug beetle, complete with distinctive pinkish-red color and black spots.
"You don't want to harm that species if you can avoid it," Nanda says.
Stray pollen. If you observe leaves nearly coated with yellowish dust-like material, and pollination is underway, there is nothing wrong, Nanda says. Instead, pollen is falling on the plants. The target are silks, but so much pollen is typically released that leaves become coated too.
Disease lesions. Start at the bottom of the plant and work your way up, Nanda says. First determine if there are lesions on leaves; then try to identify them.
"We typically find gray leaf spot lesions here and there on leaves when scouting in mid-July, but this year I hunted and hunted and found one lonely lesion. If that's the case, and prolonged wet weather isn't in the forecast, I would hold off on spraying fungicides. It's difficult to justify when there is virtually no disease present."
Subscribe to receive top agriculture news
Be informed daily with these free e-newsletters
You May Also Like
---