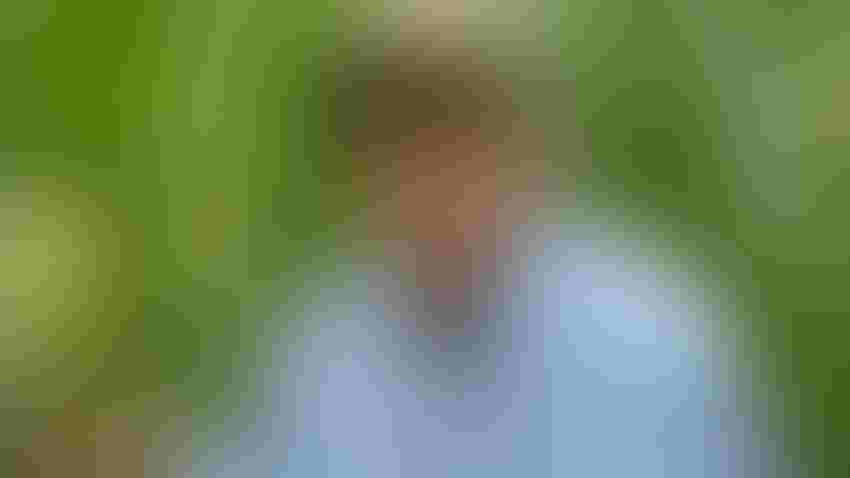 POLLINATION PARTY: Pollination was heading toward its peak in this field when Dave Nanda visited it recently.
Tom J. Bechman
Pollen was falling, and everything was getting a yellowish cast inside the Corn Watch '23 field when Dave Nanda visited during the third week of July. As it turned out, it was peak pollination week for this field, planted May 11. It was prime time to ask a veteran plant breeder every question imaginable about corn pollination.
Not one of them stumped Nanda, director of genetics for Seed Genetics Direct, sponsor of Corn Watch '23. Why would they? Nanda has walked cornfields and inspected pollination since he arrived at the University of Wisconsin from India in 1961 to begin his journey toward becoming a plant breeder.
Dave, some of these silks are 2 or 3 inches long and curling around. Is that normal? Sure, they're healthy and growing quickly. Silks grow until a pollen grain makes its way down an individual silk and fertilizes an ovule on the ear.
What if silks don't get fertilized? Then they continue growing. When you pull an ear with extra-long silks and do the shake test — holding the ear out after removing husks and shaking it — silks that remain attached are not fertilized. However, that is not the case here. Pollen shed is just underway and has several days to go.
Why does it almost seem like pollen is raining down on leaves? We're here at just the right time — late morning. Pollination tends to occur more so in the morning, and not so much later in the afternoon, in the heat of the day.
It's about 80 degrees F this morning. Is that a good environment for pollination? Yes, it's nearly ideal. I would expect good pollination success. However, that doesn't mean all ears will be filled to the tip. After pollination, if it turns hot and dry, plants may abort some kernels. If they do, they abort the last kernels fertilized, which are tip kernels. When kernels were fertilized but then abort, we often refer to it as tip-back.
Why would a plant abort kernels once they're formed? The corn plant has one overriding objective: Make as many viable babies as possible. It does not know you will not be planting this seed. If conditions shift and the plant senses it only has so many resources, it makes as many viable kernels as possible, letting the rest abort.
Most plants are shooting a second ear. Will many of these second ears produce corn? Again, it all depends on weather conditions after pollination. When this field pollinated, there was ample moisture, plenty of nitrogen, and "all systems were go." So, many plants shot out a second ear. If conditions change later, that second ear might shut down, or only make a small number of kernels.
Is it OK to have so many second ear shoots? Yes, it's a natural thing. Depending on weather conditions later, second ears may or may not make much contribution to yield. However, if something happens to the primary ear, and there is a second shoot in place, it can take over. The plant will then concentrate on filling as many kernels as possible on that ear.
Subscribe to receive top agriculture news
Be informed daily with these free e-newsletters
You May Also Like
---