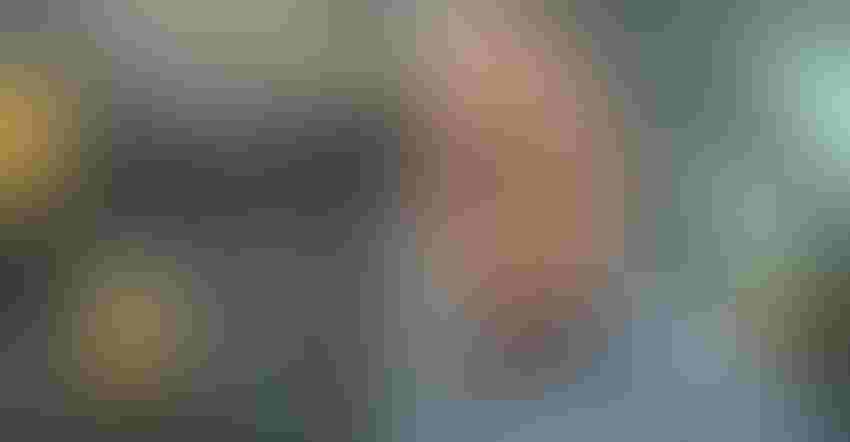 RACING METHOD: Robert Johnson likens growing corn to racing snowmobiles: He's done both. Several small adjustments taken together can make a big difference in performance.
Paula Mohr
Growing corn is a little like racing snowmobiles, says Robert Johnson, Clearbrook, Minn.
When you race snowmobiles, you do little things — such as rebalancing the weight, tinkering with the engine's timing and adjusting the carburetor jets for the barometric pressure — to squeeze a few more miles per hour out of the sled.
All the little steps add up, Johnson says.
With corn, you fine tune a lot of little things and — if you do it right — you can bump up the yield.
All the little steps add up, he says.
20% to 30% increase
Over the last several years, Johnson says he has increased his corn yields 20% to 30% by boosting plant populations and fertility levels, and by changing fertilizer products.
He grows 83-day maturity Wensman and DeKalb brand hybrids in 22-inch rows.
Soil types vary widely across his northern Minnesota fields. He has some heavy loam and some light sandy loam soils, some peat ground and some sand ridges. The hilltop knolls are a red clay.
With the help of Tim Swanson, an agronomist with CHS, Inc.'s Dakota Plains, Hillsboro, N.D., who consults with farmers in northern Minnesota and North Dakota, Johnson began varying seeding and fertilizer application rates based on management zones.
His standard corn planting rate used to be 32,000 kernels per acre across the whole farm. Now, he varies the rate from as little 18,000 on the least-productive areas to 38,000 on the most-productive zones.
Fertilizer program
His fertilizer program used to involve spreading about 150 pounds of nitrogen per acre across all of his corn acres. Now, he varies nitrogen and phosphorus rates according to management zones. He uses MicroEssential SZ, a propriety fertilizer formulated by the Mosaic Company, which is part of Cargill. The product contains nitrogen, phosphorus, potash zinc and sulfur. All the nutrients are fused into each fertilizer granule in their proper ratio. The patented Fusion technology promotes more uniform distribution of nutrients, improved nutrient uptake and season-long sulfur availability.
Johnson also applies West Central Distribution's Levesol in furrow with the seed. Levesol is made from liquid urea nitrogen and a premium ortho-ortho EDDHA chelate. The chelating agent makes micronutrients, both in the soil or a tank mix, soluble for uptake, according the company. After uptake, the chelating agent increases translocation within the plant. By keeping micronutrients in a soluble form, Levesol prevents them from binding with phosphorous. This leaves more phosphorus free for uptake and increases overall nutrient efficiency, West Central Distribution claims.
Bigger together
Together, variable rate seeding and fertilizing and the use of premium fertilizers has resulted in the significant improvement in his yields, says Johnson, who appeared on West Central Distribution's recent Lift2 Summit in Fargo, N.D.
Subscribe to receive top agriculture news
Be informed daily with these free e-newsletters
You May Also Like
---