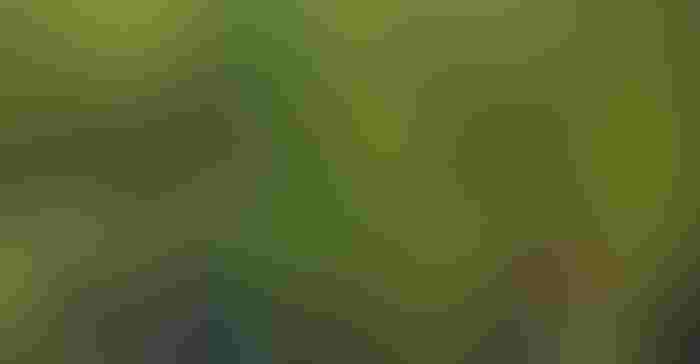 Last year was difficult for people across the U.S. and around the world. However, those in Iowa, specifically corn growers in central Iowa, saw more than their share of hardships during the 2020 growing season. Following droughty conditions — including areas in severe and extreme drought — central Iowa was bombarded with straight-line winds at speeds ranging from 70 to 120 mph.
"One thing that didn't help the cause was the lack of moisture, and some of the fields affected by wind had poor stalks before the derecho event. It was a double whammy," says Mike Witt, Iowa State University Extension field agronomist in west-central Iowa. "It was a very strange year in Iowa, because if you went to eastern Iowa, they had no moisture issues whatsoever. In western Iowa, you were in severe drought. We had all sorts of issues going on."
Ongoing repercussions
As most know, this event led to downed corn in fields across Iowa. And moving into 2021, many growers are expecting issues with volunteer corn this growing season. Witt notes after the straight-line winds last year, there was a large number of kernels on the ground going into harvest.
"There are about 500 kernels on an ear, so roughly 70,000 to 90,000 kernels per bushel. If we had 200-bushel corn, that's 14 million seeds per acre," he says. "Even at 1% germination, that's 140,000 plants per acre — that's huge. When you plant corn normally, you're planting 35,000 per acre. 140,000 is like a soybean population. Quite a few plants emerged this fall and died off with the frost. However, there's still a large volume that didn't emerge that's going to be there this year."
While growers are well-accustomed to dealing with volunteer corn most years, this year could see greater yield loss potential with the large number of kernels on the ground.
"If you have 5,000 to 10,000 plants per acre, you can lose up to 54% yield in soybeans and 13% in corn," Witt says. "And if there's potentially 140,000 plants per acre, there's a lot of potential for yield loss. That's one of the reasons we're most concerned about it. Everyone deals with volunteer corn, but the volume of volunteer corn this year will bring some significant issues."
"If there's a whole field knocked down, which happened a lot in central and eastern Iowa where they tilled it under, those fields will have significant issues," he adds. "In west-central Iowa, which has a lot of those fields, even the fields that are half or partially knocked down will cause issues. Those are going to be sneakier because people aren't going to think about all the damage."
Strategies for control
Growers have implemented several strategies to get on top of volunteer corn even in 2020, starting with harvesting as much downed corn as possible, and tilling downed ears and kernels under.
As the 2021 growing season gets underway, many will be planting soybeans in fields that dealt with downed corn in 2020. It's much easier to kill a grass weed in a broadleaf crop than a grass weed in a grass crop, and growing soybeans provides more options for volunteer corn control. Witt advises growers to use a robust preemergence herbicide that provides extended control of grasses, and to consider any antagonism that might occur with postemergence applications.
"Often for postemergence applications, growers mix in Group 1 herbicides, or corn killers," Witt says. "Farmers will often skimp on the rate, because if you don't have a lot of volunteer corn, you can save money and use half rates and it isn't going to cause a lot of issues. This year, however, understand you're probably going to have to use that full rate."
"Also understand that some Group 1 herbicides can have antagonism with a dicamba herbicide," he adds. "Antagonism isn't always the same, but if you mix a Group 1 like clethodim at a low rate, with dicamba, you can drop the effectiveness of clethodim from about 95% to around 70% or 75% If you used the clethodim with dicamba at a high rate, you'll still get the effectiveness. It's the low rate of a Group 1 that results in antagonism with dicamba."
From the field
Corey Hillebo farms near Polk City — right in the heart of 2020's derecho winds.
"All of our acres were affected, and most of our corn acres were knocked down," Hillebo says. "Some hybrids stood a little better than others, but for the most part, everything was tangled up or flat.
"We chose a field to keep in corn-on-corn that we felt we did a good job harvesting last year. Even though we did a good job picking, there could still be volunteer corn," he says. "We tried to hit it with a tillage pass early and get some heat units and moisture on it. Then we came back and disked it again three weeks later to stir it up to get more seed-to-soil contact and get seeds germinated so they, hopefully, freeze over winter and aren't viable in 2021."
Moving forward, because Hillebo grows seed beans, he says it's that much more important to use the full rate of a grass-killing herbicide.
"In soybeans, we're planning on a full rate of a Group 1 corn killer. Often we can get away without the full rate, but we'll definitely be running a full rate, and we'll try to hit them a couple times," he adds. "If you're growing commercial beans, some volunteer corn isn't going to hurt yields that much. Our issue is all our acres are seed beans, so it's crucial to use the full rate. We had some volunteer corn issues in 2019 and actually had some kids walk beans to remove volunteer corn so we knew we'd have a clean sample when we harvested."
Adjusting to challenges
Dwayne Gerlach, who farms near Nevada with his nephew Kevin and grandnephew Seth, dealt with similar downed corn issues in 2020.
"We harvested every acre we had. The biggest challenge was keeping corn coming into the combine. We were harvesting at half a mile to a mile an hour just to get it to come in. There were a lot of root balls that went in with the corn. Now we have to be careful unloading bins because dirt can settle in the center of the bin. It's not over yet; we're still fighting it," Dwayne says. "It's hard to guess what we left out there, but I would say 25 to 30 bushels per acre were left, because a lot of ears had fallen off."
The Gerlachs followed the combine with a roller to crush the stalks before running a high-speed disk through the fields, which crushed and tore up the stalks before mixing ears with the topsoil.
"We seeded cereal rye on everything that's going into soybeans next year that was previously corn," Seth says. "I'm not sure if having that cover crop will help, but we're going to, hopefully, plant soybeans later and let the rye grow. Hopefully, that will flush out some of that volunteer corn. Volunteer corn seems to come in flushes, you spray it once, then have to go out again and make a whole other pass. I'm sure this year we're going to do a whole lot of spraying."
Kevin notes when it comes to volunteer corn, many growers will likely need to spray clethodim or another kind of grass killer twice.
"I'm almost anticipating that if you haven't budgeted for it, you better be thinking you're going to apply twice. With that much corn on the ground, it's just going to be continuous," he adds. "For people who are corn-on-corn, if you're not planning on cultivating, that's going to be a real issue. You're going to have fodder in a lot of places."
"With as much corn that's in there, it's going to germinate all summer long. I'm not sure how we're going to get along, but it seems [clethodim] is the best product we've got to combat volunteer corn," Dwayne says. "We're shooting in the dark though. We have never been through this before. We're going to start out doing what we always do, and we'll have to play it by ear and change what we have to change. We don't really know what we're going to get into."
Subscribe to receive top agriculture news
Be informed daily with these free e-newsletters
You May Also Like
---