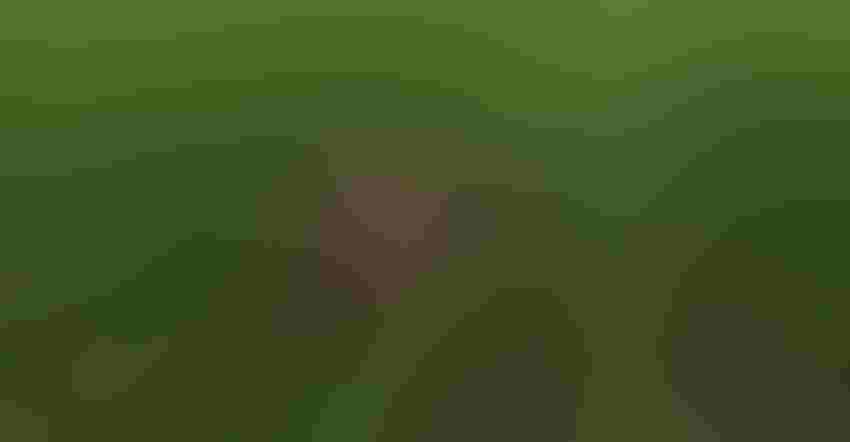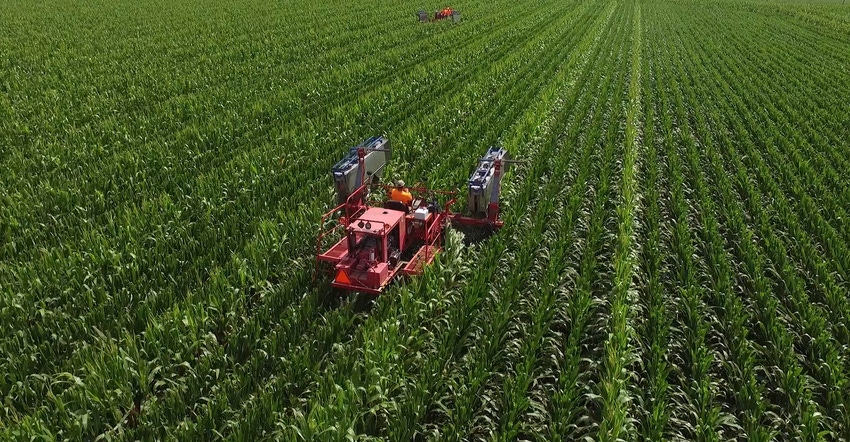 COLLECTING POLLEN: Iowa-based startup PowerPollen has created a system for collecting and preserving corn pollen so it can be applied later, when it will be more effective at producing seed.
Photos courtesy of PowerPollen
The production of hybrid corn is well-established these days. Rows of male and female corn get planted, females are detasseled and the males do their jobs. The challenge is timing. What if the male matures too early to provide adequate pollen to females, or what if females emerge late? The mismatch of pollen and female plant receptivity can be devastating to seed corn production, and weather the last few years hasn't helped.
Ankeny, Iowa-based PowerPollen is changing that equation and bringing a new way to boost seed corn crop productivity. "Through our time in the seed industry, we realized the inefficiencies of the conventional seed corn production system," says Todd Krone, CEO and co-founder, PowerPollen. "We had a sense that preservation of pollen was the answer."
Pollen is the answer, but the life of corn pollen is short — perhaps no more than an hour once it leaves the tassel. Krone and his co-founder and partner, Jason Cope, knew there was a possibility in preservation.
Krone and his cofounders left their original full-time jobs to create PowerPollen in 2015 with a dedication to solving the problem. "We had ideas in the beginning on how to fix or improve this nearly century-old process," he says.
Pollen was the key, and for decades, scientists have been working to solve the pollen viability problem. Krone knew there would be value to the seed corn market if a company could find a way to preserve pollen for days — not an hour. "It was not until we got out and actually had time to think about the advantages that we realized what a big deal this could be," he recalls.
FOUNDERS AT WORK: Todd Krone (left) and Jason Cope are co-founders of PowerPollen. These seed-industry veterans knew there was potential in boosting seed corn production, provided they could figure out how to preserve pollen. They have.
Pollen preservation made real
PowerPollen turned to that preservation issue with zeal and came up with a patented process. Using proper humidity and temperature, combined with some other trade secrets, the company got the process perfected. "The ability to do that at scale was the biggest accomplishment," Krone observes. "There are a lot of reports of small amounts of pollen being preserved, but no one was doing it at scale."
Krone is clear that this preservation process is the key. The collection of pollen on a large scale for the process was a matter of working out the mechanics. He notes that the company can now preserve pollen for months, and potentially years, as the process is perfected.
Augmenting and improving the current seed production process has significant profit potential for companies that can maximize that output. Seed companies have invested in the seed and inputs to put in a production field. Any process that can boost productivity at scale on those same fields could maximize that initial investment.
"We're collecting a tiny fraction of pollen available from a field, and it's enough to come back and improve the yield on those fields at the optimum time," Krone says. "The current system does not always have pollen at the optimum time."
In addition, the traditional 4-to-1 pattern — one male row next to four female rows, on and on — also has a distance issue, where not enough pollen hits the middle rows. "In any given field, [our process] has the potential to improve the average well above 20%," Krone says. "Some will be less, but a lot more will see a higher increase." He notes that they've seen boosts as high as 40%. That kind of boost is yield potential seed companies can take to the bank.
Big player signs on
The largest hybrid seed corn company in the United States is buying in. Recently, Corteva Agriscience announced that it would partner with PowerPollen in 2020 to work with the system.
"When we talk about our reliability to the customer and sales team, our focus is to work with anything that de-risks our production practice," says Jeremy Johnson, global seed production research lead, Corteva Agriscience. "This technology de-risks the genetics and environment interaction."
Johnson explains there's a triangle: genetics, management and environment. Any process that takes risk out of any part of that triangle can boost productivity and reliability. PowerPollen's process can do that.
"We know that corn pollen is extremely difficult to keep alive," Johnson says. "It's one of those absolutes we've lived with since hybrid corn research started with Henry Wallace [in the 1920s]."
Johnson says the PowerPollen process allows control of a factor of seed production that was not possible until recently. "This is something we had just accepted as an industry, but now that paradigm has been turned upside down," he says.
He notes the company has had some experience with the PowerPollen process and will be working in 2020 to explore further deployment. "Todd and PowerPollen are not done with the innovations; they're thinking two, three, four years down the road," he explains.
Johnson points to what will be a continuous process of evaluation and deployment of the technology, which will provide Corteva a kind of "pollination-on-demand" service not used in seed production on a large scale in the past.
How it works
Krone explains that in each field, the company can send collection units out to pull pollen from male corn rows. "We can use any high-clearance vehicle to mount our collection units," Krone says. "The tool simply agitates the tassels, and a light vacuum collects pollen in side panels."
He explains the pollen is cooled and then later moved into the company's system for preservation. Seeing a collection machine move through a field might surprise a farmer who contracts to grow seed on his farm. Krone explains that the company is collecting pollen only once in each field, and that's usually enough.
"Every 15 minutes, a corn plant releases more pollen," he says. "We estimate we take less than 2% of the pollen being produced in the field; that's how efficient this system can be."
Once collected and preserved, the pollen is stored until the right time for application. Then a high-clearance machine with small individual row applicators moves through the field, dispersing pollen to receptive female corn plants. "It's pretty basic, using a gravity-fed applicator that simply drops pollen above the silk. It falls like a cloud."
Each row has about a gallon of pollen that is trickled out above the plants. In the future, Krone says even a drone could be used to apply pollen, but more research is needed.
The basics of making hybrid seed corn have not changed. While plenty has gone on genetically to improve crop performance, the system for producing that corn seed has changed very little.
The deployment of a pollen application system could be as revolutionary as the idea of commercial hybrid corn production was in the 1920s. That unit of hybrid seed corn has always held value, and this technology could boost that further. Learn more about the process at powerpollen.com.
About the Author(s)
Subscribe to receive top agriculture news
Be informed daily with these free e-newsletters
You May Also Like
---