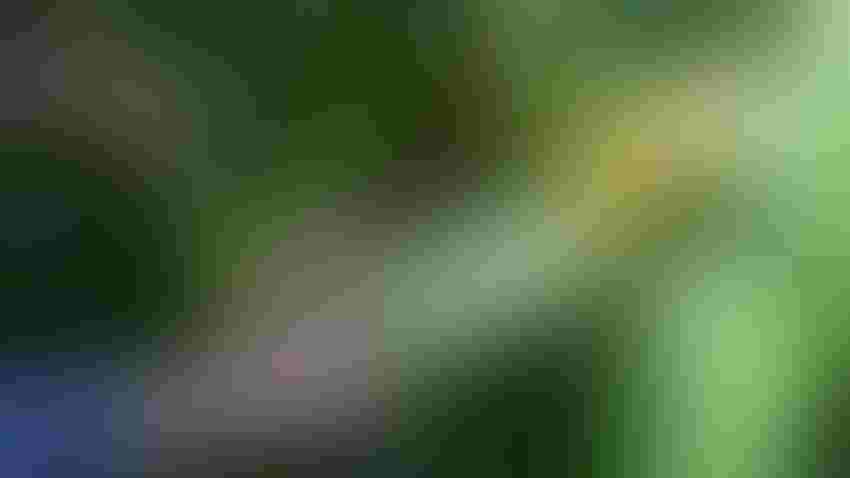 NORMAL AND ABNORMAL: The dark streaks of material on the leaf sheath are normal — they are likely old, decaying pollen. However, missing kernels on the smaller ear with long silks indicates a pollination issue.
Tom J. Bechman
Anyone who scouts and walks cornfields in mid- to late summer usually comes up with questions they can't answer. For example, why are so many ears aborting tip kernels? Why are there plants scattered about without ears?
Dave Nanda has more than 60 years of experience walking cornfields as a plant breeder and agronomist. Nanda, director of genetics for Seed Genetics Direct, answers six common questions that he has heard frequently during his career:
1. Why do some ears abort tip kernels? You are more likely to see this in years with heat stress. Tip kernels are pollinated last. Even if the kernels are fertilized, once the plant realizes it can't fill all those kernels, it begins aborting them. The plant is trying to make as many viable progenies as possible. Because tip kernels are formed last, they are aborted first.
2. Do ovules that never pollinated and aborted kernels look the same? No. If an ovule on the ear is never pollinated by a pollen grain coming down the silk, no formation of any kind develops. If a kernel was fertilized but aborts, you can see the remnants of the aborted kernel.
3. If a beetle clips a silk, does that silk dry up? No. Silks can regrow. However, if beetles remain in the field in large numbers, there is a high probability they will continue clipping silks, including those that regrow. The primary culprits are Japanese beetles and corn rootworm beetles. According to the Purdue University Corn & Soybean Field Guide, if silks are clipped to within one-half inch before 50% of plants are pollinated and beetles are still present, treatment is warranted.
4. Why do some ears have very long silks? Pull back shucks. The ear likely has few kernels, if any. If stress or some other factor interferes with timing and there is no pollen left when silks emerge, silks keep growing. The silks are seeking pollen so each silk tube can channel a pollen grain down to fertilize an ovule and form a kernel.
5. Why does a stalk here and there have no ear? Barren stalks can result from high-stress environments, such as planting at excessive populations. However, a more common cause is a plant that emerged one to two days later than neighboring plants. It may remain one or more growth stages behind all season and will act more like a weed than a corn plant. It uses nutrients but often produces no ear or only a nubbin.
6. Does every spot on a leaf signify a problem? No. Disease lesions can develop on leaves, and they are a problem. If lesions form relatively early in the season, that indicates a fungicide application may be warranted to protect the ear leaf and leaves above it. However, once pollen begins to decay, it sometimes gets caught on leaves. Insect frass from insect feeding can also accumulate. These are normal and are not problems by themselves. If the spot wipes or washes off, it's not a disease lesion, and it's not a problem.
Subscribe to receive top agriculture news
Be informed daily with these free e-newsletters
You May Also Like
---