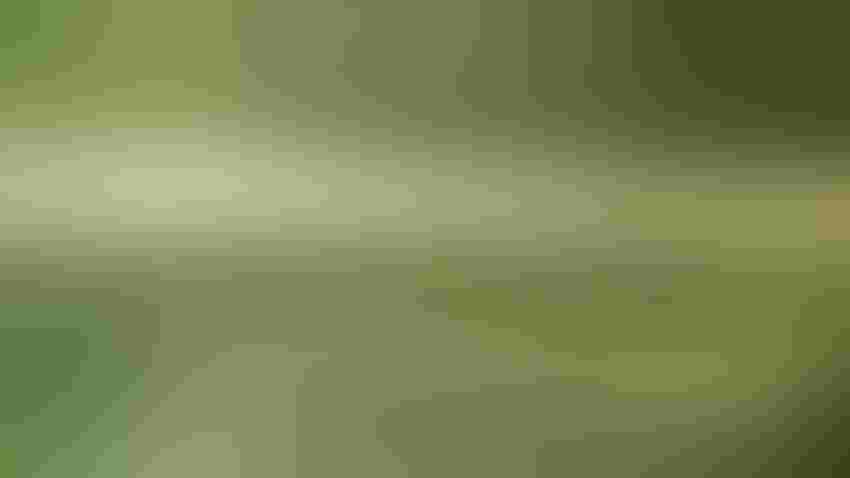 IDENTIFY EARLY: Scouting and identifying tar spot early is a key to managing this corn disease, according to experts. Look for tiny black spots on leaves that do not rub off. Those spots soon turn into lesions.
Darcy Telenko
Tar spot hit hard in Chad Threewits' area in northeastern Indiana in 2021. The agronomist with Syngenta Crop Protection based near Fort Wayne fielded lots of questions from corn growers that season. Then in 2022, someone flipped the off switch, he reports. Tar spot didn't come into fields until late, doing minimal damage. What can growers expect in 2023?
"That's the question everyone is asking, but there are no good answers," Threewits says. "We know the inoculum is out there. Now it depends on weather conditions during the growing season. Wetter seasons with more humidity tend to favor it, while drier seasons hold it back.
"Our best advice is to plan ahead and be ready if it shows up."
Planned approach
Here are six steps Threewits recommends to stay ahead of tar spot this year:
1. Realize weather will be the driver. A wet July with humidity and periods of leaf wetness each day would likely kick off the disease, Threewits says. Inoculum will be waiting.
2. Have a detailed plan ready. Go into the season ready, Threewits says, advising that regular scouting should be part of any solid plan. Know the early signs of infection. Tar spot has likely already been at work for up to two weeks when you see the first black spots, so you need to make decisions quickly, he adds. Pay attention to rainfall levels and humidity readings.
University specialists are constantly upgrading apps such as Tarspotter, developed at the University of Wisconsin. These tools are not foolproof, but they can signal when it's time to look more intensely in the field.
3. Avoid tunnel vision and remember other diseases. Don't get so caught up in tar spot that you forget to scout and develop treatment plans for other disease threats to corn. These include gray leaf spot, northern corn leaf blight and southern rust.
4. Plan for fungicide applications. Depending on pressure from tar spot and other diseases, that may mean lining up spraying, especially on susceptible hybrids, for early to mid-July. The reproductive phase in corn at or just before brown silk after pollination is still a key time to spray for top yield protection.
"Most fungicides are only effective for 21 days," Threewits says. "You will need to keep watching for tar spot even if you have already sprayed. It can come in late, and if conditions are right, it can still do considerable damage through late infections if left unchecked."
5. Make fungicide selections. Threewits points to a Syngenta product, Miravis Neo, because it is especially effective against tar spot, he says. Whichever fungicide you choose, know its efficacy against all key foliar corn diseases, how long it should last and what other products can be mixed with it. Some fungicides, including Miravis Neo, are also more noted for imparting plant health benefits vs. other fungicides.
6. Attain good spray coverage. Achieving good coverage of corn plants is also critical, Threewits says. Most fungicides do not translocate throughout the entire plant. To get control and protection, it's important to get good coverage of the fungicide spray on corn leaves.
Subscribe to receive top agriculture news
Be informed daily with these free e-newsletters
You May Also Like
---