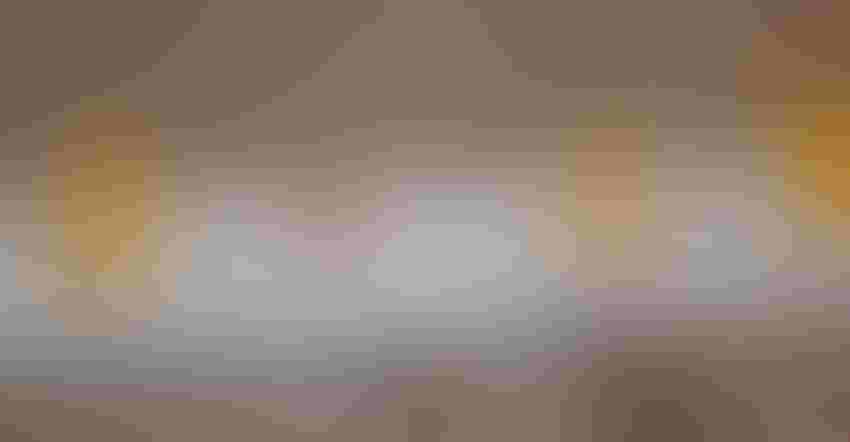 FEW KERNELS: The ear with few kernels shown here is from a row hurt by nitrogen loss due to wet soils. This ear emerged in the nine-to-14-day window after the first plants emerged. Yet note the next ear, which emerged in a similar time frame, is small but more normal.
Tom J. Bechman
Perhaps some pictures are worth 1,000 words, as the old saying goes, but the one shown here needs some explanation. At first glance, it appears to be a slam-dunk conclusion. The ear from a plant emerging in the window nine to 14 days or more after the first plants emerged is a dud, with only a few kernels. But the next ear from a plant that also emerged very late weighed about 0.2 pound.
"You need to know the background to understand what might have happened," says Dave Nanda, director of genetics for Seed Genetics Direct, sponsor of Corn Watch '21.
Related: Can you pick out the heaviest ear?
The field was planted April 25. Then three weeks of very cool weather — well below normal temperatures, with some temperatures at frost levels in the mornings — hung around for the next three weeks. The first plants began emerging about 11 days after planting, but emergence continued over the next two weeks.
"The goal is quick, uniform emergence, but that isn't always what happens in the real world," Nanda says. "There is a microenvironment around each plant, which includes things like seed-to-seed spacing, seed depth, soil moisture level and more. Several factors were at play in this field."
Take-away points
Here is what this emergence plot project has revealed:
Uniform emergence pays. The average weight of ears in 1/1,000 acre in this row where plant emergence was flagged and ears were hand-harvested was about 0.3 pound, including the cob. Plants that emerged on the first day averaged 0.39 pound, with one day, two to three days, seven to eight days and nine to 14-plus days of delay averaging 0.28, 0.33, 0.28 and 0.2 pound per ear, respectively. Within this row, 10 of 32 plants, or nearly one-third, emerged nine to 14 days after the first plants. Two of the 10 did not produce an ear.
Obviously, the trend was toward larger ears if plants emerged on time.
Early emergence doesn't guarantee success. Early emergence on the first day increased the odds for better performance, but it didn't guarantee it. One ear from a plant that emerged on the first day produced an ear weighing below average for the row. Two plants emerging in the latest window weighed above average.
"We see trends toward better performance with early emergence, but it's not cut-and-dried," Nanda says. "Corn is a complex crop, and many things affect how a plant performs".
Nitrogen loss hurts all plants. This row was in a spot in the field hurt the most by nitrogen loss due to wet soils in May and early June. The field was not tiled. The yield level was about 130 bushels per acre in this row, while it was 215 bushels per acre in some other rows that were flagged and weighed.
"We don't know how the early nitrogen deficiency we observed here may have interacted with late emergence," Nanda says. "We can't separate one from the other."
Subscribe to receive top agriculture news
Be informed daily with these free e-newsletters
You May Also Like
---