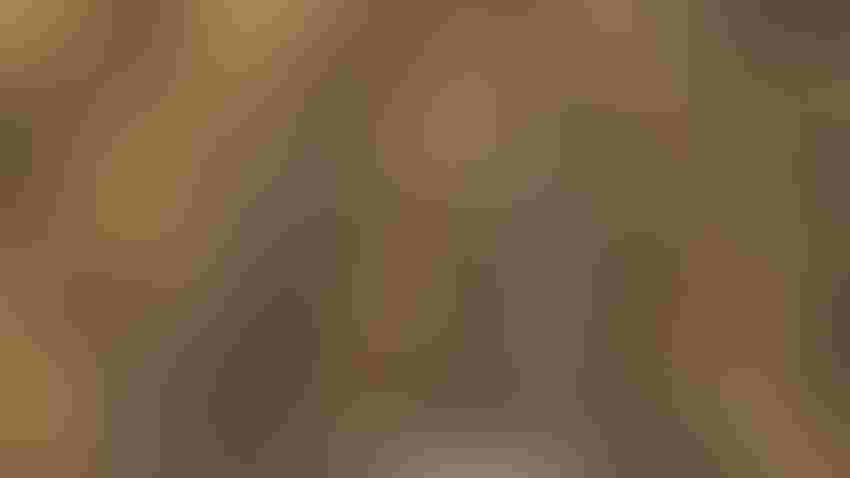 TAKE TIME TO CHECK: Every bushel is too valuable to just assume you are not leaving extra corn behind. Check for yield loss using a simple device like this PVC pipe rectangle.
Tom J. Bechman
You pulled out all the stops to grow as many bushels per acre as possible. The last thing you want now is to leave grain in the field. Job No. 1 is harvesting corn while minimizing field loss.
"This is payoff time," says Dave Nanda, director of genetics for Seed Genetics Direct. "Do everything possible to deliver those bushels to your storage bins or the elevator. You don't want to leave one kernel behind, but that may not be realistic. Take steps to reduce losses to a bare minimum."
You may think reducing losses begins with combine settings, but Nanda believes it starts earlier. Here are five tips for reducing field losses:
1. Survey fields for stalk lodging. Check remaining fields, doing a push test, Nanda recommends. Push on 100 stalks as you walk down a row and record the number that don't bounce back. Repeat it in different places and average results.
"Stalks that don't bounce back are likely infected by stalk rots," Nanda says. "You expect a small amount by this point in the season. However, if a significant number of stalks are impacted, move that field to the top of the list for harvest."
2. Check grain moisture levels. If you've been waiting for some fields to dry down, reassess your strategy, Nanda says.
"By late October, drying rate in the field slows way down," he explains. "Once you reach November, it is even slower. Weigh drying costs versus potential losses if you leave corn out longer. The biggest risk is a late-fall storm, which could flatten corn, increasing harvest losses."
3. Monitor combine settings constantly. Technologies are coming to market that use artificial intelligence to anticipate, measure and report harvest losses caused by the combine. However, you don't have to wait on technology to narrow down losses. Set your machine before you go to the field, and monitor operating systems from the cab.
You likely have a grain cart operator or truck driver in the field. Ask him or her to check behind the combine for kernels coming out the back, especially anytime conditions change, including switching hybrids.
4. Make your own grain loss rectangle and use it. For $20, you can buy enough PVC pipe and glue to fashion a rectangle. Figure out dimensions so there are 10 square feet inside the rectangle. Throw it down at random behind the combine. Check for loss. Two kernels per square foot equal 1 bushel per acre. So, 20 kernels inside the rectangle represent 1 bushel. A whole ¾-pound ear also represents 1 bushel per acre.
5. Adjust accordingly after determining source of grain loss. If corn is coming out the back, adjust fan speed and other internal settings. If you determine loss is primarily from the head, try adjusting deck plate settings.
"When corn gets down to 16% to 18%, you will likely see more shelling at the head," Nanda says. "It's another one of those trade-offs between harvesting earlier and drying versus corn drying in the field."
Subscribe to receive top agriculture news
Be informed daily with these free e-newsletters
You May Also Like
---