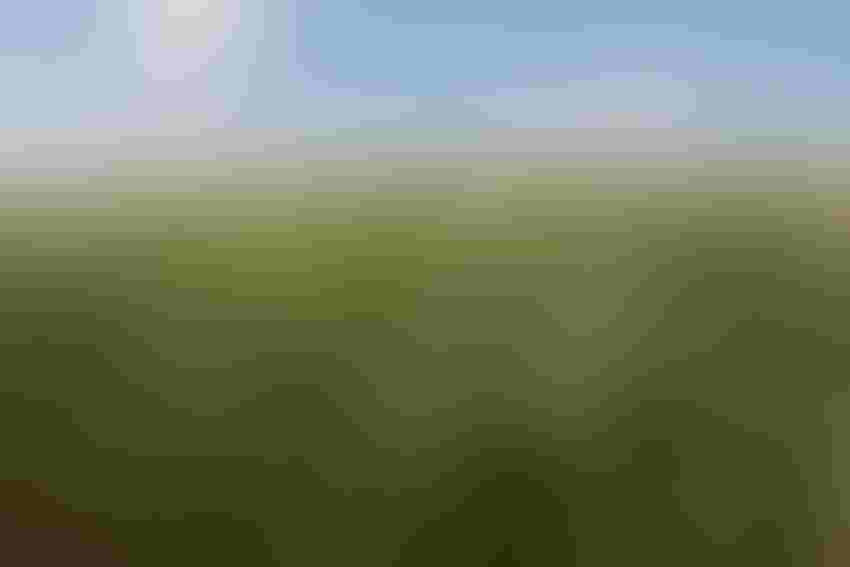 Luke Gatiboni recommends staying with your current nitrogen program, regardless of the price of nitrogen, unless your program is over-estimating the amount you need.
John Hart
North Carolina State University Extension Fertility Specialist Luke Gatiboni has a clear recommendation for corn and soybean farmers who are expected to face another year of high fertilizer price in 2023: Don't reduce your nitrogen rates in corn unless you have been over-applying, but you can reduce your phosphorous and potassium applications if they are in the correct index range.
"I don't think it's a good idea to reduce nitrogen. For phosphorus and potash, if you have an index of more than 50 for phosphorus for sure you can reduce your applications. For potash, if you have an index of more than 100, for sure you need to reduce your applications because you have enough in the soil," Gatiboni said in a Dec. 1 Extension webinar.
"For nitrogen, it's not a good idea to reduce your rates. It's not a good idea because we don't have any nitrogen bank in the soil. If you are not using all the nitrogen in a given year, that nitrogen is gone by leaching. For nitrogen, I would recommend staying with your current program, not changing anything regardless of the price of nitrogen, except if your program is over-estimating the amount you need," he said.
Gatiboni said market indicators show fertilizer prices will remain high in 2023, due to the energy market and geopolitical factors, particularly the Russia-Ukraine war. He said research by fertilizer market analysts indicates any time fertilizer prices go up, it takes three years for prices to return to normal levels.
He said it will take time for the market to reorganize itself and for prices to return to normal. Hopefully, prices will return to normal in 2024, or in the worst-case scenario, 2025. One big question will be if the Russia-Ukraine war rages on for the next three years. Gatiboni does expect phosphorous and  potassium prices to go back to normal before nitrogen prices.
"For nitrogen, if the war between Russia and Ukraine finishes quick, we will see prices going back to normal in one or two years," Gatiboni said.
In the webinar, Gatiboni highlighted ongoing research that began in 2020 in cooperation with the North Carolina Soybean Growers Association and the Corn Growers Association of North Carolina looking at phosphorous and potassium responses in different soils across North Carolina. In short, many farmers have over-applied phosphorus and potassium over the years so they can safely reduce applications to save money.
"It is completely safe to reduce phosphorus fertilization when you have an index between 50 and 100. It is completely safe to just not apply phosphorus if you have more than 100 index. We don't have any possibility of response to phosphorus in these high indexes," Gatiboni emphasized.
"For potassium, I'm comfortable to reduce potassium fertilization if you have an index higher than 100. We see some response to potassium when your index is between 50 and 100, but if you are higher than 100 you are okay," he added.
While it's not a good idea to reduce your nitrogen rates in corn, North Carolina Extension Corn Specialist Ron Heiniger did point out there are ways for you to better utilize nutrient uptake in the plant by getting an early start. He said rapid growth and development in the first weeks is critical.
He said the first key is to understand when your best planting opportunity is by monitoring the weather and planning accordingly. The aim is to increase root mass throughout the growing season. He said increased root mass is the key to higher yields in corn.
"The key is the early development of the five nodes underneath the ground where most of our roots are located. It starts early; it starts at planting," Heiniger said.
"There are two things we can really manage well when it comes to getting this early growth and rapid development of that root system. One is planting in good conditions. We are trying to maximize ideal temperature and moisture at planting time. We need to get 40 to 50 growing degree units accumulated over those first four to five days and, hopefully, get no more than two inches of rainfall. Our Achille's heel at this stage is saturated soils. We are driving out oxygen which prevents cell division and respiration, but also influencing nutrient uptake at that really critical early stage," he said.
Subscribe to receive top agriculture news
Be informed daily with these free e-newsletters
You May Also Like
---