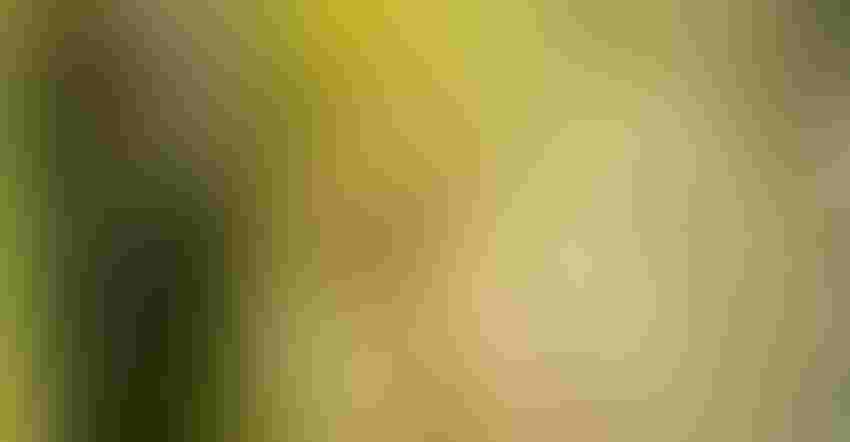 ON THE SILKS: If corn rootworm beetles continue to hatch in July, scout corn silks for signs of clipping and count active beetles on the plant. This will help guide whether or not you should make an insecticide application.
Adam Sisson, Iowa State University, Bugwood.org
You made your seed selection prior to planting, and it may have belowground protection with corn rootworm traits. But control of the insect for the growing season doesn't stop there, says Randy Niver, Dekalb Asgrow technical agronomist in central Illinois. Sometimes, you need to apply insecticide to maintain proper corn rootworm control.
How do you determine if you need another control strategy like insecticides? Get out in the field and scout, Niver says.
"Once you have the seed planted, you need to start looking for how your control is working," he says. The best time to begin scouting is in June, shortly after you start seeing lightning bugs. At this point, corn rootworm beetles will hatch from their eggs and begin feeding.
Niver says one way you can check for early feeding in June is to dig up some roots, leaving the soil on the root, and put them in a pail of water. If you see floating rootworm larvae, you know there's some pressure in the field.
He mentions another scouting method farmers can use in later July — the node injury scale, which has a 0 to 3 rating. Look at three nodes on the root structure to determine amount of insect pressure. Then, if any roots are chewed on or pulled back, it indicates the level of initial control from seed selection isn't working.
If beetles are still hatching into July, start scouting corn silks to evaluate any clipping and count how many beetles are active on the plant, he says, adding that scouting helps farmers decide if insecticide needs to be applied to help control the corn rootworm population for next year, particularly in fields in a corn-on-corn rotation.
"If we're dealing with rotated ground, an insecticide application may not be necessary unless there's a significant amount of clipping," Niver says. An application can help control beetles this year and prevent them from causing pollination issues. If farmers choose to apply insecticide, the product can be mixed in with fungicide to make one application.
Don't forget fungicide
If you're considering mixing insecticide with your fungicide application, then scout for foliar diseases at the same time to prepare for a timely application.
"When we're scouting for silk clippings, that's a great time to start scouting for disease pressure," Niver says. Why? If weather patterns are like 2021, then a cool, cloudy and high-moisture June could set up a prime opportunity for tar spot, gray leaf spot and northern corn leaf blight.
Still, Niver recommends fungicide at tassel time, no matter what. From his experience, tassel application, or an R1 application, of fungicide is almost a no-brainer because of the return on investment.
But it doesn't hurt to scout before that application, he adds. Start looking for disease pressure around the V10 growth stage.
"As we start getting later into the season, around R2, we want to scout again and see if we have late incidents of diseases that could start causing yield loss," Niver says. "We want to be able to be ready to pull the trigger on a second application at R3, if we need to."
A second application? That's right. He says an R1 application won't last the rest of the season. That application lasts about 21 days.
In 2021, Niver and others saw a double-digit response to a second fungicide application — in many cases, yields were up 20 bushels or more. That wasn't widespread across the state, but there were some instances where a second application was vital to standability, harvest stability and yields as well.
Niver says, here's the bottom line: Manage your crop all the way to the finish line. Be ready to make another fungicide application if disease pressure rises again late season, and throw in insecticide if corn rootworm concerns persist.
Subscribe to receive top agriculture news
Be informed daily with these free e-newsletters
You May Also Like
---