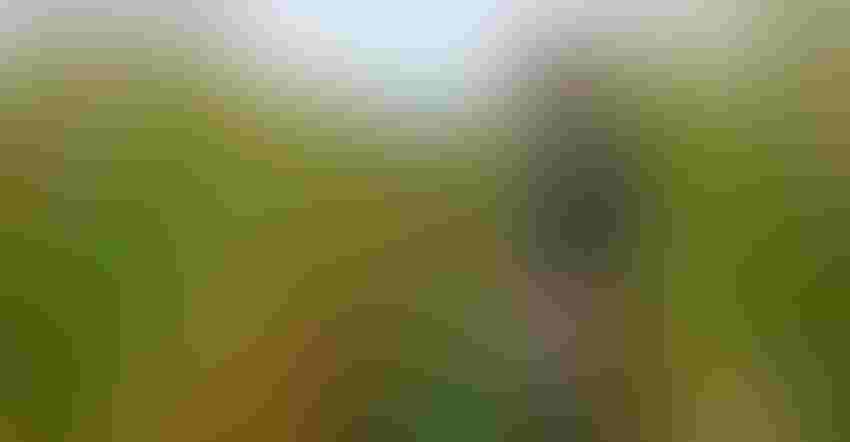 ROOM TO ROAM: The wide rows provide plenty of room for Ben Peckman to see how the corn and cover crops are growing just prior to harvest.
Photos by Chris Torres
Ben Peckman is still a month away from combining his 11 acres of 60-inch corn. It's gotten about as tall as it can get, and he expects around 150 bushels an acre.
The bigger question is: How did his cover crops grow? Let's just say that the weed competition was fierce.
Earlier this summer American Agriculturist visited Peckman's 1,100-acre farm in St. Thomas, Pa., to see his experimental 60-inch corn plots. He's working with Penn State on growing cover crops in the middle of wide corn rows in order to have a growing cover crop for his 16 feeder cattle this fall.
He planted the plot on Memorial Day using his 12-row Case IH 1200 with row clutches. He planted the 60-inch Channel 101-day corn by turning off every other row and raising his plant populations from 28,000 to 40,000 and even 48,000 in some of the rows.
Between the corn he planted two different cover crop mixes: an alfalfa-orchardgrass mix, and a three-way clover with fescue. He also applied 20 gallons of fertilizer at planting.
Peckman is in the middle of harvesting corn silage now, but just before getting the chopper out he's evaluating his wide-row corn to see how it looks.
"I think from the get-go … I think we put the wrong cover out. It's just not aggressive enough," he says.
In most rows the weeds outgrew the cover crops, especially in the clover plots. He couldn't apply herbicide because it would've killed the growing covers, he says.
WEEDY JUNGLE: Most rows were overwhelmed with weeds, especially rows with a clover cover. In some rows the weeds grew as tall as the corn.
The weed growth stressed the corn, which was already stressed from the dry, hot weather. Ears look very inconsistent, with some plants growing nicely developed ears and other plants growing duds. The shale soils he plants into don't hold moisture well, but luckily enough rain fell to save the corn from total loss.
"It's not the prettiest by any means, but overall I'm happy with it," he says. "It could've been a lot worse."
Some rows don't look too bad, though. The wide rows provided enough sunlight to penetrate and help the cover crops fend off the weeds, especially in the alfalfa-orchardgrass plots.
"I've been experimenting with grazing cover crops with some beef animals," he says. "The goal is to have something growing when I combine the corn … and then the goal is to have something there to graze immediately rather than having to wait two or three months to grow."
Peckman only has 16 feeder steers, and it remains to be seen how the steers will graze the plots.
The focus of his farm is the 140-cow dairy herd, plus heifers and youngstock, and some bull calves that are raised as dairy steers. He needs plenty of ground to grow feed for those animals, so even if he finds that the 60-inch plots work, it will only be on a small scale, at least at first.
TRYING AGAIN: Depending on how his 16 feeder steers graze the plots this fall, Peckman says that he's willing to try 60-inch corn plots again, though with some significant changes to seed and cover crops varieties.
"Unless I change my whole deal, I don't see myself with 500 steers out here. But I don't know. I don't know where the future will lead it," he says.
Changing it up
Despite the doubt, Peckman says he is open to trying the 60-inch plots again next year.
"I'm going to say I'll try it again. I'm going to make some changes though," he says.
This includes finding a better corn seed and tinkering with other cover crop mixes. He's considering more annual cover crops like cow peas, buckwheat or sunflower that could possibly grow better and out-compete the weeds.
"I don't see any orchardgrass. Basically what I have is alfalfa, and I've determined there is a little bit of clover here. But that's not very diverse," he says.
Another reason he's trying the 60-inch plots: soil health.
Constant soil coverage "is the key to soil health and seeing improvements in it. That's why I'm doing this," he says. "And then the whole grazing thing is better for the animals."
INCONSISTENT EARS: Some plants produced nice corn ears that will produce a nice yield. Other plants produced just duds. Peckman estimates the plot will yield around 150 bushels an acre, which is about average for the farm although seeding rates were doubled in the plot.
Knowing his ground and the years he's farmed it, he doesn't expect 200-bushel corn yields, not even in his 30-inch plots. So he does what he can with what he has, because at the end of the day, it's all about profitability.
"There is more to the bottom line than the top end of yields. If I can save inputs and save money going in there, that's oftentimes a bigger benefit doing that than chasing big yields," he says.
Subscribe to receive top agriculture news
Be informed daily with these free e-newsletters
You May Also Like
---