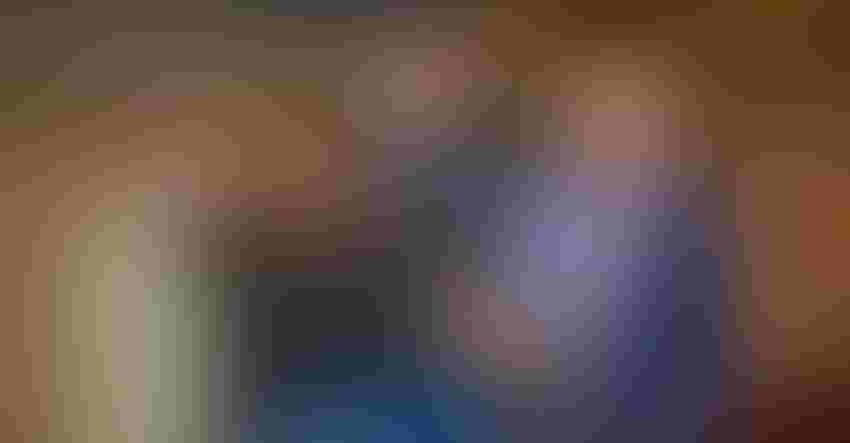 2019 Farmer Rancher of the Year: Brent Spurlock, center, with his daughter, Mary Anne, left, his wife Laurie and Ron Boyd, Ron Boyd Jewelers. Boyd has sponsored the award for the last 20 years.
Shelley E. Huguley
"The best thing you can put on your farm is your shadow." That's the best advice Brent Spurlock says his dad, James, ever gave him.
Brent has been casting his shadow on his Stratford, Texas, farm for the last 23 years, but it's his silhouette within his community that earns him the 2019 Farmer Rancher of the Year award.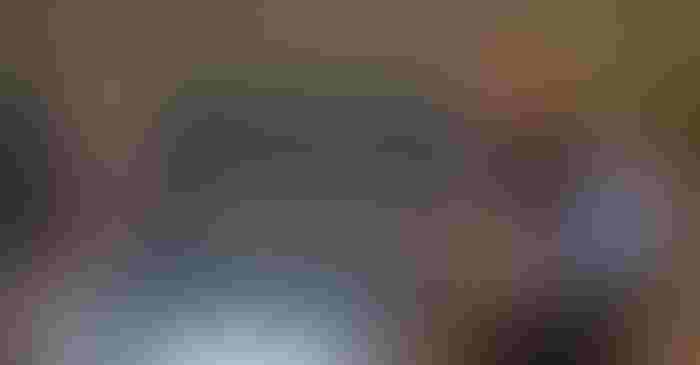 Brent Spurlock, right, accepts his award from Ron Boyd, Ron Boyd Jewelers. "Ron, thank you for this honor. It means a lot to me because I believe this area of the Panhandle has some of the greatest farmers and ranchers there is in the U.S."
"Farmers are the lifeblood of any community the size of Stratford or Dalhart or Spearman, wherever it might be," says Ron Boyd, Ron Boyd Jewelers, who has sponsored the award for 20 years. "And the fact that they work so many hours and for long periods and then give of their time to their community, their church and the schools says a lot."
Brent serves on several boards, from his church to his electric co-op to his bank. He served on the Stratford school board for seven years; he also volunteers alongside his wife Laurie for a nonprofit called Imagination Station, which brings informal science, technology, engineering and math education with an emphasis on the arts to small communities.
After receiving his award, Ron addressed the crowd, "Ron thank you for this honor. It means a lot to me because I believe this area of the Panhandle has some of the greatest farmers and ranchers there is in the U.S. I know when I travel around, whether it's for football games or whatever, I'm always looking at the farms as I come through the country and I see that everybody is doing a good job. 
"I want to thank my dad for giving me the opportunity to get into this business and my mom for teaching us the value of community service and my wife for following me around when my dreams changed."
Coming home
Although Brent grew up on the farm, that's not where he started his professional career. An engineer by trade, he spent six years working in his field, including four years in California for General Dynamics. But his Texas roots eventually drew him back home to the family farm.
"When you are growing up in a small town, you think, 'I'm ready for the big city. I'm leaving, and I'm not coming back,'" he says. "But as time passed, I realized it was a great way of life, a great place to raise your kids. You don't realize how good you have it until you've seen the other side. And there are no people in the United States like Panhandle people."
Brent and Laurie have been farming since 1996. Brent says Laurie is active in their operation. In addition to raising their two children, Mary Ann and Russell, she's the farm bookkeeper, an avid community volunteer, and Brent says his biggest cheerleader. "And she keeps me fed, which is very important," he jokes. "Laurie is always encouraging me in whatever I'm doing. She's a good one."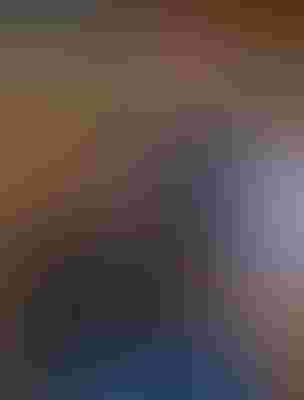 Laurie and Brent Spurlock, Stratford, Texas
Spurlock Farm
The Spurlock's grow corn, often rotated with wheat, and run cattle. Their 2019 season began with wet spring conditions, which helped their wheat recover from a dry winter, but delayed some of their corn planting.
"Fortunately for me, I had planted half of my corn crop before the rains started, but then we were slow getting the rest of it in," Brent says.
But as many Southwest growers recall, this summer's heat and drought, followed by an early October freeze, affected yields.
"It got down to about 20 degrees, and then it stayed below freezing for about 16 hours. And it certainly was a killing freeze. You could see it the next day."
See, Christmas: It "just happens," right?
The late corn had a tougher time drying and was about 15 to 20 bushels off typical yields, he adds.
Variety Traits
Brent says flex is an important trait in selecting corn varieties. "If we don't have exactly the right population, that flex corn, if conditions are right, is able to make more bushels."
He also says standability is essential. "We don't know what kind of weather we're going to get in October, and if it's wet and you can't get into the field, you want strong stalks."
Drought tolerance is also crucial, matching the variety with water availability. "If you look over the last 10 years, you can see how the water has backed off considerably in our area. We are doing everything we can to conserve or get more use out of the water we have," Brent says.
Brent also has narrowed the spacing of the drops on his center pivots, and also reducing tillage. "We are more minimum-till, and we plant some crops into cover crops."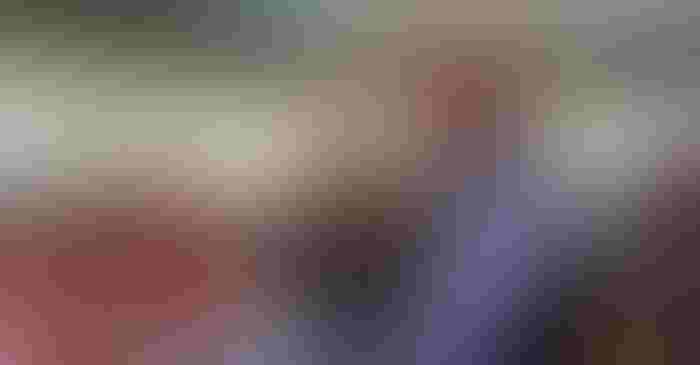 Brent and Laurie Spurlock, right, and Brent's mother-in-law Royda Glenn, listen as Ron Boyd talks about Brent's involvement on and off the farm.
He also rotates some corn acres with wheat to avoid problems with insects like rootworm. "The corn, wheat rotation works well for me," he adds.
While many area producers are incorporating cotton into their rotation, the Spurlock's have not. "I'm not saying I'll never, but I've been conservative about it because of the change in harvest equipment. I'm geared up to grow and harvest corn or grain."
Fertility
Brent has increased corn yields and farm efficiency through fertilizer application timing. "20 years ago, most of our fertility was done in the fall. We've switched to in-season fertility, basically spoon-feeding the crop with nitrogen and other nutrients as needed throughout the season. By doing that, our conversion from pounds of nitrogen to bushels of corn is more efficient. We're putting out a lot less fertilizer but getting more bushels."
The way he markets those bushels plays a vital role in profitability. "I try to find a price point and then sell my crop. I don't try to hit the top of the market, but I also try not to hit bottom. I lock in inputs when they look like they'll work financially."
He also prepays fertilizer or seed and, if the price is right, tries to sell his grain before it's harvested. "Then I'm happy with it and can move on down the road."
As for what Brent enjoys most about farming? Growing season; watching the crops grow, he says. "As they mature, it's neat to watch it every day. To get out there after you've planted and dig around and watch the seed sprout until you harvest it. I can't explain it, but it's just what I enjoy."
Brent, flanked by his wife and daughter, received the Farmer Rancher of the Year award at the Amarillo Chamber of Commerce Ag Appreciation Luncheon in December. The annual event is held in conjunction with the Texas Wheat Symposium and the Amarillo Farm and Ranch Show. Ron Boyd Jewelers has sponsored the award for the last 20 years.
"We are proud to do this because farming and ranching is an important part of our economy," Boyd says. "If we didn't have the farm and ag products in our Panhandle economy, we wouldn't have much of an economy at all."
Subscribe to receive top agriculture news
Be informed daily with these free e-newsletters
You May Also Like
---