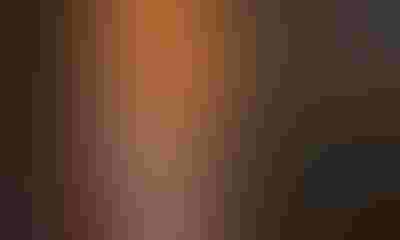 Kansas State University Ag Economics professor Barry Flinchbaugh is famous for speaking his mind, even if his audience may not want to hear his message.
On Monday, at the Kansas Farm Bureau convention in Manhattan, Flinchbaugh laid the blame for the slow growth of the U.S. economy at the door of political extremism and politicians who place ideological purism ahead of the good of the country they were elected to serve.

BARRY SPEAKS: K-State professor of ag economics Barry Flinchbaugh speaks to the Kansas Farm Bureau convention in Manhattan on Monday.
"When you follow ideological purity, you don't think. You just drink the Kool-Aid and go with it," Flinchbaugh said. "Ideological purity prevents democracy from functioning. It creates uncertainty in politics, uncertainty in markets, provides a pileup of cash to strengthen the dollar and lessens ag exports."
Flinchbaugh, who began his career in ag economics at K-State in 1971 and was a major influence in the 1996 Freedom to Farm Bill, said that a key question at the beginning of his career involved tax policy and the proper mix of property, sales and income tax.
He said he worked to get property taxes reduced and income taxes increased to even out the burden.
"Now fast forward 40 years and it is the same issue: the property mix of taxes. We've lowered income taxes and that is inevitably going to raise sales and property tax."
Flinchbaugh said there are two ways to govern: debate and compromise which leads to the success of democracy or ideological purity which leads to dictatorship.
"These strict constitutionalists, as they call themselves, they either never read the constitution or if they did, they didn't understand it," he said. "If they knew history they would know about one of the first great compromises of American history was between Alexander Hamilton who wanted the Capitol in New York and a strong central bank and Thomas Jefferson, who wanted the Capitol on the Potomac and no central bank.
"These two men met, they talked, they debated and eventually, they compromised. Jefferson got the Capitol on the Potomac and Hamilton got a strong central bank," he said. "Compromise is not a dirty word; it is the way that men and women of integrity work to resolve differences and make policy."
He blasted the budget deal crafted ahead of the departure of House Speaker John Boehner because it did not include appropriations and spoke of the three long, difficult years it took to pass the 2012 Farm Bill, which finally became law this year.
"It was the most difficult Farm Bill of my lifetime," he said. "Why? Because we had record net farm income and the government was broken. Never mind that farm income dropped like a rock between 2012 and the time the bill became law. "
Flinchbaugh pointed out the record of federal deficit and surplus, showing four consecutive years of surplus during the Clinton administration and a rapidly shrinking deficit in the waning years of the Obama presidency. The same chart showed huge deficit increases in the Reagan years and the Bush 41 and Bush 43 years.
"This is reality," he said. "In 2014, the President and Congress couldn't agree on policy, so they passed the buck on farm support to farmers to decide. Farm income is revenue; it's not just about price. In a drought, when farmers have nothing to sell, prices go up and those hit with losses get no support. In a good year, there is a lot to sell, prices drop and farmers get a payment. That's ridiculous."
The distinct difference between his early years and today's Congress, he said, is that Congressmen from farm states used to put farmers first and party second.
"Today you have ideology first, party second and all of you not at all," he said.
Flinchbaugh also blasted the "bogus debate" over the debt ceiling that hardliners have repeatedly used to threaten a government shutdown.
"The debt ceiling is totally bogus," he said. "The money has already been appropriated and spent. You want the U.S. government to default on its debt like Greece? Become a derelict nation that doesn't pay its bills? What would happen? We don't know; nobody has ever been dumb enough to threaten political stability by doing that. It's something too risky to even flirt with."
The stabilizing force of the American economy during a time of extraordinary political instability, he said,  has been the sound monetary policy led by the Federal Reserve, first by Ben Bernanke and more recently, Janet Yellen.
"Some of you may not agree, but it was responsible monetary policy that prevented total meltdown in 2008 and it has been cautious, responsible monetary policy that has fostered growth, albeit slow growth."
Flinchbaugh criticized Congressmen who attacked the including of food and nutrition programs in the Farm Bill, pointing out that sound governing policy, led by Kansas Senator Bob Dole, put those every programs in the Farm Bill to insure the future of the Department of Agriculture, quoting Dole as saying "food agriculture; aren't those somehow related?"
"Right now, there are 400 urban and 35 rural districts in the U.S. Congress," he said. "Think about that."
He said that when a farm state representative suggested requiring drug tests to get food stamps, House minority leader Nancy Pelosi countered that farmers should have to pass drug tests to get crop insurance.
"Do you see why it is crazy, ideological nonsense to go after food stamps? There will be a 'next' Farm Bill because of food and nutrition programs.
Trade
In 2012, the U.S. had a trade surplus of about $43 billion.  By the end of this year, that is expected to be about $28 billion.
"Trade is the way to bring net farm income back," Flinchbaugh told Farm Bureau convention attendees. "Congress has acted together in a rare bout of bipartisan agreement to grant the President Trade Promotion Authority. And the Trans Pacific Partnership agreement is the best straight deal in history for American agriculture. It lets Canada and the U.S. unite with the countries of Southeast Asia in a bloc to compete against the giant in the room, China. Yet, for some reason both the leading presidential candidates, Hillary Clinton and Donald Trump, have come out against the bill."
On Cuba, Flinchbaugh said the U.S. is attempting to reverse 50 years of losing strategy that has seen Fidel Castro be able to hold onto power by blaming a U.S. embargo for the failures of his own regime.
"We've had the most stupid of policies and it looks like we might make progress on reversing it," he said.
Immigration
U.S. agriculture needs comprehensive immigration reform, Flinchbaugh said.
"Requiring E-Verify for every job will cost the U.S. dairy industry 50% of the people who milk our cows," he said. "Anti-immigration policies have already cost fruit and vegetable growers millions of dollars across the country. We must find a way to make these people legal, especially in ag."
GMOs
"My urban activist friends tell me that we need to follow the science on climate change," Flinchbaugh said. "I agree with 'follow the science.' As a university professor, science is the lifeblood of my work. So, I agree. Climate change is real.
Now, my urban activist friends, tell me why you won't follow the science on GMOs? It's just as good, if not better, than the science on climate change. The reality is, there is no hope of feeding the future population of the world without GMOs. So, being anti-GMO makes you pro-starvation. I like to ask my religious friends, which of those do you want to take to bed with you when you say your prayers?"
Climate change
Flinchbaugh says agriculture's resistance to carbon regulation is puzzling.
"Every study I've ever seen with the latest coming out of Stanford, which is hardly a land-grant university, says that modern day agriculture is a net sequester of carbon. Add in that soils in many areas have been depleted and that adding carbon helps build soil back up. What are we afraid of? A carbon tax? Hey farmers, we get a rebate! So why aren't we at the table to get this done? Farmers first, party second. Let's get it done."
The future
Flinchbaugh sees a clear path forward and plenty of room for optimism.
"Issues need to be settled, the economy needs certainty, the government needs to function. If elected officials don't want it to function, they can and should be removed from office. We need less rhetoric and more facts, less mythology and more civility and reality and whole lot less ideology," Flinchbaugh said.
He said he sees hope for a way forward in the students in his class at K-State.
"These millennials get a bad rap, but they don't deserve it," he said. "These students are not ideological nuts; they are practical and they want something done. They are up to compromise and to the legacy of people like Ronald Reagan and Tip O'Neill and Bob Dole and George McGovern. They give me hope and optimism."
Look for more stories from the Kansas Farm Bureau Convention in your January Kansas Farmer print edition.
Subscribe to receive top agriculture news
Be informed daily with these free e-newsletters
You May Also Like
---