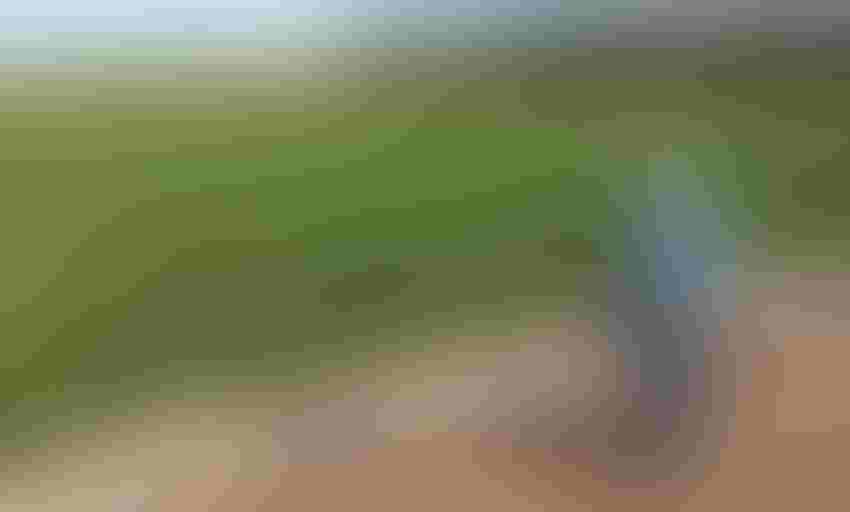 Charles Sanchez, lead researcher at the University of Arizona's Maricopa Agricultural Center, observes the irrigation at a project field site.
Sonnet Nelson/University of Arizona
A lot of variables go into agricultural success, some guided by the hand of nature, others by the intellect of man.
In the latter category is a five-year, $2.5 million research project with the unwieldy moniker of "Qualitative Assessments of Water and Salt Balance for Cropping Systems in Lower Colorado River Irrigation Districts."
It takes place in Yuma, Ariz., smothered in sunshine, the winter leafy greens capital of the world.  That's in the clear, cool, dry climate of winter.
Not so much in the summer when conditions are described as arid and sweltering, ergo, the hottest day on record since the late 1880s when the mercury soared to 124 in July of 1995.  (To placate Chamber of Commerce representatives, it is noted that over the course of the year temperatures rarely exceed a balmy 112 degrees.)
Just part of working conditions that growers struggle with daily, apparently successfully, according to Arizona's Water Resources Department Director Tom Buschatzke.
"Agribusiness there has evolved into a world class venture…a model for efficiently using water to maximize production," he said. "It is a driving force for the strength of the community and a key component of the state's economy."
NEW TECH, INNOVATION
Implementing new technology and continually looking for more efficient ways to conduct business is part of the mission of the Yuma Center of Excellence for Desert Agriculture where Paul Brierley is Executive Director --- and where this specific research project on crop water use is headed into its final months.
"We're coming up with some good results for farmers as they consider crop rotations, water reduction, or fallowing," he said. "We're using 18% less water than we did 30 years ago and producing, in some cases, double the crop yield."
The current research set out to update crop water use numbers from the 1950s, writing an updated crop coefficient for water use of 14 traditional desert region crops --- everything from the different lettuces, spinach, and broccoli to melons and wheat --- and what impact those crops had on soil salinity over a four year rotation.
"Typically in Yuma, they grow vegetables, then a crop of wheat or melons, then back to vegetables with pre-irrigation before they plant and while some crops leach the salinity, others actually add to it," says Brierley. 
"Vegetable crop irrigation is so efficient today that it leaves a lot of salts behind that build up in the root zone.  With contemporary data, farmers can better understand how to manage irrigation needs, but not use more water than necessary."
Charles Sanchez, lead researcher at the Maricopa Agriculture Center, and Andrew French of the USDA Arid Land Agricultural Research Center in Maricopa are two key project players.
NUMBERS OUT OF DATE
"Current water numbers which are now some 40 years old when yields were lower aren't applicable to today's cropping system," says Sanchez.  "We're now getting quantitative numbers on water use and what's required to not only sustain crops, but manage salt."
These new findings should be of interest to farmers.  "It won't affect their decisions on crop rotation, but it will affect their decisions on how they manager their water across those rotations as different rotations will require different leaching to maintain sustainability."
"Since the Fall of 2016, we've been deploying eddy covariance instruments in Yuma agricultural fields to measure crop water usage and resultant soil salinity," says French, who wants to add satellite capabilities to improve the spatial mapping of evapotranspiration.
The size of the eight $40,000 state-of-the-art field measurement units allows them to be equipped with lots of components for data gathering, solar panels, multi-sensors, and cell phone modems. 
"What we've found with this sophisticated technology is that the evapotranspiration rate is a bit higher than standard numbers previously used and critical practice management is necessary in pre-irrigation to maintain low salinity levels," he says.
Now that the project is more than halfway complete, "For the first three years, we focused on the largest acreage crops," says Sanchez.  "Now we have to pick up some of the smaller acreage crops.  Then we want to develop the use of space-based sensors as water management tools and we're developing the apps to do that."
To this point: "We're gaining a better understanding of water and salt balance in the vegetable crop rotational system by using a lot of instrumentation.  We've demonstrated that we're actually irrigating quite efficiently and there's not a lot of wasted water and that the water being applied is both sufficient to sustain the crops and maintain salt balance."
Subscribe to receive top agriculture news
Be informed daily with these free e-newsletters
You May Also Like
---