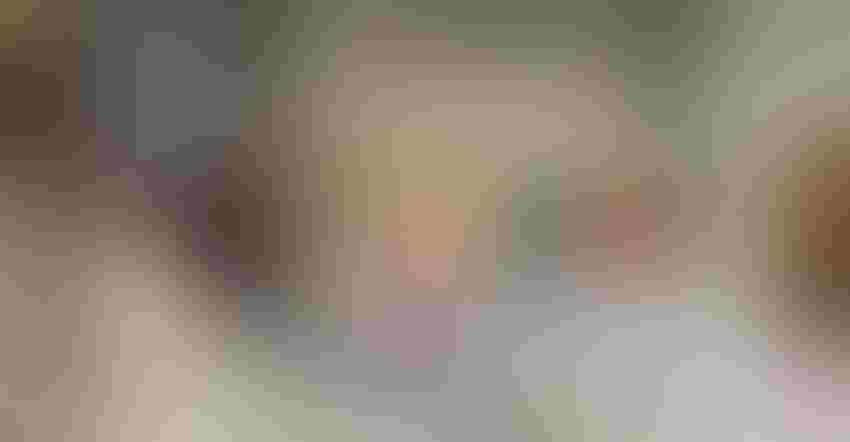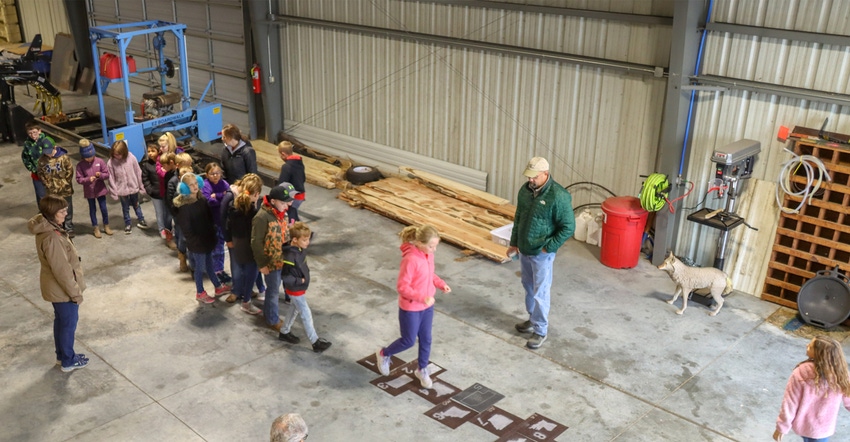 EDUCATION: Students from Ord Elementary School in Ord, Neb., learn about the migration impacts of habitat scarcity through Habitat Hopscotch.
Courtesy of Lower Loup Natural Resources District
Water Rocks! is well known for its creative and entertaining water quality and conservation outreach through school and public appearances. To help extend the reach of this inventive program, the Water Rocks Summit workshops held at Iowa State University provide an opportunity to partner with teachers and natural resources educators, equipping them with knowledge and resources to carry the science-based lessons to additional audiences across the Midwest. Like ripples in a pond, participants not only multiply direct interactions, but also capture the attention of other teachers and professionals.
Alan Bartels, information and education coordinator for the Lower Loup Natural Resources District in Nebraska, discovered Water Rocks through a chance encounter at a water quality event in another part of the state in early 2022.
"I was helping a colleague with their conference and happened to observe someone presenting We All Live in a Watershed," Bartels says. "I was blown away by the simplicity and effectiveness of the message and content. I spoke with the presenter afterward and got my first introduction to Water Rocks."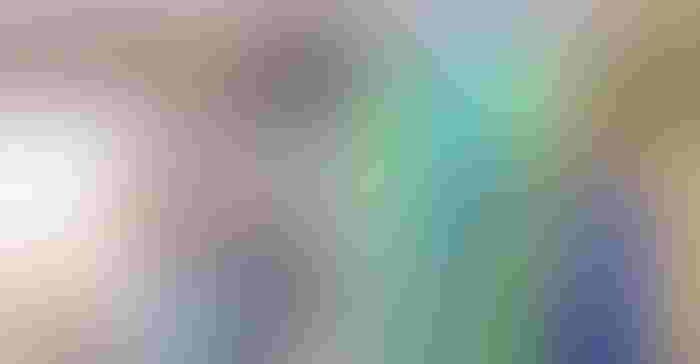 "To date, 15 Water Rocks Summit workshops have reached a total of 282 teachers and 62 Extension-natural resource educators from six different states," says Ann Staudt, Water Rocks director. "These educators have actively integrated Water Rocks into their own educational activities, and have regularly advocated for other professionals to seek out Water Rocks on their own. We are accepting applications for the summer 2023 Water Rocks Summit workshop through March 3, 2023."
Idea collection
Bartels and a colleague attended the Water Rocks Summit in June, coming away full of ideas and enthusiasm for use Water Rocks resources to help expand education efforts throughout their district — the largest in Nebraska, comprising some 5 million acres.
"As I travel around the district and state speaking with people about water and conservation, despite 50 years of outreach and education as a formalized district, there are still a lot of people who don't know what we do," Bartels says. "A big part of my job is to engage people of every age and background in learning more about our water and natural resources. The Water Rocks materials and programs I learned about have already become a big hit with young people throughout my district. The hands-on and interactive nature designed into each activity and lesson really make an impact."
Participants in the two-day Water Rocks Summit workshop are exposed to a broad range of materials and topics that they can take home and apply immediately. The summit includes guest lectures from experts in biodiversity, conservation practices, geology and climate science, water quality and treatment, and education. In addition, Water Rocks staffers teach several of the classroom modules and activities to help participants learn and consider how they can use them at home.
"There was so much going on during the summit, but the highlights for me included the enthusiasm of the Water Rocks staff, jumping around and showing us how to conduct these sessions, field trips to see the lessons in action — and the speaker [ISU's Kelsey Fisher, Ph.D.] who brought in monarch butterflies in every life stage," Bartels says.
Bartels was also blown away by "Water Rocks!: The Musical" and was delighted to learn that Water Rocks will soon be making a royalty-free production package available to facilitate other groups in offering this original musical for local audiences.
"We love hearing from our summit alumni about how they've adapted and applied different Water Rocks games and activities in their education and outreach efforts," Staudt notes. "Alan has taken what we gave him and run at top speed — such an advocate for water quality with the next generation."
Using Water Rocks activities
Bartels reported using the We All Live in a Watershed, Wetlands Bingo and Habitat Hopscotch activities in school and public programs to great success. He notes that all have drawn enthusiastic participation while delivering well thought out and effective content.
"The hopscotch activity really brought out the competitive nature in some of the young people, particularly when they started recognizing the scarcity of habitat 'stops,' reflecting the reality of what is happening in nature with the loss and degradation of wetlands," Bartels says.
Water does not stop at state borders, and Water Rocks programming doesn't, either. The Water Rocks Summit workshop enables participants from across the Midwest to further their technical understanding of water, wetlands, biodiversity, agriculture and environmental science through hands-on activities and engaging talks by Iowa State University faculty and staff working in these fields. The next workshop will be held June 21-22. To apply or learn more, visit waterrocks.org.
Stevenson is a visual outreach specialist and conservation educator with Iowa Learning Farms and Water Rocks! at Iowa State University Extension and Outreach.
Subscribe to receive top agriculture news
Be informed daily with these free e-newsletters
You May Also Like
---