Former Iowa governor and current U.S. Agriculture Secretary Tom Vilsack attended the 2015 World Food Prize symposium in Des Moines last week. He hosted the Secretary's Roundtable discussion on October 15, discussing topics related to the need for open data for agriculture and nutrition. He also held a press conference focusing on soil conservation and water quality efforts, and announced $30 million in new USDA grant funding to be spread among six states, including Iowa.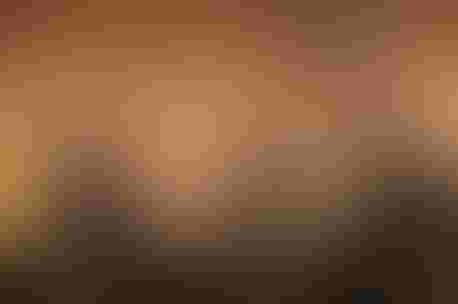 AT WORLD FOOD PRIZE: U.S. Ag Secretary Tom Vilsack (left) addressed several hot topics. This panel discussion was about the need for open data in agriculture. Also pictured are Brady Deaton (center) director of the Deaton Institute at University of Missouri; and Alex Howard, editor for technology and society, the Huffington Post.
The funds will be used to acquire and restore prairie pothole wetlands and tallgrass prairie. For Iowa, this expansion of USDA's wetlands protection program is a $3 million investment through partner-led work. This will nearly double the number of acres of wetlands protected and restored in the state.
The project is funded under the Wetland Reserve Enhancement Partnership, which was created by the 2014 Farm Bill. WREP is administered by USDA's Natural Resources Conservation Service. States and local units of government, as well as non-government organizations, work with NRCS through partnership agreements. The partners work with private landowners who voluntarily enroll eligible land into easements to protect, restore and enhance wetlands on their properties.
Vilsack, Branstad confer on water quality lawsuit
Secretary Vilsack says Iowa must mount a greater effort to improve and protect water quality. While at the World Food Prize events, Vilsack spoke with Iowa Gov. Terry Branstad about ways the state and federal government can work together along with farmers and agribusinesses and environmental groups, to mount a large effort to try to mitigate or avoid a federal lawsuit filed by the Des Moines Water Works.
The lawsuit targets drainage districts in Calhoun, Sac and Buena Vista counties in northwest Iowa, alleging drainage tiles in those drainage districts are a conduit for letting nitrates enter the Raccoon River, a drinking water source for 500,000 central Iowa residents. The Des Moines Water Works utility seeks to have water that is discharged from drainage districts, and thus indirectly farmers, regulated by the federal government, much like water that is discharged from factories. The lawsuit is scheduled to be heard next year.
Greater soil and water conservation effort needed in Iowa
"The state has to do more to avoid this litigation," said Vilsack. "The worst thing that can happen is for a federal judge to decide this water quality lawsuit." Vilsack is an attorney who was a trial lawyer in a law practice at Mt. Pleasant before entering his political career.
~~~PAGE_BREAK_HERE~~~
Vilsack says Iowa needs a conservation effort similar to the state's $2 billion Vision Iowa program, the public-private investment partnership that led to development of the Iowa Events Center, Dubuque's America's River Project and other landmark efforts. Branstad is discussing ideas with leaders regarding soil and water quality, including Vilsack. People really want to solve the nutrient loss problem in Iowa, says Branstad. Several proposals are expected to be discussed by the Iowa Legislature in 2016.
"We need to be working together to help address this issue in a big way," says Jay Byers, CEO of the Greater Des Moines Partnership. That central Iowa economic development group is working with leaders in agriculture, business and conservation to find solutions to the water quality issue. The goal is to increase the number of conservation practices used by farmers and to greatly expand the amount of farmland covered, to reduce the loss of nitrogen and phosphorus from fields that is entering Iowa streams and rivers.
Public-private investment is key to cleaning up water
The key is the state has to generate significant resources that can create a carrot-approach for farmers and landowners to really move forward with as many conservation strategies as possible, says Byers.
Environmental groups, along with some farm groups, are backing a proposal for a small sales tax increase of three-eighths of 1% to fund the Natural Resources and Outdoor Recreation Trust Fund, which was approved by 63% of Iowa voters in 2010. If it is eventually funded by the legislature, this trust could generate an estimated $120 million annually. Some of that money would go to efforts to improve water quality, by providing increased cost-share funding as an incentive to get farmers to establish more conservation practices such as cover crops, buffer strips, grass waterways, terraces, bioreactors, etc.
Ever since this Iowa trust fund was approved in 2010, efforts to fund it have failed to gain traction with lawmakers. "There is still a lot of discussion about how it could happen," says Byers, "as we try to move forward." He says discussions between Vilsack and Branstad are "critically important" to finding solutions.
~~~PAGE_BREAK_HERE~~~
Farmers looking for ways to protect water quality
Iowa scientists who authored the state's Nutrient Reduction Strategy estimate it will cost as much as $1.2 billion annually over five decades for farmers to build the conservation infrastructure needed to meet the goals for reduction of phosphorus and nitrogen loss. Vilsack says USDA has spent $2.2 billion in Iowa on conservation efforts since he took office in 2009. Iowa's nearly 90,000 farmers have been under pressure to reduce the amount of nutrients that leave farm fields and make their way into Iowa waterways and eventually contribute to the dead zone in the Gulf of Mexico.
Vilsack visited a northeast Iowa farm the day after he spoke at the World Food Prize. It was the Nick Meier farm near La Porte City. Vilsack saw a saturated buffer, a bioreactor and some cover crops on the farm.  Meier invested in a bioreactor installed in his field that so far has reduced the nitrate that comes off of 35 acres by 40%. Installing a bioreactor isn't cheap. "If you do the math, you're going to need a serious amount of money over a long time period to install as many of these practices that are needed," noted Vilsack.
Under his Vision Iowa program, taxpayers put $225 million into tourism, recreation and other quality of life projects, leveraging the $2 billion investment. "It changed the face of many Iowa cities," said Vilsack. "You could do a similar effort for soil and water conservation, creating a fairly significant amount of money at the state level. And it could be matched through public and private investment."
Reducing nutrient runoff from farm fields is a complex and costly endeavor. "Farmers are looking at ways they can change their operations and do more to better protect water quality," sums up Wayne Fredericks, president of the Iowa Soybean Association. "But these changes aren't going to happen overnight."
Subscribe to receive top agriculture news
Be informed daily with these free e-newsletters
You May Also Like
---