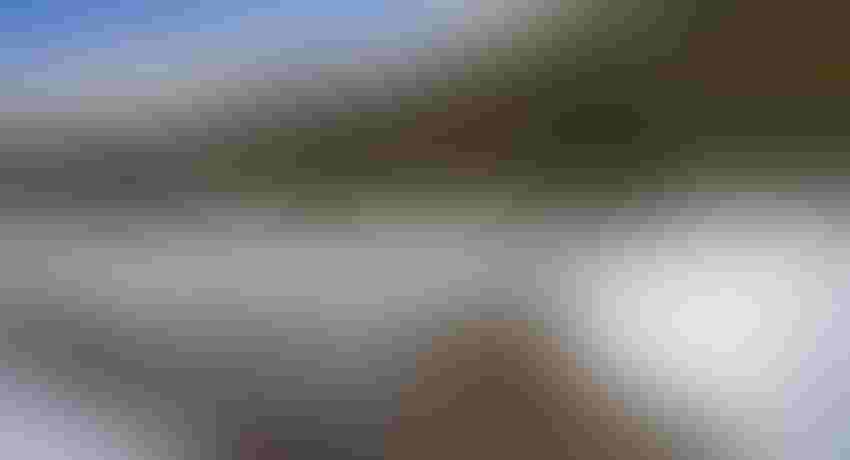 Snow melts into a creek that flows into the South Fork American River near the site of the California Department of Water Resources' Feb. 1 manual snow survey at Phillips Station near Lake Tahoe.
Calif. Dept. of Water Resources
The California Department of Water Resources this week conducted the second snow survey of the season at Phillips Station. Following a dry January, the manual survey Feb. 1 recorded 48.5 inches of snow depth and a snow water equivalent of 19 inches, which is 109% of average for this location for this date.
The snow water equivalent measures the amount of water contained in the snowpack and is a key component of DWR's water supply forecast. Statewide, the snowpack is 92 percent of average for this date.
"We are definitely still in a drought. A completely dry January shows how quickly surpluses can disappear," said DWR Director Karla Nemeth. "The variability of California weather proves that nothing is guaranteed and further emphasizes the need to conserve and continue preparing for a possible third dry year."
Snowmelt during January has been minimal. However, with little to no accumulation of snow during January, snowpack levels are closer to average Feb. 1 conditions, meaning that a return of winter storms in the Sierra Nevada is needed during February and March to remain at or above normal levels.
Regionally, the Southern Sierra snowpack is not faring as well as the Northern Sierra. Water supply forecasts for the south San Joaquin Valley are below average due to the lack of rain and snow in this region.
"These dry January conditions demonstrate the importance of continuing to improve our forecasting abilities and why these snow surveys are essential," said Sean de Guzman, Manager of DWR's Snow Surveys and Water Supply Forecasting Unit. "While we always hope for a generous snowpack, DWR's ongoing investments in forecasting techniques will help the state better prepare for both drought and flood conditions."
SWP allocations boosted
The season's second manual survey followed the DWR's recent decision to increase the State Water Project allocation to 15% of requested supplies for 2022. In December, due to low water levels, the department announced that the initial allocation would cover only critical health and safety needs of the 29 water agencies that contract to receive State Water Project supplies.
"December storms enabled DWR to convey and store water in San Luis Reservoir, which allows for a modest increase in water deliveries this year," Nemeth said Jan. 20. "But severe drought is not over. Dry conditions have already returned in January. Californians must continue to conserve as the state plans for a third dry year."
DWR will continue to work with its water supply contractors to address any unmet health and safety needs for 2022, officials said.
Although DWR is making this allocation increase, it continues to plan for a third consecutive dry year. DWR will preserve as much storage as possible in Lake Oroville, the State Water Project's largest reservoir. Water releases from Lake Oroville will be prioritized to maintain Delta water quality, protect endangered species and meet senior water right needs.
Additionally, DWR, along with its federal partners at the U.S. Bureau of Reclamation, withdrew the application for a Temporary Urgency Change Petition (TUCP) for Feb. 1 through April 2022. The petition would have provided flexibility for the State Water Project and the Central Valley Project to release less water into the Delta through April 2022 to conserve limited stored water in Shasta, Oroville and Folsom reservoirs. While Shasta continues to be in a critical condition, Oroville and Folsom reservoirs are projected to meet downstream water quality needs through the spring. 
"The next two months are traditionally the heart of California's rainy season," said Nemeth. "We need more storms to keep filling up our reservoirs to make up for two critically dry years."
Efforts to improve forecasting
In light of last year's poor runoff, DWR has increased its efforts to improve climate and runoff forecasting by strengthening its collaboration with partner agencies and academia and by investing in proven technologies to improve data collection and hydrologic modeling. One example is DWR's investment in remote snowpack measurements through the Aerial Remote Sensing of Snow program by partnering with Airborne Snow Observatories, Inc. (ASO). Data from ASO has proven to be the most accurate assessment of snowpack conditions that, when coupled with newer, sophisticated runoff models, will improve runoff forecast accuracy.
Although early season storms helped alleviate some drought impacts, a lack of storms in January has underscored the need for Californians to continue focusing on conservation. Most of California's reservoirs are still below average, and groundwater supplies are still recovering. California still has two months left of its typical wet season and will require more storms in those months to end the year at average.
DWR conducts four media-oriented snow surveys at Phillips Station each winter near the first of each month, January through April and, if necessary, one additional in May.
Source: California Department of Water Resources, which is solely responsible for the information provided and is wholly owned by the source. Informa Business Media and all its subsidiaries are not responsible for any of the content contained in this information asset.
Subscribe to receive top agriculture news
Be informed daily with these free e-newsletters
You May Also Like
---