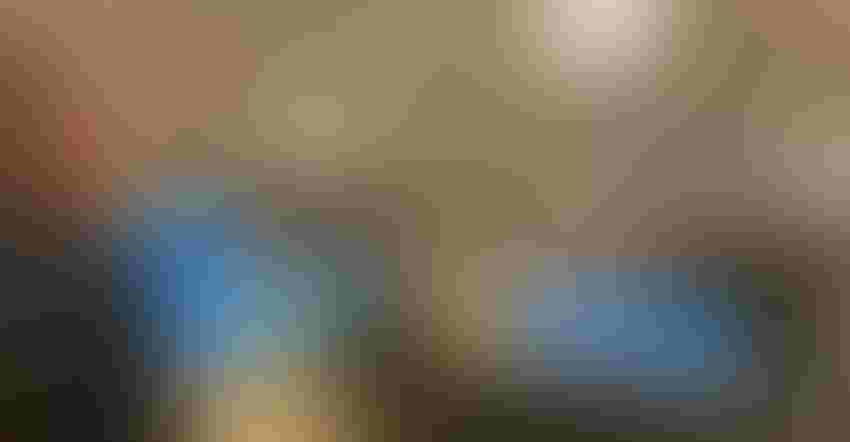 EMERGENCY RESPONSE: Kansas State University President Richard Linton (foreground) listens to Ford County emergency manager Rex Beemer about how K-State Research and Extension agents help communities during natural disasters and other emergencies. From working with farmers to recover after wildfires, to coordinating volunteers, to helping house livestock in emergency situations, he says he relies on Extension to help him help the communities they serve.
Jennifer M. Latzke
As part of his new presidential initiative to focus on the people of Kansas and their communities, Kansas State University President Richard Linton has committed to visiting communities throughout the state every academic year, to listen and learn from the Kansans who live there and find out how K-State, the nation's first land-grant university, can use its work to improve their lives.
These community visits are intended to engage Kansans beyond the Manhattan campus and help the university shape a new strategic plan to be a "next-generation land-grant university."
On Sept. 27, K-State came to Dodge City and the Ford County region.
On a trip to the Ford County Office of Emergency Management in Dodge City, Linton and the K-State team heard about how Extension personnel are working to help the community in times of crisis and prepare them for disasters to come.
Andrea Burns, Ford County agriculture and natural resources Extension agent, found herself in 2017 in the middle of the fire — quite literally. That was the year of the Starbuck Fire, which started in neighboring Clark County and rolled across parts of Comanche County and Ford County, as well as land across the state line in Oklahoma.
With her experience in working with the Ford County emergency management team, Burns was able to help those county Extension agents help their farmers and ranchers deal with the hard work of fighting the fires and cleaning up after the disaster. They visited farmers and helped them start the recovery process. They coordinated donated fencing supplies and hay, and volunteers from around the country.
Community knowledge key
Rex Beemer, Ford County emergency manager, said he relies on Extension agents to help him on emergency management teams because they know the rural communities and the agricultural businesses that could be affected by disasters and emergencies.
For example, when there's an incident of animal endangerment, like the recent bust of a cockfighting ring, Beemer knew he could reach out to Burns and the Ford County Fair Board to find temporary housing for those birds.
Likewise, the Ford County Fair board reached out to Beemer to help it prepare an emergency response plan for the fairgrounds. It's been so popular that other fairs have requested copies of it for them to use as the foundation for their own plans.
Rural Kansas communities have different emergencies and different available resources than other communities in the state. There's the meat processing plants in town, the feedlots in the countryside, loaded cattle trucks and grain trailers on the highways, and possible biohazards to humans and livestock. And that's not even counting weather events and natural disasters like wildfire and tornadoes that could cause more havoc.
With fewer resources than larger municipalities, Beemer said he relies on more stakeholders in the community — like Extension — to fill in the knowledge and resource gaps. That's one way K-State Research and Extension is serving the community beyond the more recognized crop field days and county fairs.
About the Author(s)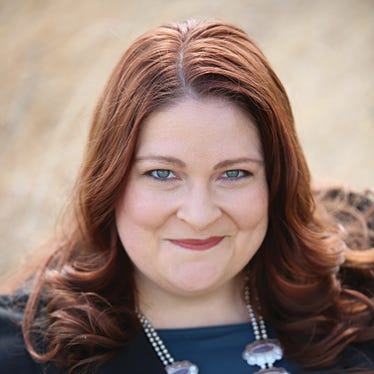 Through all her travels, Jennifer M. Latzke knows that there is no place like Kansas.
Jennifer grew up on her family's multigenerational registered Angus seedstock ranch and diversified farm just north of Woodbine, Kan., about 30 minutes south of Junction City on the edge of the Kansas Flint Hills. Rock Springs Ranch State 4-H Center was in her family's backyard.
While at Kansas State University, Jennifer was a member of the Sigma Kappa Sorority and a national officer for the Agricultural Communicators of Tomorrow. She graduated in May 2000 with a bachelor's degree in agricultural communications and a minor in animal science. In August 2000 Jennifer started her 20-year agricultural writing career in Dodge City, Kan., on the far southwest corner of the state.
She's traveled across the U.S. writing on wheat, sorghum, corn, cotton, dairy and beef stories as well as breaking news and policy at the local, state and national levels. Latzke has traveled across Mexico and South America with the U.S. Wheat Associates and toured Vietnam as a member of KARL Class X. She's traveled to Argentina as one of 10 IFAJ-Alltech Young Leaders in Agricultural Journalism. And she was part of a delegation of AAEA: The Ag Communicators Network members invited to Cuba.
Jennifer's an award-winning writer, columnist, and podcaster, recognized by the Kansas Professional Communicators, Kansas Press Association, the National Federation of Presswomen, Livestock Publications Council, and AAEA. In 2019, Jennifer reached the pinnacle of achievements, earning the title of "Writer of Merit" from AAEA.
Trips and accolades are lovely, but Jennifer says she is happiest on the road talking to farmers and ranchers and gathering stories and photos to share with readers.
"It's an honor and a great responsibility to be able to tell someone's story and bring them recognition for their work on the land," Jennifer says. "But my role is also evolving to help our more urban neighbors understand the issues our Kansas farmers face in bringing the food and fiber to their store shelves."
She spends her time gardening, crafting, watching K-State football, and cheering on her nephews and niece in their 4-H projects. She can be found on Twitter at @Latzke.
Subscribe to receive top agriculture news
Be informed daily with these free e-newsletters
You May Also Like
---