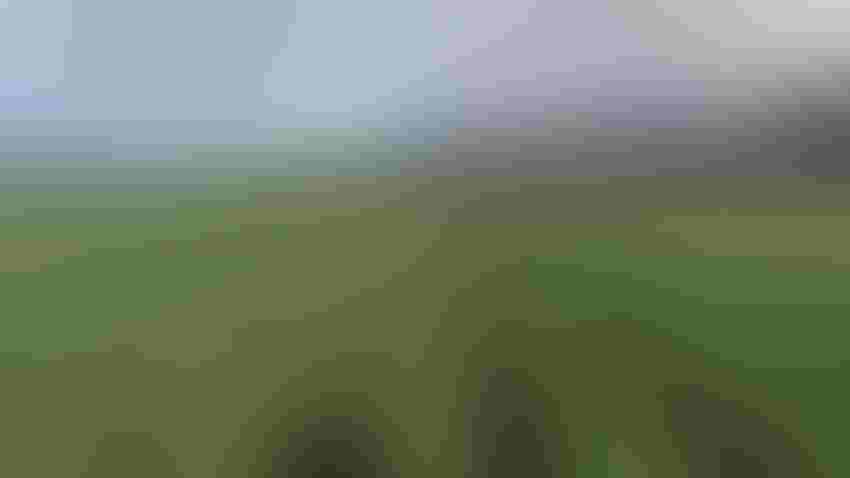 A lettuce field in Welton, Ariz.
Sharon Megdal
Searching 150 Best Quotes About Agriculture for something appropriate to discuss The Future of Agriculture and Food Production in a Drying Climate, this comment stood out --- "At the very heart of agriculture is the drive to feed the world. We all flourish…or decline…with the farmer."
That core concept, "the heart of agriculture", resonated with Bobby Robbins, a cardiologist by trade whose day job is President of the University of Arizona in Tucson.
Living in the Northern Sonora Desert, Robbins has watched a changing climate threaten food and agriculture systems in the arid Southwest. "The agriculture industry needs innovative research-based solutions to continue producing food year-round," he said in announcing a high-IQ Commission to tackle the job.
Emboldened by a three-year, $4.7 million climate-smart food production research grant from the USDA, he gathered a group of high achievers in December 2022 with a mandate: "Summarize the threats of drought and climate change that impact agricultural production systems; find resources that can be brought to bear; provide prospective solutions to turn these threats into opportunities, and identify how these efforts can be supported on an ongoing basis.
"The intent here is to come up with some concrete steps to create and apply transformational technologies and climate-resilient sustainable scalable food production practices for Arizona, and by extension, for other arid regions around the world."
The assembled panel of experts, chaired by Paul Brierley (then Director of the Yuma Center of Excellence for Desert Agriculture and now acting Director of the Arizona Department of Agriculture), set a speed record that would make Santa's elves look like slackers.
"Because Arizona faces a major threat from drought, our state is the obvious place to solve this problem of keeping agriculture productive in a drying climate," said Brierley.
Problem recognized
Now overseeing all agricultural efforts throughout the state, he told Western Farm Press: "As the original chair of this commission, I appreciate recognition of this critical problem facing not only Arizona, but much of the world. Solutions will only succeed if we take into account the on-the-ground realities faced by producers.
"Researchers working collaboratively with industry partners can bring about innovative technologies --- from concept to commercial application --- while developing the agricultural workforce of the future.  Arizona can, and should, lead the world in this area and this recommendations report is one big step toward doing that."
It took nine months and a collaborative effort for the 42-page report to be prepared and released. Working through what has already turned out to be the hottest summer on world record, the commission report ultimately recommended five actions starting with the establishment and strengthening of existing collaborations with other arid regions around the world.
"Drylands account for 40% of the world's surface and 60% of its food production and Arizona's challenges are inextricably linked to drying regions worldwide," the report noted.
Because tribal communities "have unparalleled knowledge of agriculture in arid environments, it is critically important to work with Native Nations," was another recommendation as was creation of new, specific entities like an Institute for Sustainable Food, Water, and Agriculture Systems; a Center for Soil Health, and technology and innovation hubs at four statewide sites where UA personnel work with collaborative partners such as growers and ranchers.
Production threatened
In its Executive Summary, the report's authors concurred, "Located in one of the most arid portions of the country (where 'dryer' and 'hotter' are likely part of the future), Arizona's food production systems are increasingly threatened by a drying climate. This is a trend that poses an existential threat to food production in the state where sustainably producing food with decreasing water supplies is already a significant challenge."
Each of the several co-authors noted their concerns and a need to find innovative solutions.
Joaquin Ruiz, UA Vice President for Global Environmental Futures, was emphatic --- "I want us to be the Silicon Valley of Agriculture where industry, policy, and technology work together to transform food production.  We can show the rest of the world how it's done properly."
To which, hydrology professor Laura Condon added: "By developing solutions in Arizona, we can provide lots of good resources and information for the rest of the world, bringing people together around the strengths we already have."
The director of the university's Water Resources Research Center, Sharon Megdal, put it this way: "Water, food, and agriculture are all contemporary issues and we need all hands on deck to solve these problems.  It won't be without burden, cost, and some hardship, but I'm optimistic we can adapt."
Collectively, the authors note: "It's crucial that the University act with a level of urgency commensurate with the rapidly-evolving threats facing food production." But despite that need for speed to come up with some innovative solutions, finding answers takes time.
An implementation team will be appointed to begin transforming these recommendations into action over the next six months. "Progress toward all recommendations can and should start as soon as possible," urged the committee.
Subscribe to receive top agriculture news
Be informed daily with these free e-newsletters
You May Also Like
---