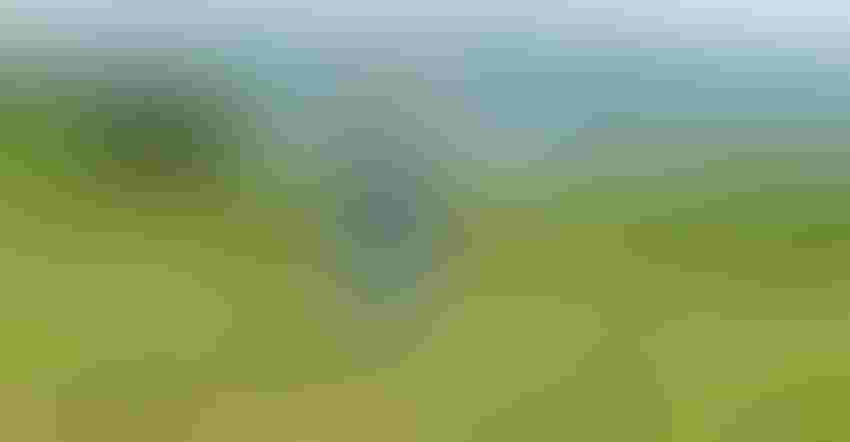 PROTECTING PRISTINE WATERS: High above blue Seneca Lake, Stamp zealously works to keep soil and rainfall inside vineyard blocks.
On Aug. 8, the New York Ag Leadership Luncheon at Empire Farm Days will honor Beverly and David Stamp as recipients of New York's 2018 Agricultural Environmental Management Award. Ag Commissioner Richard Ball is scheduled to present the Empire State's top environmental award to the Stamps. Their 85-acre Lakewood Farm and Vineyards above Watkins Glen is a model of exemplary environmental management.
David learned the importance of soil conservation from his father, Monty. "We recognized early that keeping the soil on the land was essential for the land and for downstream water quality," he recalls.
After their main market fell on hard times in the 1980s, the Stamps began replanting their vineyards with boutique varietals like Riesling and Chardonnay. In 1988, Lakewood Vineyards produced 5,000 gallons of wine. Today, production has grown to 100,000 gallons, and the farm provides 70% of its grapes. With David's brother Chris as wine maker, Lakewood continues to grow.
DESIGNED FOR NO RUNOFF: No-tilled, cross-slope vine rows plus cover-cropped row-middles and runoff diversion buffers naturally established a bullrush area in the middle of the vineyard.
Conservation's role in this success
This third-generation partnership of David and his mother, Beverly, was one of the first vineyards to develop a nutrient management plan. Row upon no-till row of grape vines and mowed row-middles of cover crop mulch cross Seneca Lake's steep (6% to 8%) western slope. With help from Schuyler County Soil and Water Conservation, thousands of feet of tile, diversions and waterways, plus grassed buffers, keep soils and nutrients in place.
Halfway down-slope, David established a buffer zone to stop the flow of torrential rainfall. "Once soil washes, you can't stop it," he says. Combined best management practices save more than an estimated 1,000 tons of soil and nutrients annually.
Cover cropping plus composted vineyard pomace helps build organic matter and soil quality. David believes every 1% organic matter gain increases an acre's water-holding capacity by 20,000 gallons.
That's why pressed grape refuse is composted with horse and poultry manure in a novel forced-air system in a machine shed. Then it goes back on vineyard rows.
Conservation practices leading to maximum water infiltration and healthier soils have helped reduce fertility needs by as much as 66%. The in-vineyard weather station linked to IPM data has reduced pesticide use by nearly 50%. "All of this," David concludes, "has greatly improved our business sustainability."
The AEM Award boosts public awareness of farm efforts in preserving the environment. It's co-sponsored by New York Department of Agriculture and Markets, Empire State Potato Growers and American Agriculturist.
A SWEET TOAST: Fine, award-winning wine is one result of the conservation efforts of Beverly and David Stamp — and winemaker Chris Stamp (not pictured).
2018 AEM finalists recognized
This year, a near-record 9 environmentally-conscious farms competed for the AEM honor. That included:
• AngelRose Dairy, Bainbridge, N.Y., which is owned by John and Diane Kemmersen. Their 90-cow grazing dairy on 350 rolling acres was nominated by Chenango County Soil and Water Conservation District.
The Kemmersens were among the first in the area to no-till grass seedings and immediately saw the reduced tillage benefits — reduced soil erosion, reduced weed and pest problems, and increased soil organic matter. With improved soil health, they reduced nitrogen inputs, yet increased corn yields by 10%.
• Barbland Dairy, Fabius, N.Y., which is owned by Chip Engst, Luke Huysman and Bret Bossard. The dairy was nominated by Onondaga County Soil and Water for taking care of their 2,600 acres of cropland while growing their 1,700-cow milking herd. The farm's management plan exceeds that required for CAFO compliance with additional BMPs including manure storage plus injection, cover cropping, rotational grazing, buffers and more.
• Birds All Dairy Farm, Canaseraga, N.Y., which is owned by Kim Shaklee and Janice Brown, and was nominated by Allegany County Soil and Water. This 300-acre rotational grazing dairy milks 50 cows per day. Forages have been no-tilled for 12 years. With conservation district design assistance, they installed a pasture irrigation system on 90 acres to help avoid summer grazing slumps with higher pasture yields. They've also implemented numerous BMPs, including stream habitat management and buffers.
• Grape View Dairy, Westfield, N.Y., which is owned by Chad Fredd, and was nominated by Chautauqua County Soil and Water. This first-gen dairy farmer has the largest livestock farm in the Lake Erie watershed. Robotic technologies help manage 230-cow milking herd, dry cows and heifers. The farm has been a role model of conservation in the county, with seven-month manure storage, a one-pass manure incorporation tool to reduce odor and ammonia volatilization, mortality composting, and winter cover crops on silage corn.
• KC Bailey Fruit Farms, Williamson, N.Y., which is owned by first-gen farmers Charles P. Jr. and Karla Bailey, and was nominated by Wayne County Soil and Water. The Baileys own more than 350 acres, with 165 acres planted to 24 apple varieties for fresh fruit sales. Part of their land borders Lake Ontario, requiring wind break buffer development. They've implemented irrigation plus pollinator habitats for three farm ponds to address climate resiliency risks.
• Kingsley Brother's Farm, Pavilion, N.Y., owned by David and Gary Kingsley, was nominated by Genesee County Soil and Water for their soil and water conservation efforts on hilly lands. The dairy operation milks 100 cows and diversifies with corn, wheat and soybean cash crops on close to 750 acres. Strip-cropping, rotation and zone-till planting are used for corn and soybeans. Wheat and cover crops are no-till drilled as part of the Climate Resilient Farming program. They also installed livestock access controls on a stream plus a riparian forest buffer. 
• Milk Pail, Water Mill, N.Y., which is managed by 12th-generation Jennifer Halsey Dupree, was nominated by Suffolk County Soil and Water. It's a Long Island Sound fruit and vegetable farm — not a dairy farm — with a major role in protecting ground water. Crop rotation, cover crops, reduced tillage, irrigation, pollinator habitat development and soil health testing are employed to grow 26 different apple varieties, 1,200 peach trees, plus vegetable crops for the farm's u-pick and retail markets. A modified over-the-row sprayer equipped with drift-reducing nozzles has reduced the farm's pesticide use by 30%.
• Whey Street Dairy, Cuyler, N.Y., which is owned by Martin Young, was nominated by Cortland County Soil and Water. The dairy has grown to more than 600 dairy cows with a lot of family help. It was an early adopter of environmental assessments to prevent environmental pollution via zone-till corn planting, no-till drilling and cover crops. Most notable was a novel vegetated treatment system with two cells plus a timing system and basin to control silage leachate runoff.
About the Author(s) Editor, American Agriculturist
For more than 38 years, John Vogel has been a Farm Progress editor writing for farmers from the Dakota prairies to the Eastern shores. Since 1985, he's been the editor of American Agriculturist – successor of three other Northeast magazines.
Raised on a grain and beef farm, he double-majored in Animal Science and Ag Journalism at Iowa State. His passion for helping farmers and farm management skills led to his family farm's first 209-bushel corn yield average in 1989.
John's personal and professional missions are an integral part of American Agriculturist's mission: To anticipate and explore tomorrow's farming needs and encourage positive change to keep family, profit and pride in farming.
John co-founded Pennsylvania Farm Link, a non-profit dedicated to helping young farmers start farming. It was responsible for creating three innovative state-supported low-interest loan programs and two "Farms for the Future" conferences.
His publications have received countless awards, including the 2000 Folio "Gold Award" for editorial excellence, the 2001 and 2008 National Association of Ag Journalists' Mackiewicz Award, several American Agricultural Editors' "Oscars" plus many ag media awards from the New York State Agricultural Society.
Vogel is a three-time winner of the Northeast Farm Communicators' Farm Communicator of the Year award. He's a National 4-H Foundation Distinguished Alumni and an honorary member of Alpha Zeta, and board member of Christian Farmers Outreach.
Subscribe to receive top agriculture news
Be informed daily with these free e-newsletters
You May Also Like
---