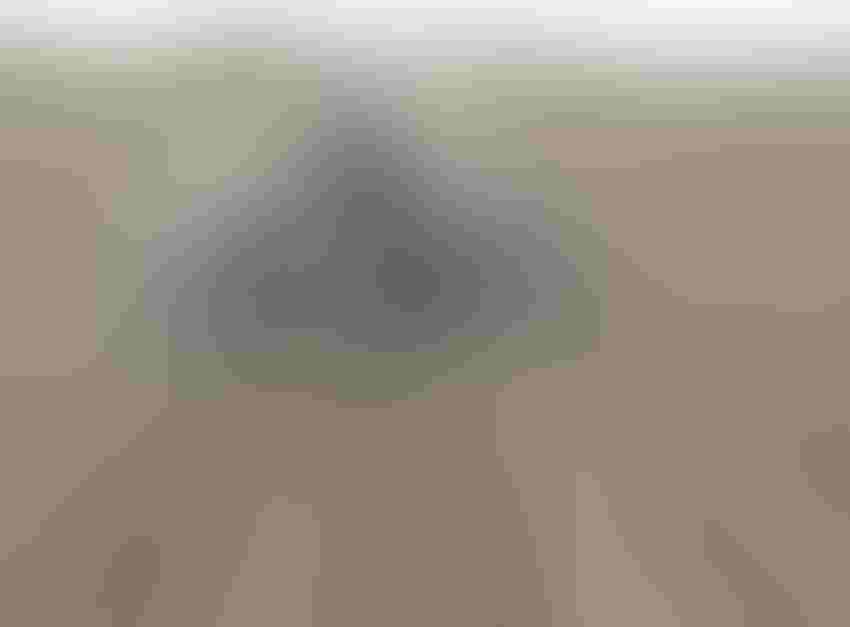 Spoon-fed nutrients, higher yields even helps reduce grain marketing risks.
Kurt Grimm farms in northeast Kansas, where average rainfall is 28 inches, but variable weather stress still eats into valuable yield. "With irrigation, we are able to raise the bar on yields from 160 to 240-260 bushels per acre consistently, year after year," he says. 
Ten years ago their farm was less than 5% irrigated; today it's about 25% with desire to go higher. Currently they have 500 acres of pivot irrigation and 50 acres of drip. "We're going to install more drip in the years to come as grain prices improve. And we have to build ponds and reservoirs to irrigate since we cannot drill for water," Grimm says.
Seeking fertilizer efficiency
The big reasons why Grimm is sold on Netafim's DripNet PC (Pressure Compensating) drip irrigation technology is it delivers precise flows anywhere in a field, it increases fertilizer efficiency and it increases yield.
"Drip irrigation allows us to hone in on deficient nutrients and water anytime during the growing season," he says. "We pull tissue samples weekly from the drip fields to make real-time determinations of any needed fertility adjustments." Another reason why Grimm likes spoon-feeding nutrients is because it also lowers the risk for leaching and runoff, which is a great environmental benefit.
"Typically our nitrogen program is to apply all of it as anhydrous in the fall. With drip, now we put about half our total nitrogen on in the fall." The rest gets spoon fed through the drip lines, starting at V10 to V12 corn growth stage, all the way through kernel fill as needed.
"Netafim agronomy support has helped us understand things like crop uptake of nutrients," Grimm says. They've built a corn fertility tool that helps determine the amount of nitrogen, phosphorus, potassium and sulfur needed – based on current crop maturity and growing degree-days. It can provide weekly data on the amount of N available and amount needed each week.
"What we're learning so far is that total fertilizer may increase, but the amount per bushel will be less. This technology is helping us raise 70 to 80 bushels more per acre than dryland," he says.
More marketing flexibility
Another benefit with Netafim's drip irrigation that Grimm cites is more consistent yields. "This gives us confidence to sell grain in the summer rallies when the market gives us the best opportunities. Drip irrigation is lowering our risk and increasing our returns."
Aiming for higher yields & ROI
Grimm says the cost of drip irrigation runs from $1,400 to $2,000 per acre, depending on field shape, size, topography, water source, etc. "Operation costs is generally $15-25 per acre per year for 4-6 inches of water applied. We are consistently adding 60-90 extra bushels per acre on corn compared to our dryland acres," he says.  Given current commodity prices, they are looking at a 7-10 year payback. With a slight uptick in prices, payback could shrink to 2-3 years. "Compare that with new land purchases, drip irrigation is an excellent investment. And this profitable technology, once installed properly and maintained, should last 25 or more years."
Good technology and service
Grimm likes the DripNet Pressure Compensating dripline because it works well with rolling terrain to maintain uniform distribution of water and nutrients. Netafim provides the necessary components such as water meters, air vents and filtration equipment to make the system work properly. "The Netafim controllers and technology equipment also give us precise control and monitoring of water and fertilizer application," he adds.
Along with farming, Kurt and his brother Keith are diversified into the landscape/garden center business as well as an irrigation company. "As a dealer for Netafim, we install it ourselves, placing it 16 inches deep on 60-inch centers. We are able to install it with RTK guidance to insure there's a drip line between every other row. The goal is to get a dripline within 15 inches of any given row."
Grimm says installations have been just starting to move into Iowa, Illinois, Minnesota, Indiana and other Corn Belt states. "We can install 80 acres in about four days, by the time we plow it and hook it all up, so almost a week for 80 to 100 acres."
Their irrigation business, NutraDrip, offers more results of farmer installations here.
Subscribe to receive top agriculture news
Be informed daily with these free e-newsletters
You May Also Like
---