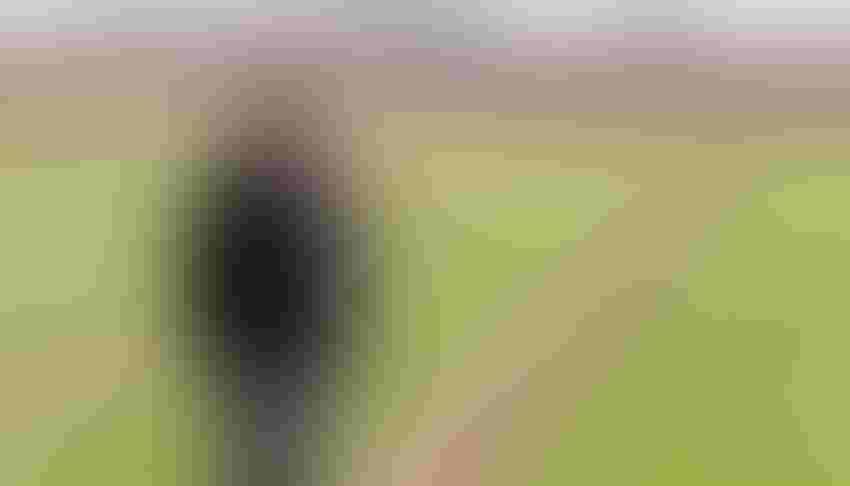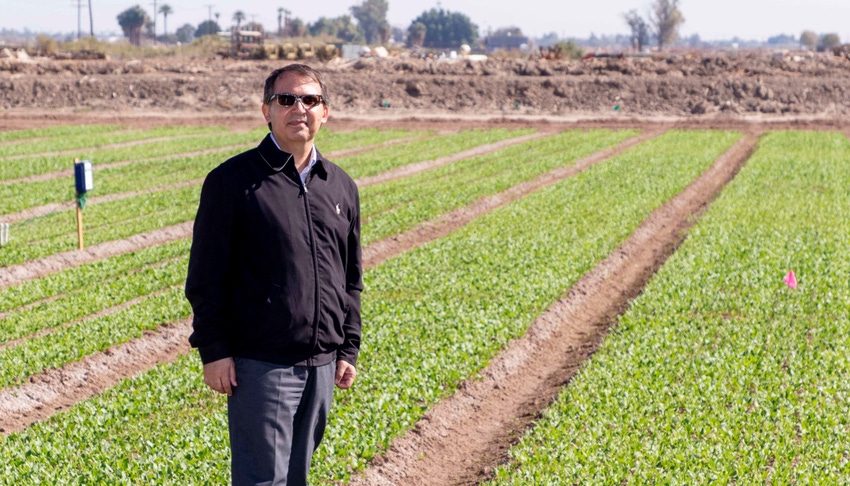 Ali Montazar, a researcher with the University of California, wants to learn how drip irrigation in 80-inch spinach beds can help address downy mildew pressure. The study is also showing positive early results for water management and food safety issues.
Todd Fitchette
University of California scientists at the Desert Research and Extension Center in Holtville, Calif., may be onto something more significant than just disease control with ongoing practices being studied in organic spinach.
The original thought was to test drip irrigation practices in organic spinach to help avoid the kinds of disease pressure brought on by sprinkler irrigation practices in the crop, according to Ali Montazar, an irrigation and water management farm advisor with the University of California Cooperative Extension in Imperial and Riverside counties.
Now in its third year under a grant by the California Leafy Greens Marketing Agreement, the study is showing itself to have a trifecta impact of food safety and water management implications.
Initially, Montazar believed that converting to drip irrigation would keep the leaves dry, a method understood to aid in preventing downy mildew, a significant issue for spinach growers and one which organic farmers have no approved means of control.
"Almost 100 percent of California spinach is sprinkler irrigated," Montazar said.
Questions Montazar wants to answer through his studies include:
How well can we germinate spinach with drip versus sprinklers?

Can we profitably produce spinach with drip irrigation?

Can we effectively control downy mildew with drip irrigation?
To date Montazar is optimistic in his findings. His studies have shown a 4x-5x reduction in downy mildew using drip irrigation. Aside from his studies at the Desert REC in Holtville, Montazar is working with a grower in eastern Imperial County to test the effectiveness in a commercial setting.
"This is a promising method to control downy mildew," he said.
Food safety
Irrigating spinach through drip irrigation avoids the need to treat sprinkler applications as that water no longer touches the part of the plant going to human food production. Through his work with a commercial grower in eastern Imperial County, Calif., Montazar said the farmer reports saving $300 per acre on water treatment products.
The more exacting drip method also saved the farmer $150 per acre in fertilizer costs.
One caveat to the food safety benefits of the surface or subsurface drip would be the need to remove drip tape prior to harvest, a move Montazar says could increase food safety risks.
Drip versus sprinkler
Montazar compared drip tape placed on the surface with lines buried 1.5 inches below the surface. Some of the 80-inch beds had three lines of drip tape applied while other beds had four drip lines across the same bed width. Each of these scenarios was compared against sprinkler irrigation for disease pressure and yield.
The surface drip application showed a 6% reduction in yield compared to the subsurface drip lines. Sprinkler irrigation yielded 13% higher than the subsurface application. He believes optimal drip irrigation design and better nutrient management can close the gap between sprinkler sets and subsurface drip.
Other issues noticed in the trial included yellowing of leaves in beds with three lines, which were attributed to the likelihood of nutrient deficiency due to the inability of water to move effectively between the drip lines. Moreover, surface applications of drip tape were shown to not be practical during high wind events in the desert. High winds in the winter and spring can easily relocate the plastic irrigation lines.
Subscribe to receive top agriculture news
Be informed daily with these free e-newsletters
You May Also Like
---