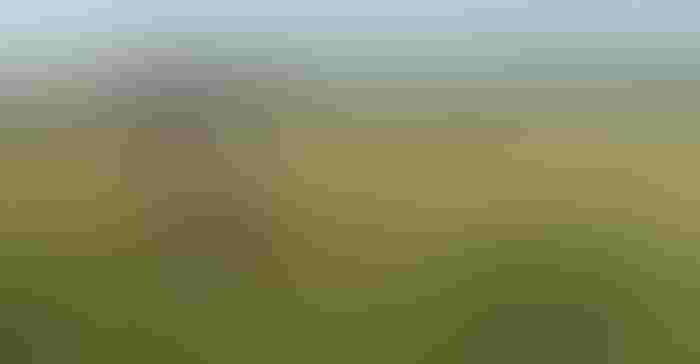 In Iowa, much of the land used for crop production today was once dominated by native prairie species. A new conservation practice is reintroducing these plants into fields and is becoming increasing popular across the state. 
Research suggests planting prairie strips within cropland will result in numerous benefits. Omar de Kok-Mercado is program coordinator for the STRIPS program — Science-based Trials of Row crops Integrated with Prairie Strips — at Iowa State University.
"Prairie strips significantly reduce soil erosion and loss of nitrogen and phosphorus while improving water quality and providing wildlife habitat," de Kok-Mercado says. "Prairies built the soils we rely on to produce crops in the state, so integrating it back into the farm landscape is pretty natural." 
STRIPS has collaborated with many farmers, farm managers and farmland owners to put the concept of prairie strips to the test. Lee Tesdell is a central Iowa farmer who implemented prairie strips in his field and advocates for the results. 
Getting started 
When introducing this practice, farmers are encouraged to convert 10% of their farmland to prairie strips. Each strip should be a minimum of 30 feet wide, and farmers have many options as to where to plant them. De Kok-Mercado says they can be planted around or through a field, alongside waterways, on end rows or at the toeslope of a drainage area. 
Farmers can also plant prairie strips on existing terraces to increase the productivity of that land. "I already had three terraces in my field," Tesdell says. "There was some land that couldn't be farmed because of the shape of the terrace, so I decided to put in a prairie strip." 
When choosing seed, prairie strips are effective with a diverse mix of native species. De Kok-Mercado explains both warm- and cool-season grasses, legumes, sedges, and forbs should all be included in a prairie strip. "In diverse plant communities, even if an individual plant species performs poorly due to yearly nutrient or water fluctuations, the community as a whole thrives," de Kok- Mercado says. 
The majority of prairie strip costs are associated with seed and site preparation. To help with expenses, USDA's Conservation Reserve Program offers farmers a cost-share contract, CP-43, which reduces the cost of prairie strips.
"Converting low-yielding acres to productive areas with the CRP cost share can cost as low as $7 per acre," de Kok-Mercado notes. "Prairie strips can help farmers balance the books by reducing the cost of inputs in low-yielding areas and saving time." 
Planting and control 
Prairie strips can be planted on low-yielding areas of cropland. Tim Youngquist, an agricultural conservation specialist and STRIPS farmer liaison, explains that planting prairie species in areas of fields where cash crops struggle is beneficial. "You can eliminate inputs on the areas that aren't yielding well," he says. "Essentially, you can make your bushels per acre go up for the rest of the field." 
Prairie species slowly establish their root system during the first year of development. Weeds can take over at this stage, so it's necessary to mow the prairie strips frequently to maintain control over unwanted species.
"Imagine if you've got a bunch of big weeds and a tiny prairie," Youngquist says. "The prairie is not going to get the nutrients it needs. It's not going to get sunlight or water. Mowing gives the prairie a competitive advantage over the weeds." 
After the first year, prairie strips will grow taller. Prairie strips will eventually outcompete weeds as time progresses and farmers can rely less on mowing. Farmers can even burn their prairie after it has developed. 
Seeing results 
Prairie strips look different than the uniform rows of corn and soybeans that many Iowans are used to seeing in fields. Nonetheless, Tesdell is seeing many benefits since seeding the native plants. "I see an increase in soil health and water quality," he says. "Prairie strips contribute to higher earthworm counts and less nutrients flowing through my tiles into the creek." 
Another prominent benefit is the increase in animal species the prairie attracts. Tesdell was initially interested in prairie strips because they would provide nectar for the honeybees he raises for a commercial producer. "I have honeybees here every summer," he says. "Honeybees can travel several miles for flowers, so one of my thoughts was that prairie plants provide more food for the bees."  
Other kinds of bees, flies and butterflies are found in prairies as well. The native plants are also home to many species of birds — some of which build nests within the tall grasses. 
In addition to the benefits to soil, water and wildlife seen within a few years, prairie strips have the potential to impact agricultural land in the long term as well. "We have the best topsoil on the planet, but if we are losing 5 tons per acre per year, where are we going to be in 150 years?" Youngquist asks. "We are trying to think about the future." 
For more information about prairie strips, visit the STRIPS website. 
Friedrichsen is a Wallaces Farmer intern. 
Subscribe to receive top agriculture news
Be informed daily with these free e-newsletters
You May Also Like
---