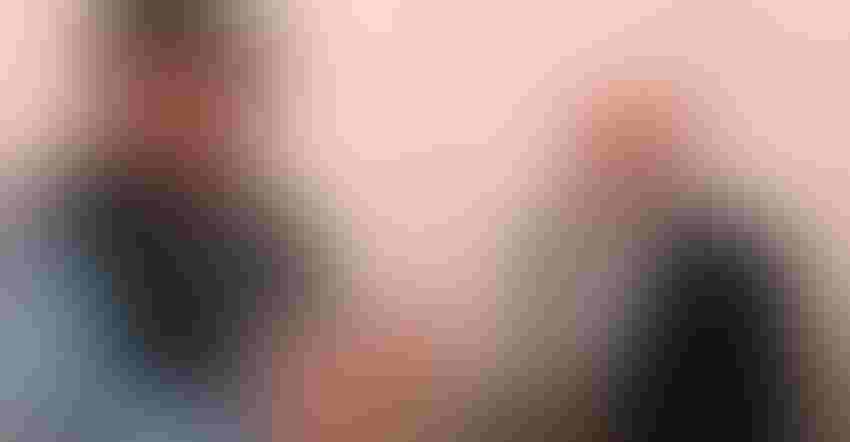 Scott Mathews, Arkansas farmer, chats with Jason Krutz, director, Mississippi Water Resources Research Institute, following the opening session of the Cotton and Rice Conservation Systems Conference.
Ron Smith
For 23 years, the Cotton and Rice Conservation Systems Conference has promoted sustainable production practices.
That trend continued at the recent conference in Memphis with more than 100 speakers offering insights into conservation techniques that preserve natural resources and improve production efficiency.
"We've charted new territory for agriculture," said John LaRose, conference chairman, in his welcoming remarks to the 23rd annual conference.
He praised speakers, including farmers, consultants, university scientists and industry representatives for working "in a united effort," to develop more sustainable production systems through "innovation and state-of-the-art research."
Other general session speakers targeted specific issues and challenges facing agriculture.
"Looking for markets for cottonseed is a challenge," said Coley Bailey, Mississippi cotton farmer and Cotton Incorporated board member.
Positive story
He said the textile industry's desire to source sustainably grown cotton offers a challenge but possibly a bigger opportunity for the industry. "We have to tell our story," he said. "And we have a big story to tell. The environmental impact of polyester micro-fibers washing into rivers, streams and oceans, and poisoning fish could shift consumer preference from synthetics to cotton, a natural biodegradable fiber."
More demand, he added, likely will precipitate a rise in cotton prices. "Polyester will respond but Cotton Incorporated will double down on our sustainable message."
He cited the new U.S. Cotton Trust Protocol as a positive step toward "telling the world about the sustainable practices of cotton."
Water conservation
Jason Krutz, director, Mississippi Water Resources Research Institute at Mississippi State University, cautioned farmers not to take water availability for granted.
He explained that west Texas farmers once pulled as much as 2,000 gallons of water a minute from the Ogallala aquifer. They pull a fraction of that now, and Krutz said some have considered the possibility that the region could revert to dryland production or rangeland.
"How do we farm dryland acreage in the Mid-South?" he asked. "We don't want to face that. That's what the MWRRI is working on."
He said funding from the U.S Geological Survey will help address the Mid-South water issue.
Krutz said improvements in rice irrigation has shown a 40 percent reduction in water use, enough to "irrigate every acre of cotton and corn in the region."
Water conservation, he said, will be critical for the region.
USB efforts
Derek Haigwood, Arkansas farmer and director, United Soybean Board, said USB is actively pursuing sustainability investments.
He also noted the board is looking at new soybean disease threats. "USB is focusing research on methods to combat Cercospora leaf blight. "This has typically been a Southern disease, but it is moving north," he said. "We've seen significant losses, but a lot of folks are working to find ways to combat it." Researchers are looking at resistant cultivars and chemistry solutions.
Abiotic stress, weather, also damages soybeans annually, Haigwood said. "I wonder how many 100-year weather events we can have. I've seen three 100-year floods and one 100-year drought. What can we do?"
He said flood tolerance studies under way may produce seed that will survive in wet years. "We are not there yet, but we are getting there," he said.
A word on trade
U.S. Trade Ambassador Greg Doud, addressing the conference remotely from Washington, D.C., said recent events offer hope for U.S. agriculture trade.
He cited passage of the U.S.-Mexico-Canada Agreement (USMCA) trade deal as a positive for agriculture. He also cited a trade pact with Japan, Phase 1 of the U.S./China agreement and a South Korean agreement as good news for agriculture.
Doud said the 86-page Phase 1 China trade document includes 27 pages related to agriculture and 57 specific Chinese commitments to agriculture. "We also have specific timelines," he said, "and real enforcement teeth."
He said trade negotiators failed to include rice in the Japan agreement. "But we were successful with rice in the Korea deal."
Subscribe to receive top agriculture news
Be informed daily with these free e-newsletters
You May Also Like
---