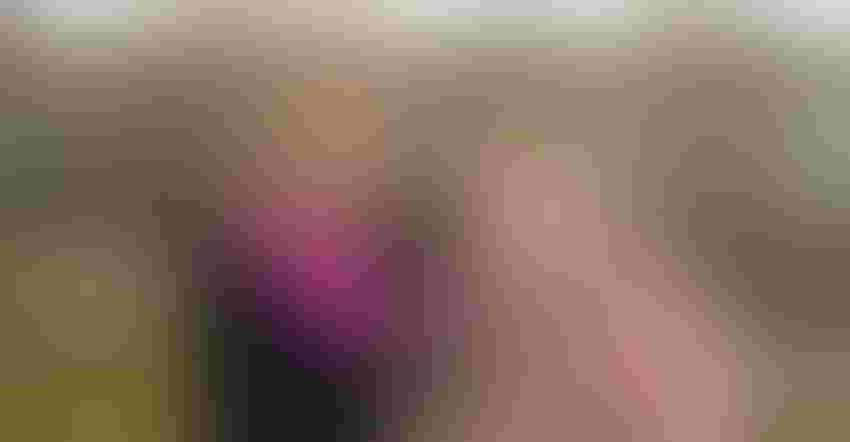 WOOLLY FRIEND: Kaila Cross of Poynette, Wis., introduces me to her woolly friend.
Photo courtesy of Wisconsin DATCP
As the seasons change and Wisconsin enters the winter months, I am even more thankful for Wisconsin farmers and the hard work they do each and every day. Our farmers help keep us warm with fibers from different animals. Sheep wool is one fiber that stands the test of time, providing a beautiful end product.
Today, Wisconsin is home to nearly 82,000 head of sheep, but they have long been a part of Wisconsin agriculture, starting in the 1800s when Wisconsin ranked second in the nation for number of sheep raised. While some of those sheep are used for purposes like meat, there were 47,000 shorn sheep in 2021. Together, these sheep produced more than 320,000 pounds of wool.
Typically, sheep are sheared once a year, taking only a few minutes to shear each one. In Wisconsin, each sheep produces an average of 6.8 pounds of wool. Although sheep are classified into either meat or wool breeds, the wool from all breeds of sheep can be used in one way or another. Depending on the breed, sheep's wool contains various amounts of lanolin, which is extensively used in skin products and works as a great moisturizer.
Wool is a protein fiber formed in the skin of sheep and is 100% natural. Since the Stone Age, wool has been appreciated as one of the most effective forms of all-weather protection known to man. In fact, many manufacturers try to mimic the unique properties of this fiber. Wool is a hygroscopic fiber, which means when the humidity of the surrounding air rises and falls, the fiber absorbs and releases water vapor. Wool is also hydrophilic, meaning it is highly absorbent and retains liquids. This allows the fibers to dye easily and maintain the color without fading or running. Wool also maintains its appearance long term, adding value to products and their lifespan.
Wool: Versatile fiber
Wool is very versatile because it comes in so many varieties. The different textures of fine, soft, thick or coarse determine how the fiber is processed. Heavier fleeces are more likely to be used for rugs, carpeting and outwear such as coats. Softer fleeces are used more for clothing like soft sweaters, socks and scarves. The fibers in wool are naturally elastic, so they can stretch without breaking.
For many years, each Alice in Dairyland participated in a unique campaign that supported Wisconsin wool. The Make It Yourself with Wool program served as the only event of its kind on the approved list of the National Association of Secondary School Principals and was honored by schools and universities throughout the nation. To participate, a girl or boy needed to purchase at least 95% American loomed wool; create a garment by sewing, knitting or crocheting; and submit an entry form.
Today, Make it With Wool is an annual youth-centered sewing competition to promote wool and its versatility. It is sponsored by the American Wool Council, the American Sheep Industry and American Sheep Industry Women.
Wisconsin's sheep and wool community is filled with variety, quality and a rich history. It is a growing industry that provides food on our table and clothes in our closet. Follow #WisconsinWool on Facebook and Instagram to learn more about this exciting industry.
Schaefer is the 75th Alice in Dairyland.
Subscribe to receive top agriculture news
Be informed daily with these free e-newsletters
You May Also Like
---