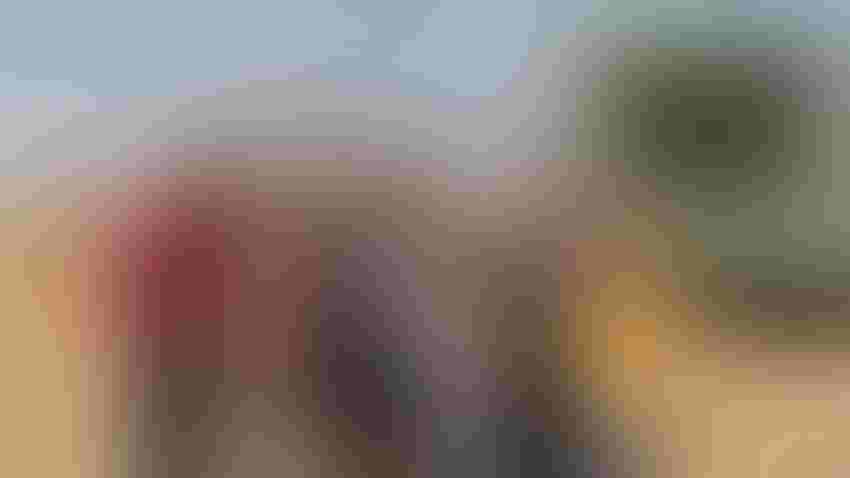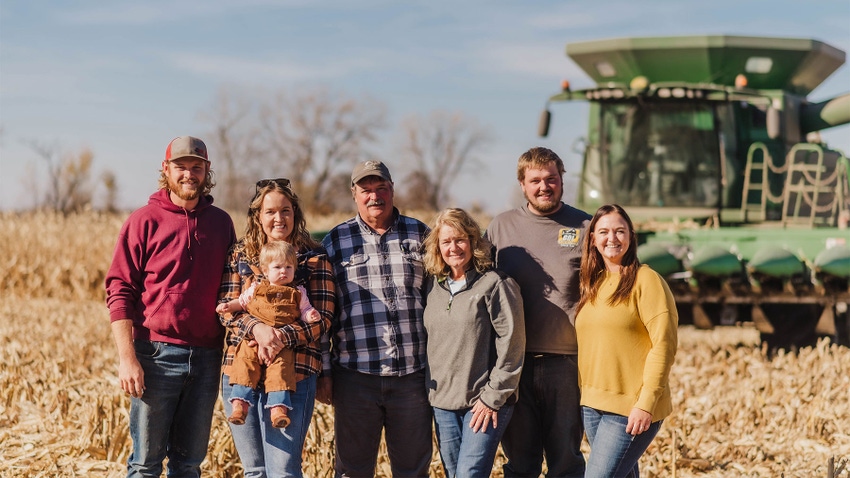 FAMILY: My husband, Dan; daughter, Clare; me; my dad and mom, Kevin and Nancy Thomas; and my brother and sister-in-law, Mark and MiKayla Thomas, pause for a photo on the farm during harvest 2022.
Haley Stewart, HazelBee Photography
As shades of green fade to brown, farm families across the country prepare for harvest. Soon my family, like yours, will see the fruits of the year's labor, marvel at the Midwest landscape, and work endless hours to get the crop out.
My mom and dad, my brother and sister-in-law, and my husband all work on the farm full time — a feat my parents say is a dream come true.
I once heard a farm described as a unique blend of a family and a business. And that's never truer than during harvest, as generations and spouses work side by side from sunrise to sunset (or later) to get the crop out. Often, tensions are high as different opinions arise.
"Everybody has their own ambitions and priorities for the farm," says my husband, Dan. "It can definitely be difficult to respect everyone's wants and needs, while still looking at the bottom line."
My husband and I joined the family farm in 2017, after graduating from college and moving a Missouri cattleman to the Land of Lincoln.
"It's pretty amazing to know that you're keeping the generations of hard work together," says my dad, Kevin Thomas. "That's what it's all about — keeping it together so the next generation has a start. It's what we wanted, what my dad wanted and what his dad wanted."
My parents started farming together in 1988 and never looked back. It was the infamous drought year.
"The family farm is a beautiful bridge between generations, and I love sharing it with the people I love the most," says my mom, Nancy.
The last five years have been a whirlwind as we've expanded the farm to meet the needs of three families. My brother and I are the sixth generation to call the farm home, a responsibility neither of us takes lightly.
"It's the best and the worst thing ever," says my brother, Mark. "It's a lot of weight to carry. You come to the realization that you're always just one generation from losing the family farm."
Mark joined the family farm in 2019 after graduating college, and MiKayla in 2021 after the pair were wed. She also moved to central Illinois from the Show Me State.
"Communication is definitely a challenge, because when things go wrong, it's hard to say exactly what you think to the people you love," MiKayla says. "In those high-stress situations, it's important to remember they're upset with the situation, not with you."
Their words
As the days shorten up, I decided to ask my family what the impending harvest meant to them — and I love how varied their responses were:
Husband Dan. "There's a closure that comes with harvest. You never really know what your income or resources will be like for the coming year before getting the crop out. In that way, I'm ready for it."
Dad Kevin. "Harvest feels like a storm coming after me. With long hours, everyone gets tired, and I worry continuously about somebody getting hurt."
Mom Nancy. "Harvest is genuinely my favorite time of the year. I don't dread it at all. It's very rewarding work together in the beauty of God's creation. God always provides."
Brother Mark. "Spring is more stressful for me because there's more decision-making involved. Fall is just straight-up hard labor — nonstop, long days in the field for several months."
Sister-in-law MiKayla. "I have a flood of feelings as harvest approaches. It's exciting to work together as a team, stressful thinking about any issues and relieving to see our efforts come together for the year."
Harvest looks a little different for me as I hold down the fort from home as the wife and mom who works off the farm.
This season means months away from my best friend. It means going to bed alone. It means taking Clare to the field to see her daddy. It means doing Clare's bedtime routine by myself. It means dates from the tractor cab. And as the hours of sunlight slip away, it can mean isolation as seasonal depression comes knocking at the door.
But harvest is also beautiful. It's a time that really connects us as farmers. Really, it's a time that only a farm family understands. Harvest means meals from the bed of the pickup truck. Pizza in the field. It means watching Clare's face light up watching her daddy climb out of the combine. It means watching the sun set over the river bottom, the sky a canvas of oranges and pinks, undoubtedly painted by the Creator himself. It's thinking how fortunate we are to call this place home, even if we're dog-tired.
So, here's to all the farm families — whether your harvest work is from the field or from the home. May God grant you safety, patience and appreciation for the season to come.
What does harvest mean to you? Email [email protected].
Subscribe to receive top agriculture news
Be informed daily with these free e-newsletters
You May Also Like
---