Soil conservation and water quality improvement practices by farmers have reduced nitrogen and phosphorus runoff in Iowa and other states in the Upper Mississippi River Basin, according to a federal study released last week. Several farmers I visited with at the Farm Progress Hay Expo at Boone June 22-23 were talking about this topic. We discussed the voluntary vs. regulatory issue, as more farmers and landowners need to be putting water quality improvement practices on their land.
Farmers are reducing nitrogen, phosphorus pollution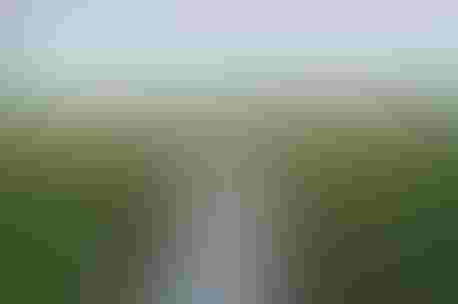 NEW INSIGHT: A new study by USDA-USGS quantifies the water quality benefits of conservation practices. Practices used by farmers have reduced nitrogen and phosphorus runoff in Iowa and other states in the Upper Mississippi River Basin.
Based on current water quality data, researchers at USDA and the U.S. Geological Survey determined that voluntary agricultural conservation practices are helping reduce nitrogen downstream in the Upper Mississippi River Basin watershed by as much as 34%. The impact on phosphorus reduction wasn't as much, with reductions topping out at 10%. Iowa is part of the Upper Mississippi River and the Missouri River basins.
Until this study, nutrient reductions have been difficult to detect in streams because changes in multiple sources of nutrients (including non-ag sources) and natural processes can have confounding influences that conceal the effects of improved farming practices on downstream water quality. The models used in this study overcame these difficulties to help validate the downstream benefits of farmers' conservation actions on the land.
Voluntary conservation is improving water quality
"As the results of the valuable collaboration with USGS indicate, voluntary conservation on agricultural lands is improving water quality. When multiple farmers, ranchers and working forest land managers in one region come together to apply the conservation science, the per acre conservation benefit is greatly enhanced," says USDA-NRCS Deputy Undersecretary Ann Mills.
Nutrient reductions attributable to ag conservation practices in the region ranged from 5% to 34% for nitrogen and from 1% to 10% for total phosphorus, according to the study, published in the journal Environmental Science and Technology.
Huge investment in water quality practices needed
USDA Secretary Tom Vilsack says the study provides evidence the investments by federal, state, local and nonprofit groups are improving water quality. He says more farmers are using cover crops, using no-till and strip till and using precision farming practices to cut down on runoff of nitrogen, phosphorus and other pollutants from fertilizer and manure.
He says, "Everyone has heard about the lawsuit in Iowa, and everyone knows my belief that the best way to resolve this is to make a much bigger investment in conservation practices. There has to be a way of showing, of being able to document that what is being invested in, is actually going to have the impact and be effective. This new study suggests with that type of significant investment, we can make a long-term difference."
Put dollars into conservation practices, not lawsuit
The Des Moines Water Works is suing drainage districts in three northwest Iowa counties (Sac, Calhoun, Buena Vista) upstream from Des Moines. The lawsuit, filed last year, says underground tile drainage in the counties is funneling high levels of nitrates from fields into the Raccoon River, one of two sources (the other is the Des Moines River) of drinking water for 500,000 central Iowa residents served by Des Moines Water Works.
Vilsack estimates that since 2009 USDA has invested more than $29 billion to help farmers nationwide make conservation improvements. A record number of acres of private working land have been enrolled in conservation programs during that time.
EWG remains critical of voluntary conservation
Craig Cox, vice president of the Environmental Working Group, which is critical of the voluntary approach for conservation practices and is pushing for mandatory measures, says the new government report "is further proof that conservation practices which EWG has backed for decades can have meaningful impact on water quality."
Cox adds, "That's the good news. The bad news, there is nowhere near enough farmers and landowners using these conservation practices. That's the reason water quality is still so poor in agricultural watersheds." He says relying on voluntary action by farmers or spending money to try to encourage farmers to use conservation practices hasn't been enough to get the job done.
Tight profit margins holding some farmers back
Farmers who have put conservation and water quality improvement practices to work on the land say more tenants and landowners are interested in adopting such practices. But with low crop prices and a farm economy that has declined, farmers are reluctant to try anything new. They want to continue using practices they know have worked for them. Trying something new is more difficult when there is no profit or very little profit in farming.
Iowa Soybean Association CEO Kirk Leeds says the new information provided by the USDA study shows that "our policies and investments that support this type of work are paying dividends. But we all recognize we still have much more work to do."
The report about the new study speculates there hasn't been more progress on phosphorus reduction in the Upper Mississippi River Basin because of lags between putting conservation practices to work on the land and the time it takes for sediment-bound phosphorus to move downstream. And, some erosion control practices, such as no-till and reduced tillage, have been shown to increase phosphorus levels in farm field runoff, which can potentially offset some benefits from erosion control practices.
Subscribe to receive top agriculture news
Be informed daily with these free e-newsletters
You May Also Like
---