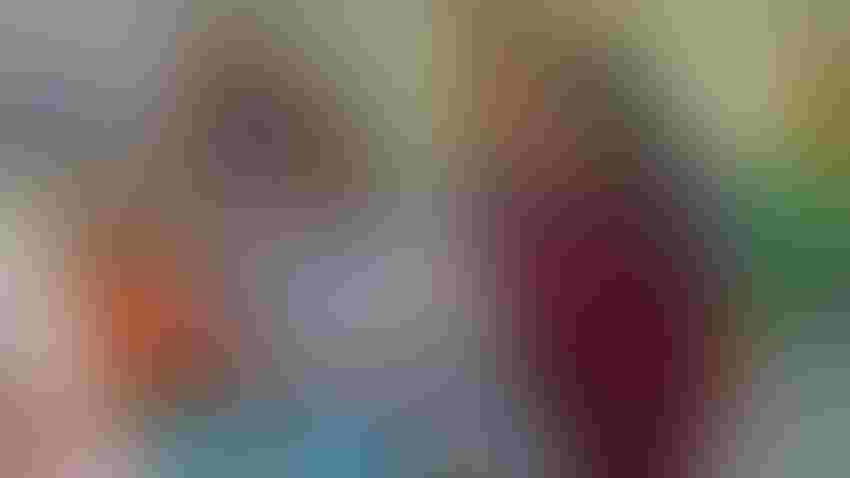 4-H GROWS HERE: As we look ahead to Oct. 1-7 and the celebration of National 4-H Week, let's remember that the program has immense opportunities to introduce children to food and agricultural career paths. Careers that can help us grow our rural communities.
Courtesy of Kansas State University Research and Extension
It was the fall of 1985, and I was absolutely, heart-stoppingly, terrified.
There I stood, in a purple T-shirt, Hawaiian board shorts, and matching lavender ribbons in my 7-year-old blonde pigtails, in front of all 18 members of the Jolly Jayhawkers 4-H Club (a solid 10 of which I was related to by blood).
I was gripping the white note cards, with my speech on the crochet project, so hard I left crease marks. My mother's neat handwriting swimming in front of my eyes. I could feel the blood rushing through my head, and I knew, without a doubt, that I was going to die before I got to the second paragraph.
But then, I remember looking up from my note cards, and seeing one of the older girls in the second row holding my gaze with a smile and nodding at me as if to say, "It's OK, you got this." And I took a breath and finished reading the words my mom helped me put together about how I learned to crochet.
That was the first time I ever got up to speak in front of a group of my peers. And I wish I could say that over the next 11 years I got better at memorizing my presentations (spoiler alert: I never did). But I will say I learned to quiet the nerves and make my voice be heard.
That's the power of 4-H.
A tool for change
At the turn of the last century, 4-H was vital to boosting our country's farming economy by teaching new tools and new techniques. Home economics agents taught housewives how to mind family nutrition needs in the midst of the Depression. It was learning by doing, and learning from peers and community volunteers, and it worked.
In every new decade, 4-H changed and tweaked how it delivered its messaging and education to a new audience. Always with the goal of guiding the next generation of Americans to a more prosperous future, for themselves, their families and their communities.
It teaches critical thinking skills and creative problem-solving. It instills empathy and a spirit of community service. It shows our young people that they can do anything if they just put in the effort and try. And it broadens their worldview beyond their own selves.
No matter the communication tools and theory that have evolved over the years, though, the emphasis on the four H's — head, heart, hands, and health — has remained the same.
Today's program may very well look different than what you or I remember from our time in 4-H.
But then again, the times have changed drastically now, haven't they?
As a 13-year-old Caucasian female in rural Dickinson County, Kan., in 1991, my biggest worry was getting my math homework done and watching "Beverly Hills, 90210" so I could talk about it with my girls in gym class the next day.
A 13-year-old in 2023? Well, they're juggling much, much more in their mental and emotional space.
They may be a child of immigrant parents working in one of our meat processing plants. They may be a child with special physical, emotional, behavioral or learning needs. They may not have a nuclear family life, and the adults caring for them may be working multiple jobs and unable to volunteer time or meet a regular meeting schedule.
We know, we brag, that 4-H covers more than just farm kids today — but do we really grasp what that means? Even more important, can we see how that can benefit our families and our communities by including those families in our 4-H work?
Our future
I sat in the 2023 Kansas Governor's Summit on Agricultural Growth in August and heard time and time again how we need to grow our labor force. How we need to encourage young families to build their lives in rural Kansas. How we need workers not just on our farms, but in our processing plants, schools, hospitals, retail businesses and more.
Friends, 4-H can help us get there.
4-H can introduce that child in Wichita to basic agronomy concepts that may spark a career path in bioengineering. It can help that child develop confidence and public speaking skills. It can help children of limited means find scholarships and support for their career training. It can show them not only that the world is bigger than what they see, but it also has a place for them.
But only if we volunteer our time and efforts to make it happen.
Yes, we should continue to support our farm and rural kids in their 4-H work. But let's also find time to support our urban neighbors in their 4-H efforts, too.
We all can be that friendly face in the audience, encouraging one new young person at a time.
Subscribe to receive top agriculture news
Be informed daily with these free e-newsletters
You May Also Like
---